Nella 13×15 infatti la Keating è molto più agguerrita e affronta finalmente faccia a faccia la signora Mahoney. Le due discutono animatamente di delitti, omicidi e reati di ogni genere come se nulla fosse, e lo fanno urlando in pieno giorno in un ristorante colmo di gente, quando io in pubblico ho persino paura ad aprire le note vocali dei miei amici.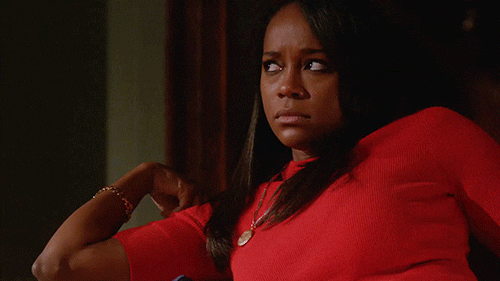 Cosa più scandalosa in How To Get Away With Murder è che i protagonisti, in mezzo a tutti sti casini, hanno pure il tempo di giurarsi amore eterno … ma come fanno?
Questo personalmente non mi ha per niente addolcito, anzi !
Io personalmente voglio un risarcimento danni, non credo di stare bene dopo aver scoperto che dietro la morte di Wes c'era la famiglia di Laurel. Chi lo avrebbe mai detto? Forse è così che funziona quando  gli autori di How To Get Away With Murder si incontrano per decidere sulle sorti dello show.
Come se tutto non fosse già paradossale, scomodano cattivi a caso estraendo dei nomi da una botte di cristallo e così, quando esce fuori il nome del personaggio più insospettabile, decidono di tirare su tutta una storia. Potete provarci anche voi! Al prossimo omicidio (perchè tanto ce n'è sempre uno in questa Serie TV) puntate tutto sulla persona più improbabile, e potreste addirittura azzeccarci accusando il cane della vicina di casa di Annalise Keating.
Certo questo è un metodo che va pur sempre testato, ma per farlo non ci resta che aspettare un altro anno e, solo allora, piazzare le nostre scommesse.