Signori e signore il momento è finalmente arrivato. Le Streghe sono in Grey's Anatomy. E sono bellissime. Un'episodio emozionante, per me, quello di questa settimana. La terza puntata della sedicesima stagione ci riporta nostalgici a parecchi anni fa quando le sorelle Halliwell ci allietavano la serata con le loro avventure magiche su Rai 2.
Quello che è cominciato come un comunissimo episodio di Grey's Anatomy, poco interessante aggiungerei, si è trasformato in un tuffo nel passato decisamente gradito. Ma non solo. In questa puntata abbiamo continuato a vivere della luce immensa emanata dalla coppia Link-Amelia che conquista sempre più i nostri cuori. Le ferite amorose di Maggie continuano a bruciare, ancora fresche. E Miranda si lascia trascinare dal risentimento e, probabilmente, dalla rabbia di aver dovuto licenziare la Grey.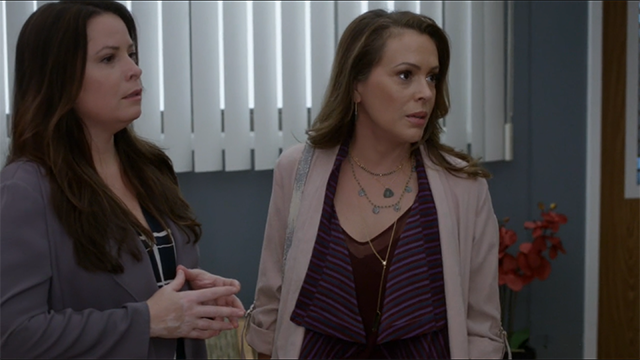 Voglio cominciare proprio dalla storyline di Richard Webber, che poi è quella che ci introduce le guest star più gradite degli ultimi anni: Holly Marie Combs e Alyssa Milano. Sembra proprio che in questo periodo al povero Webber non gliene vada bene una. Il licenziamento seguito dalle liti con Catherine e l'inevitabile rimorso o rancore nei confronti di Bailey non sono proprio salutari. E, di certo, quanto gli è accaduto in questo episodio non è un miglioramento.
Alla fine è divertente perché, diciamocelo, la nuvola di Fantozzi creata per perseguitare un personaggio riesce a farci ridere delle disgrazie altrui senza farci sentire in colpa. Alleggerisce la pesantezza dei drammi. Ed è proprio quanto succede: Webber stacca la spina al paziente sbagliato. Dovremmo essere oltreché disturbati da quanto accaduto, eppure il modo in cui accade è esilarante. Ed è merito delle sorelle Halliwell che sì, so che nell'episodio hanno nomi e cognome diverso, ma lasciatemi cullare nell'illusione che – seppur fuori da Streghe (qui i dettagli sul possibile film) – quelle erano le sorelle Halliwell.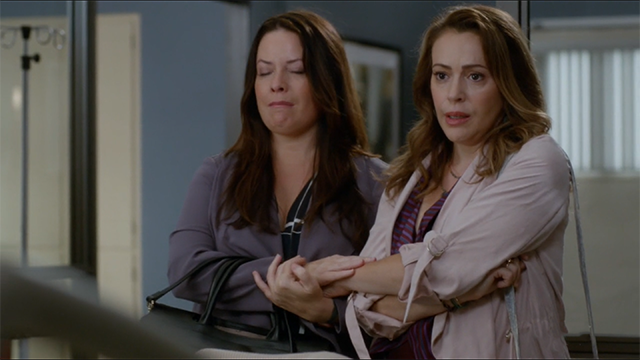 Insomma, le vediamo dal primo istante bisticciare ed essere in disaccordo praticamente su tutto. Credono che la loro sorella sia morta cerebralmente e non riescono ad accordarsi sul da farsi. Ma c'è qualcosa in loro, qualcosa che ci porta inevitabilmente a collegarle al ruolo che le ha rese famose. Sarà perché la Vernoff era tra i produttori di Streghe, ma la caratterizzazione dei personaggi – seppure sia poco il tempo che abbiamo per studiarle in Grey's Anatomy – è molto simile a quella che Holly e Alyssa avevano in Streghe, se non addirittura uguale. La prima è quella più assennata, mite e tranquilla. L'altra è impulsiva, frizzante, ma in fondo ingenua.
L'episodio di Grey's Anatomy di questa settimana è durato il doppio per me. Avrò visto le loro scene almeno una decina di volte. Questo perché, nonostante sia passata una vita dai tempi di Streghe vederle sullo schermo ad interpretare il ruolo di sorelle, di nuovo, sembrava così giusto e naturale. Come se la serie non fosse mai finita. Lo so, mi sto lasciando andare a sentimentalismi esagerati, ma concedetemelo per questa volta. Insomma, quando ci ricapita una cosa del genere? Quando rivedremo Holly Marie Combs e Alyssa Milano interpretare il ruolo di due sorelle assieme? Forse mai.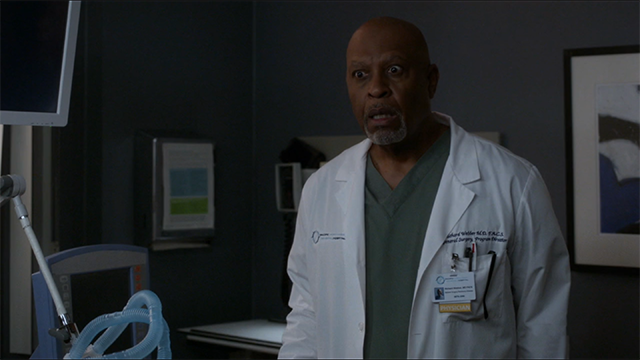 Ad ogni modo, è stato esilarante il momento in cui ricevono la chiamata della sorella a cui credevano di aver staccato la spina, realizzando di aver appena deciso della sorte di un'altra donna, sfigurata per via della caduta che l'ha portata al decesso. Detta così non c'è nulla che possa minimamente farci ridere, ma quella scena è preziosa. Perciò ve la lascio qui sotto perché – se non l'avete già fatto – possiate riguardarla all'infinito. Epica! E lo sguardo del povero Webber? Da morire dalle risate
Quando Alyssa urla alla paziente di non andare verso la luce e Holly la rimprovera dicendole di non urlarle addosso, mi stavo scompisciando dalle risate.
Loved this part #GreysAnatomy #Charmed pic.twitter.com/XH9StZB2Mc

— Julie (@jsgholtz) October 11, 2019
Le storia delle Halliwell si conclude con un lieto fine. La loro sorella è viva e vegeta e potranno ricongiungersi. Il potere del trio e di una botta di fortuna incredibile. Perché, diciamocelo, quali sono le probabilità che succeda una cosa del genere? Zero.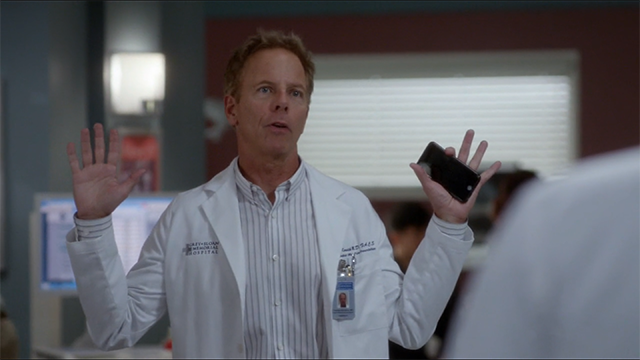 Ma andiamo avanti – a malincuore – e addentriamoci nelle tematiche dell'ospedale che sono state prevalentemente noiose. Parlo soprattutto della faida Tom-Owen. Sto tempestando la Vernoff e la Rhimes di tweet chiedendo loro di fermarsi. Devono fermare qualunque progetto abbiano in mente per questi due. Non sono divertenti, né interessanti. Anzi, a dire il vero mi fanno venire voglia di andare avanti veloce sulle loro scene. Se penso ad altri soli due minuti della mia vita sprecati ad assistere alla loro noiosissima faida, vado in shock anafilattico. Sono così stanca di Owen da non riuscire nemmeno ad apprezzare le scene di Hunt con Teddy. È un agglomerato di noia cronica. Un'alternativa più sadica e dolorosa dell'iniezione letale.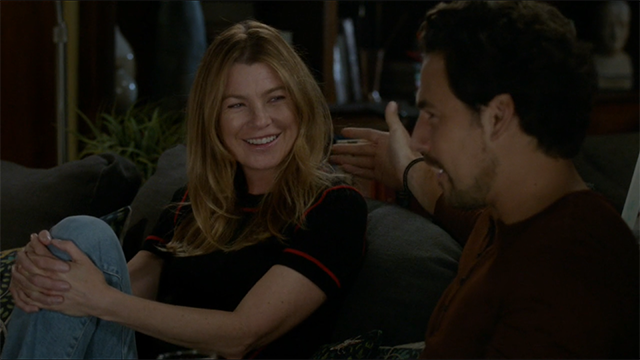 Un grande no anche per i Merluca. Non mi danno emozioni. Sono apatica davanti a loro e vorrei disperatamente poterli apprezzare di più. Ho sempre amato alla follia i Merder, ma sono una di quelle che alla morte di Dereck ha tifato per chiunque tentasse di conquistare Meredith. Tranne che per DeLuca. L'amavo con Riggs e mi piaceva un sacco col dottor Thorpe, almeno così credo si chiamasse, il belloccio dell'ospedale militare in cui era andata ad operare la Grey. Non fraintendetemi, Andrew è bello come un bronzo di Riace e nessuno lo mette in dubbio, ma non mi piace la sua personalità. Non mi dà di niente. Stava meglio con la Pierce, lei era troppo Maggie e lui troppo poco Andrew e si compensavano in qualche modo.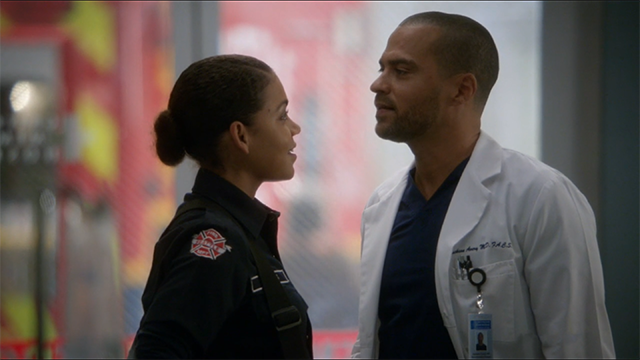 Bocciato anche Jackson Avery. Krista Vernoff sta cercando in tutti i modi di rovinare questo personaggio e Grey's Anatomy (qui le 5 storie d'amore di cui avremmo fatto volentieri a meno) e non capisco perché. Partiamo dal presupposto che ai Jaggie preferisco il cianuro, ma la velocità con cui Jackson sia passato oltre questa relazione è offensiva. Ho sempre pensato che non gliene fregasse nulla della Pierce e sinceramente mi stava bene così perché – diciamocelo – facevano proprio schifo insieme. Ma non mi piace la persona che sta diventando.
E poi adoro Vic, è tra i miei personaggi preferiti di Station 19 perciò voglio solo il meglio per lei. E vi ricordo che il suo fidanzato è morto poco tempo fa. Non voglio fare la parte della moralista, ma Hughes era persa per Ripley. Erano legati ad un livello troppo profondo perché lei andasse avanti con così tanta facilità. Sì, forse mi aspetto un realismo troppo esagerato per una serie tv, ma penso che il personaggio di Vic meritasse questa storyline e la possibilità di mostrare il percorso del lutto nel modo più veritiero possibile.
Per quanto lei e Jackson possano essere belli insieme, perché lo sono, c'è sempre qualcosa che non va. Hanno chimica da vendere e Vic è un jolly, dove la metti sta bene, ma la loro storia sta procedendo troppo in fretta. Il corpo di Ripley è ancora caldo. Maggie ha detto una cosa giusta nell'episodio. Avery è entrato nella nebbia come suo fidanzato e ne è uscito con una nuova ragazza. Quello che stiamo vedendo è un Jackson egoista, menefreghista, anche irrispettoso direi e assai diverso da quello che siamo abituati a vedere.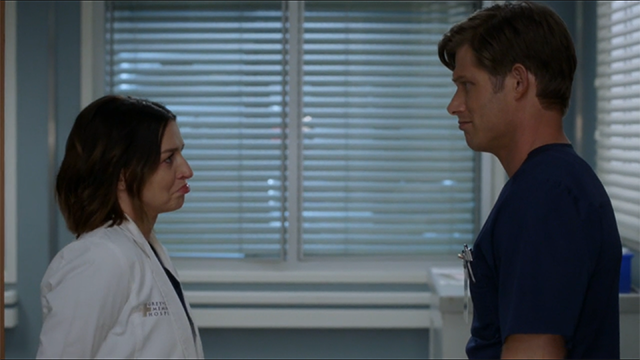 Dopo tutti questi punti, a mio parere negativi, arriva la luce di Grey's Anatomy: gli Amelink. Gli Amelink che ci riempiono il cuore con il loro essere così adorabili e belli. La dolcezza di Link è qualcosa di estremamente attraente. E il fatto che supporti in tutto e per tutto Amelia è bellissimo. Finalmente Amy ha ciò che si merita, qualcuno che tenga a lei sopra ogni cosa. Niente a che vedere con quell'egoista di Owen. Per citare la magnifica Florence Welch: The dog days are over, the dog days are done! Stavo annegando nei feels mentre annunciano la gravidanza a Meredith. Dobbiamo proteggerli, non permettiamo a Shonda e Krista di rovinarli. Questo tweet esprime alla perfezione come mi sento.
Per questa stagione di #GreysAnatomy vivo solo in funzione di Link e Amelia. Per il resto taccio.

— C. ? (@ConsueloDeSant) October 5, 2019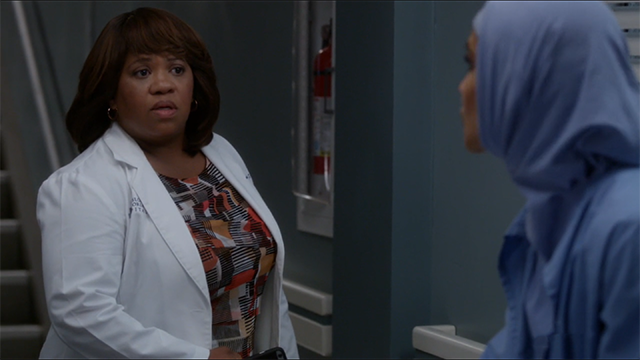 E, infine, c'è Miranda. Miranda che mi è piaciuta molto. Mi è piaciuta molto perché è chiaro che risenta la decisione di aver licenziato tre dei suoi migliori chirurghi. Aveva le mani legate e non poteva fare diversamente, ma glielo si legge in faccia che ci sta male. Reagisce cercando di applicare la damnatio memoriae sulla Grey in modo particolare, secondo me, proprio perché non accetta di aver perso uno dei suoi medici migliori. Mi è dispiaciuto che abbia licenziato Qadri anche se capisco il motivo. Spero si verifichi una situazione alla April Kepner dei primi tempi, ovvero che venga riassunta.
Qadri ha un potenziale comico devastante. Sin da quando moriva dietro Jackson Avery ho realizzato che era genuinamente divertente ed era estremamente facile riconoscersi in lei. I suoi commenti fuori luogo, le sue espressioni, sono oro puro. Il modo in cui si è rivolta alla Bailey, però, è inaccettabile. Ed è giusto che venga punita, forse il licenziamento è un po' troppo, ma capisco la Bailey. Forse vuole farle capire che il suo è un ruolo di prestigio e vuole che sia in grado di rendersi conto di ciò che ha senza lamentarsi. In fin dei conti un lavoro in un ospedale senza Meredith Grey è sempre meglio che essere disoccupati, no?
Per questa settimana è tutto, alla prossima. Halleloo!