Parks and Recreation è una delle serie tv che ha ridisegnato il concetto di comedy e spianato la strada a molti altri progetti successivi del creatore Micheal Schur (come The Good Place). Con il suo finale di serie, ovvero le puntate 7×12 e 7×13, ha saputo dare ai fan il lieto fine che molti speravano.
Per tutta la settima stagione Parks and Recreation ha voluto onorare i personaggi, gli attori e i propri fan dimostrando come i dipendenti di Pawnee fossero pronti a nuove avventure, anche al di fuori del loro dipartimento. L'ultimo episodio, in questo, è stato il punto più alto della stagione e sicuramente il più commovente. Ritrovatisi tutti nel loro vecchio ufficio per salutarsi, Leslie Knope e gli altri hanno un ultimo compito da portare a termine: aggiustare un'altalena in un parco della città.
La curiosità che permette a questo finale di chiudere in totale armonia è che il cittadino che fa la richiesta è lo stesso che Leslie, nel pilot, caccia con una scopa da uno scivolo per bambini perchè ubriaco e addormentato nel parco.
E il parco dell'altalena è lo stesso parco in cui il personaggio era stato trovato ubriaco nello scivolo: ecco come si chiude il cerchio.
Nel portare a termine questo semplice incarico, Leslie ha l'opportunità di passare un po' di tempo con ogni singolo personaggio, ringraziarlo e salutarlo per bene. È durante questo momento di condivisione che gli spettatori possono sbirciare in quello che sarà il futuro di questi personaggi: ogni storia, nonostante momenti di apperente fallimento, ha il proprio lieto fine. Da April e Andy che diventano genitori a Tom che, dopo alcune disavventure, si scopre un guru motivazionale; da Gerry che diventa e rimane a vita sindaco della città di Pawnee a Ron che, trovandosi di fronte a un altro bivio professionale, chiede una mano a Leslie e diviene sovraintendente del Parco Nazionale costruito dalla donna.
La storia di Leslie e Ron rappresenta benissimo due personaggi opposti, ma in questo senso complementari: Ron è, nella serie, una specie di superuomo capace di fare ciò che vuole e mosso soltanto dal proprio inflessibile codice etico, mentre Leslie è molto più esuberante, attiva, convinta che si possa e si debba aiutare il prossimo al di là della propria opinione personale. Nonostante le divergenze, i due personaggi erano sempre andati molto d'accordo, ma all'inizio della settima stagione li troviamo invece in aperto contrasto. Il flashforward del personaggio ci dimostra che da questo litigio, e dalla conseguente riappacificazione, Ron ha imparato molto ed è cresciuto: chiedere aiuto a Leslie significa affidarsi a qualcun altro, mettersi in discussione.
Il finale di questa scena nel futuro, in cui Ron accetta un lavoro dal governo federale che ha tanto criticato nelle stagioni precedenti di Parks and Recreation, dimostra che nella vita non bisogna mai dire mai: allontanarsi sulla canoa, nel silenzio e la solitudine della natura, è il perfetto modo di porre fine ai dubbi e alle contraddizioni di Ron Swanson.
Questo episodio è stato capace di racchiudere e cogliere la vera essenza di Parks and Recreation: la serie è incentrata su Leslie Knope, sulle vite che ha toccato (in questo episodio è anche letteralmente un contatto fisico) e ha cambiato con il suo carattere testardo, ottimista e sempre pronto a risolvere i problemi per il bene delle persone che ha attorno. Il finale è stato scritto per non rimuginare sul passato, per non essere semplicemente nostalgico, ma per offrire l'opportunità sia agli spettatori che ai personaggi di guardare avanti, verso lo splendido futuro che aspetta tutti.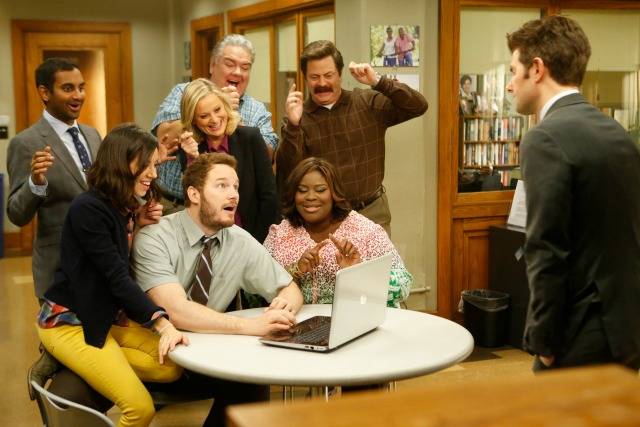 Nonostante la serie sia nata da una costola di The Office (US) (di cui ti consigliamo sicuramente questi episodi), dalla seconda stagione in poi Parks and Recreation ha preso una strada più individuale: abbandonato lo stile puramente emulativo, ha accettato e sfruttato le proprie sfaccettature più eccentriche, più solari e spumeggianti. Leslie Knope da personaggio da amare/odiare come Michael Scott è divenuto un qualcosa di diverso, più ottimista e meno ottuso: una donna interessata alla politica, ambiziosa, ma non sleale.
L'ultimo flashback, quello che riguarda la vita di Leslie e Ben, si allude anche a un finale col botto: mentre partecipano al funerale di Gerry, le guardie del corpo avvisano il Presidente che è ora di andare. Chi sarà diventato Presidente degli Stati Uniti, Ben o Leslie? La scena è volutamente ambigua, per permettere ai fan di decidere.
Dopo aver guardato tutte e sette le stagioni di Parks and Recreation, dopo esserci affezionati ai personaggi eccentrici, buffi e incredibilmente buoni, è estremamente toccante e commovente l'ultima scena della serie: mentre Gerry fa una foto al gruppo che ha appena aggiustato l'altalena, Ben si gira a Leslie e le chiede: "Pronta?". Il sorriso contagioso di Leslie è tra le ultime cose che vediamo mentre risponde:
Sì, sono pronta!