Tra le tante sitcom statunitensi (e non solo) che si sono affacciate sul panorama televisivo e in streaming italiano, una delle comedy che si è un po' ingiustamente persa è Parks and Recreation. La serie tv è arrivata in Italia su Joi, canale a pagamento di Mediaset dalla vita altalenante e ora ufficialmente chiuso. A fronte della breve e di nicchia esperienza nella televisione italiana, lo show non ha mai avuto particolare risonanza nel contesto nostrano. Eppure, tra meme e iconiche catch phrase, Parks and Recreation si è comunque insidiato nella cultura in rete grazie a un umorismo irriverente e pungente che fa della sua protagonista, Leslie Knope, la principale portavoce. Anche se al di fuori della attiva consapevolezza, sul web in molti si sono di certo imbattuti in alcuni degli interventi della spregiudicata sitcom.
Parks and Recreation nasce da Michael Schur e Greg Daniels, noti nel mondo delle comedy soprattutto per The Office. E infatti, la serie tv guidata dalla Knope si caratterizza per un'ironia che molto riprende dalla struttura della sitcom della Dunder Mifflin Paper Company. Leslie Knope e Michael Scott si collocano in contesti diversi eppure così simili. Parks and Recreation segue col formato del falso documentario un gruppo di dipendenti che lavorano nel dipartimento per la manutenzione dei parchi pubblici nella cittadina fittizia dell'Indiana Pawnee. La protagonista e vera anima pulsante del dipartimento è proprio Leslie, che del nucleo non è nemmeno il capo, ma la vice. Eppure la Knope è così ottimista, affezionata e appassionata da essere scomodamente esilarante. È lei a dare l'eccentrica vena che caratterizza gli americanissimi uffici del comune di Pawnee.
Con la stravagante Leslie non c'è competizione, ne in Parks and Recreation e nemmeno al di fuori.
Determinata come pochi, l'audace vice-direttrice del dipartimento ha progettato ambizioni e traguardi sin da quando era bambina col sogno di seguire la traiettoria delle esponenti che idolatra (soprattutto in campo politico). Leslie ha un'attitudine estremamente positiva, anche quando il contesto non si muove nella sua stessa direzione. Proprio per l'ingenuo ottimismo che spesso caratterizza la sua prospettiva alle volte troppo idillica, la donna crede fortemente nel proprio lavoro. Al contrario dei dipendenti solitamente molto meno motivati, Leslie Knope crede in ciò che fa, forse anche troppo. Esagerata e con la sindrome tipica del main-character, la donna ripone ceca fiducia nel proprio ruolo e nella burocrazia americana, che spesso in realtà è molto meno brillante. Leslie Knope crede nelle persone e nel ruolo che il Governo ha (o dovrebbe avere) di servire la comunità.
Leslie Knope ha un'energia e intensità emotiva tutta sua, presa e amplificata da Amy Poheler che dà vita a un personaggio frenetico e stravagante. Leslie è over the top anche quando non sta al top. Tutto è ingigantito per una persona che ha sempre vissuto a mille per raggiungere gli scopi di fiera cittadina di Pawnee.
Leslie fa di tutto per realizzare i suoi obiettivi lavorativi, tranne lavorare per davvero (o almeno nel modo convenzionalmente praticato). Ogni risultato raggiunto si prefigura come impossibile, eppure il cocktail esplosivo di tenacia e sprovvedutezza è vincente. Leslie dà tutta sé stessa: per i colleghi e per passare del buon tempo in loro compagnia. Crede nella famiglia lavorativa creata (nonostante il burbero Ron Swanson sembri in particolare spingere nella direzione opposta) e conserva ancora in sé una bambina sognante. Proprio per questo, nonostante le grandi ambizioni e speranze professionali al servizio della comunità, il lavoro finisce sempre per essere secondario alle altre conviviali priorità. Leslie alla fine riesce sempre a scamparla, e gli ostacoli lavorativi non sono mai troppo duri. Parks and Recreation ce lo insegna: dream big, ogni cosa troverà il proprio posto con pazienza, ottimismo, e un po' di fortuna. L'importante è la passione, e Leslie ne ha da vendere.
We have to remember what's important in life: friends, waffles, and work. Or waffles, friends, and work. But work has to come third.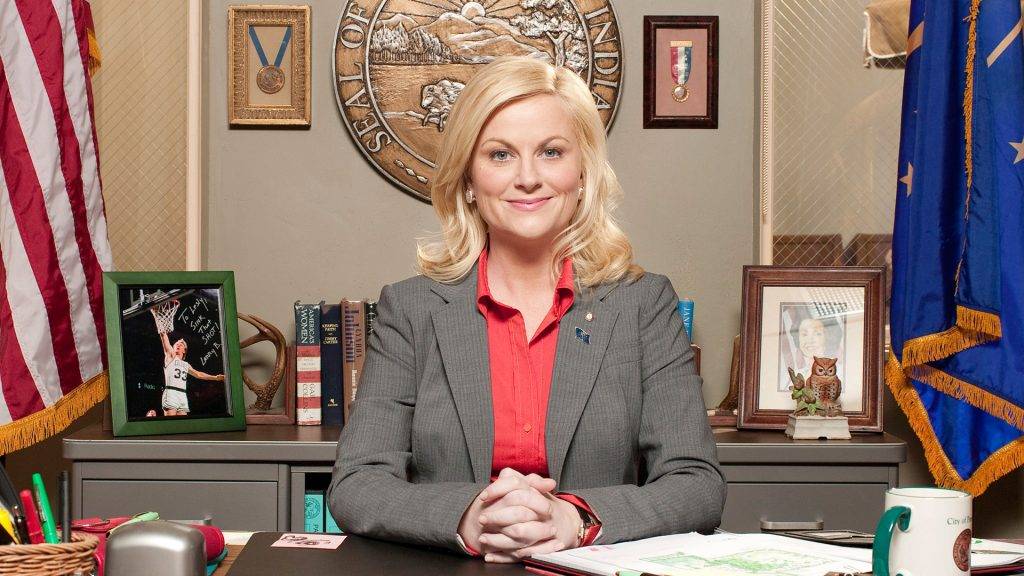 Come Leslie Knope ce ne son pochi: una vera ispirazione che a sua volta costruisce la sua immagine pubblica ispirandosi ad altre donne forti che prende a esempio (Hillary Clinton, Madeline Albright, Janet Reno, Nancy Pelosi, Condoleezza Rice, ecc.). Leslie Knope è un modello da prendere a riferimento. Crede in ciò che fa e porta avanti i suoi ideali, le sue ambizioni e le sue speranze con un modus operandi che fonde la totale inoperosità con la perseveranza e l'insistenza più assolute. È membra di una marea di comitati di Pawnee per migliorare la città perché è convinta di ciò che fa, ma allo stesso tempo ama perder tempo e proseguire la propria irriverente e altalenante vita privata di donna (single) in una cittadina sperduta dell'Indiana che sembra il centro del mondo, almeno quello di Leslie.
Parks and Recration ha offerto un modello di vita in Italia non conosciuto abbastanza dal pubblico della televisione generalista, eppure capace di rispecchiare diversi immaginari comuni. All'interno della struttura del dipartimento per la manutenzione dei parchi pubblici di Pawnee ci sono diversi prototipi di impiegati che rappresentano categorie divergenti e simili allo stesso tempo. Pawnee diventa veramente il centro del mondo ed è in grado di riflettere in maniera grottesca e comprensiva la generalità di contesti istituzionali (funzionali o meno). Eppure Leslie Knope ci manca, manca in Italia, e manca sullo schermo in generale, a fronte di una chiusura ormai avvenuta diversi anni fa. Irriverente, dinamica, esilarante, goffa, e scomodamente imperfetta, Leslie è bizzarra ma resiste. E proprio per questo diventa irresistibile.
Di personaggi come Leslie Knope non ne fanno più, nella scomodità ed eccentricità dell'energia che caratterizza la sua aura, è una donna di un'altra epoca televisiva che forse rimpiangeremo per sempre.