Politica e umorismo, un binomio che gioca sui contrasti ma che costituisce un'accoppiata vincente sin dall'alba dei tempi e che, nel corso degli anni, ha saputo darci tante soddisfazioni anche in un ambito seriale tipicamente dominato da drammi e da thriller. Quello che oggi vi proponiamo è quindi un approfondito focus sulla storia della commedia politica televisiva, cercando di coglierne gli elementi peculiari per ricostruire un'evoluzione del genere. Per fare ciò trecceremo una sorta di cronologia e ci soffermeremo in particolare su quelli che a oggi sono i rappresentanti più esplicativi del filone, da Parks and Recreation fino a Mr. Mayor.
Diamo quindi inizio alle danze e incominciamo con la nostra trattazione.
Ancor prima di diventare il nucleo centrale di alcune serie tv, l'elemento politico è stato inserito in molte delle più popolari sitcom americane già a partire dai primi anni'70: anni in cui le comedy cercavano per lo più di trasmettere ideali di tolleranza e ottimismo. All in The Family (nota in Italia come Arcibaldo), M*A*S*H, Taxi… Show in cui si volevano enfatizzare qualità come il rispetto, l'umanità e l'empatia. Valori destinati a scemare in concomitanza con a una perdita di fiducia nel sistema e nel governo USA a seguito delle disfatte e degli scandali politici della realtà contemporanea. Tali ideali furono infatti sostituiti da una crescente dose di cinismo che raggiunse il suo apice in alcuni archi narrativi di Cheers e poi in Seinfeld (anni'90), già nota per i suoi narcisisti e insensibili protagonisti.
Quasi contemporanea a Seinfeld è poi la, a suo modo divertente, Spin City, serie comica incentrata sulle storie del team di collaboratori del vicesindaco di New York guidati dal Mike Flaherty di Michael J. Fox e ideata da Bill Lawrence. Trattasi di una sitcom che pur essendo collocata in un ambiente dove si fa politica di lavoro, si concentra per lo più sulle vite dei vari personaggi, ma che si concede di trattare temi etici e politici, senza incorrere in un eccessivo cinismo ma nemmeno cullandosi in uno smodato idealismo.
La crescita nella popolarità del sottogenere della commedia politica tuttavia si deve principalmente a Parks and Recreation e in seconda battuta a Veep che hanno saputo imporsi parlando di tematiche tra loro simili ma con uno stile completamente diverso.
A segnalarsi dunque in primis alla grande nel panorama mainstream delle comedy politiche americane è stato infatti Parks and Recreation, amatissimo mockumentary ancora poco noto in Italia, ma vero e proprio cult oltre oceano. Considerata da molti come una sorta di spin-off di The Office, la divertente serie tv incentrata sui dipendenti del Dipartimento Parchi della piccola cittadina di Pawnee, Indiana, tratta con grande acume e intelligenza la politica partendo da un contesto ristretto e puntando sull'ottimismo.
L'ammirevole esuberanza e la buona volontà di Leslie Knope si contrappone quindi per contrasto con l'opportunismo di aziende corrotte, di cittadini problematici e ignoranti e delle alte sfere che cercano in ogni modo di ostacolare i suoi tentativi di migliorare la cittadina. Un umorismo intelligente che indaga sulla bontà d'animo e su personaggi fin troppo puri per giocare al deludente gioco della politica.
Compromessi, sconfitte e delusioni che frenerebbero chiunque ma non personaggi tanto ispirati e guidati dalla propria ferrea moralità.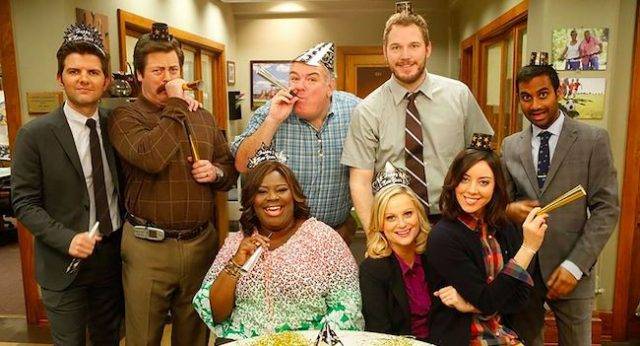 Senza fare ricorso al sarcasmo, l'elemento parodico e di critica nei confronti di un'amministrazione frenata da una burocrazia corrotta e di un "popolo bue" ingenuo, credulone ma in certi casi anche estremamente "cattivo", centra perfettamente il suo obiettivo senza rinunciare alla positività e all'ottimismo. Una comicità che diverte, che spinge a riflessioni sulla cittadinanza e sulla collettività e che punta sulla costruzione dell'empatia nei confronti di protagonisti buffi e amabili nelle loro imperfezioni.
Ma la grande svolta la dobbiamo ancora una volta a una serie HBO, parliamo della pluripremiata Veep (nota in Italia con il fastidioso sottotitolo "Vicepresidente incompetente"), che a partire dal 2009 si è imposta nel panorama della commedia americana. Ambientata nell'ufficio della Selina Meyer di Julia Louis-Dreyfus, la serie segue le disavventure della vicepresidente degli Stati Uniti d'America e del suo disastroso staff alle prese con tutte le problematiche e i giochi di potere giochi che caratterizzano la politica degli USA. Riprendendo direttamente lo stile del cinéma-vérité e le tematiche esplorate dalla britannica The Thick of It, Veep ci fornisce un nuovo modo di trattare la politica in televisione evidenziandone i lati più cinici e i tragicomici risultati di chi vuole ottenere a tuti i costi alte cariche pur non dimostrando particolari qualità.
Un umorismo ricco di freddure e di vivo sarcasmo, di graffiante satira e di personaggi che sono tutt'altro che modelli positivi.
Con Veep infatti spostiamo l'attenzione ai vertici dello Stato e analizziamo con grande attenzione scelte di politica nazionale ed estera che fanno spesso riferimenti più o meno velati a reali episodi della recente storia americana mettendo così in risalto i meccanismi più infidi e sbagliati di questo mondo.
Enigmatica e caotica, la protagonista della serie si destreggia con difficoltà tra le alte sfere della Casa Bianca mutando a seconda delle situazioni e cercando di sfruttare alla bene e meglio le situazioni a proprio vantaggio. Uno dei punti di forza della brillante comedy è infatti quello di non dichiarare apertamente l'orientamento politico di Selina e del suo staff, un'ambiguità che gioca con lo spettatore, continuando a farlo interrogare sulle scelte e sulle decisioni politiche dei personaggi e mettendo così in luce le ipocrisie insite nelle figure al Governo.
E al centro di tutto sta ancora una volta una donna, molto diversa da Leslie Knope ma con lo stesso desiderio di farsi valere e di essere presa sul serio all'interno di contesti maschilisti che fanno di tutto per farla sfigurare. Grande spazio è dato per forza di cose dunque proprio alla componente femminista. Parks and Recreation e Veep grazie alle loro protagoniste femminili, mostrano le stesse situazioni in cui rischiano di ritrovarsi due politiche, diverse tra loro in tutto tranne che per il proprio essere donne.
Riflessioni che pur facendosi scudo di dosi di umorismo fanno trasparire con grande amarezza l'arretratezza con cui viene percepita la figura femminile in ambito politico.
Durante la lunga era di Veep, sono anche altre le comedy che teoricamente avrebbero dovuto parlare di argomenti simili. La brevissima 1600 Penn, incentrata sul figliol prodigo del Presidente degli Stati Uniti e Alpha House, la prima serie mai prodotta su Amazon che tratta di un gruppo di senatori democratici che condividono un appartamento a Washington D.C., e la recente dramedy The Politician non hanno infatti saputo imporsi fino a diventare nuovi punti di riferimento del sottogenere.
A rimpiazzare queste mancanze ci sta invece pensando ora Mr. Mayor, comedy scritta e ideata dal genio comico di Tina Fey e interpretata dal fantastico Ted Danson (Cheers, The Good Place e tante altre). In Mr. Mayor, un ricco uomo d'affari si candida a sindaco di Los Angeles e ottiene la vittoria solo per poter così impressionare la figlia adolescente. L'uomo dovrà dunque capire come muoversi in questa nuova avventura grazie all'aiuto del suo composito staff. Collocandosi a mo' di Spin City in un ambiente che sta a metà tra quello di Veep e di Parks and Recreation, Mr. Mayor, la cui prima stagione risale proprio al 2021, riesce bene a inserirsi nel filone della commedia politica televisiva insistendo sui problemi della modernità.
Quali sono i poteri e i limiti di chi sta nell'amministrazione? Come si può compiere una scelta che accontenti tutti senza suscitare polemiche? Cancel culture e politically correct sono solo alcune delle tematiche su qui la serie NBC sceglie di riflettere, non senza una massiccia dose di ironia. A condire il tutto la scelta di parodizzare politici a noi ben noti pur smorzandone i difetti, creando una sorta di prodotto ibrido tra Parks and Recreation e 30 Rock, che già aveva riflettuto sui meccanismi televisivo aziendali insistendo su una figura di stampo repubblicano come il Jack Donaghy di Alec Baldwin.
Pur essendo vagamente ispirato a Donald Trump, il personaggio di Neil Bremer si rivela comunque parecchio distante da tale figura: ciò permette alla serie di parodizzare con il comportamento del protagonista e di altri personaggi l'idiozia della classe politica americana evidenziano i limiti del suo sistema. Non a caso lo show è stato infatti messo in onda negli Stati Uniti dopo un grande e forte cambiamento rispetto al periodo precedente.
Una serie che pur essendo solo agli esordi riesce bene a inserirsi nel filone di riferimento e che promette ulteriori sorprese per il futuro.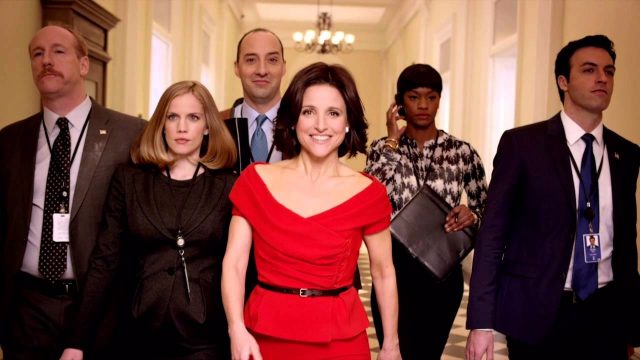 Insomma, un'evoluzione che segue i cambiamenti storici e culturali del nostro tempo a partire dal sentire comune e che riflette di volta in volta su quelli che sono le criticità del sistema e dei suoi protagonisti avvalendosi di un linguaggio che riflette il sentire della gente e il suo atteggiamento nei confronti di chi fa politica o di chi viene coinvolto in esse proprio malgrado. Un genere destinato a progredire con il progredire del nostro mondo e a trovare sempre nuovi spunti di narrazione dalla contemporaneità, dai suoi problemi e dai suoi protagonisti.