Quando è stato annunciato che la quarta stagione di The Good Place sarebbe stata l'ultima (leggi di più in questo articolo), la prima reazione di molti fans è stata di delusione. Abbandonare così presto il mondo caotico e distopico di Eleanor Shellstrop sembrava un'enorme ingiustizia, considerando non solo il grande successo che stava raggiungendo, ma anche la qualità di questa sitcom che, nonostante il suo tono felice e la sua impostazione comica, parlava benissimo dei dilemmi filosofici contemporanei di ognuno di noi.
Nella serie, Eleanor Shellstrop (interpretata da una divertentissima Kristen Bell) è un'americana estremamente egoista e inaffidabile che, per un errore di omonimia, finisce in Paradiso, dove ha l'opportunità di mangiare frozen yogurt, volare e conoscere la sua anima gemella Chidi Anagonye, un professore universitario di filosofia morale. Nonostante Eleanor cerchi inizialmente di passare inosservata e approfittare dell'errore per godersi l'aldilà, si rende conto d'avere bisogno di una mano e, confessata la verità a Chidi, chiederà a lui lezioni di etica per migliorare e guadagnarsi un posto in Paradiso.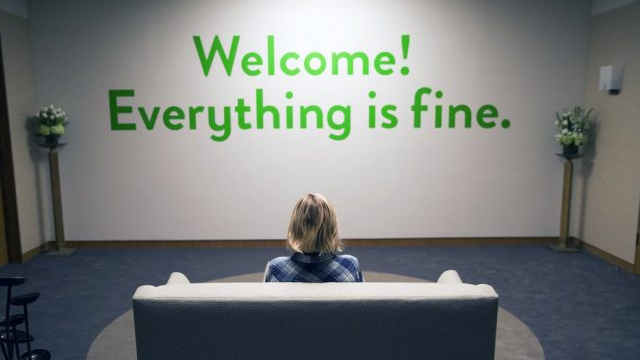 Verso la fine della prima stagione, però, Eleanor intuisce la verità.
In realtà tutto quello che la circonda è una versione distorta dell'Inferno dove Micheal, l'architetto e creatore dell'esperimento, ha deciso di torturare Eleanor, Chidi e i loro due amici Jason e Tahani costringendoli a vivere assieme, consci di non meritare il proprio posto in Paradiso.
La serie distrugge alcuni cliché delle sitcom, senza però perdere la capacità di intrattenere e distrarre gli spettatori: ad esempio, l'evoluzione dei personaggi è costante (cosa rara nel genere, che invece richiede una cristallizzazione di alcuni tratti principali); anche quando vengono riportati infinite volte al punto di partenza, Eleanor e i suoi amici riescono sempre a svegliarsi, a rendersi conto di ciò che si cela dietro i diabolici piani di Micheal per poi provare a sabotarli.
Nonostante le battute e le gag comiche, The Good Place insegna in pillole molteplici lezioni di filosofia, citando i lavori di John Locke, Derek Parfit e Aristotele per portare agli occhi degli spettatori i paradossi e i problemi etici della nostra contemporaneità. Anche se il primo obiettivo della sitcom è sempre quello di distrarre e intrattenere il pubblico, The Good Place riesce a spiccare tra le altre serie di questi ultimi anni per il suo ottimismo nei confronti della natura umana. Chiunque, nonostante i propri peccati, può cambiare in meglio.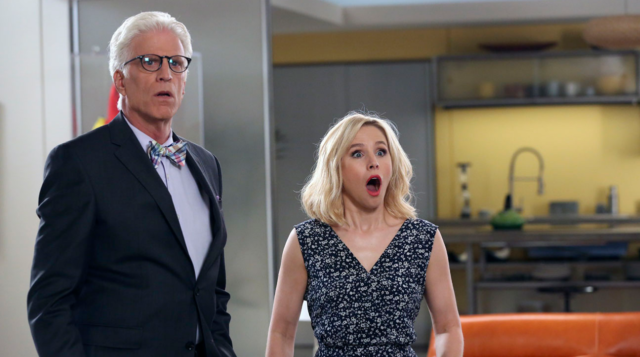 Il messaggio più importante che lo show vuole comunicare, però, riguarda il bisogno che ognuno di noi ha degli altri.
Eleanor mette in crisi il piano diabolico di Micheal nel momento in cui chiede aiuto, nel momento in cui crea un collegamento sincero con Chidi. La società contemporanea ci spinge sempre in competizione, sempre a pensare per noi stessi, ma la vera forza sta nel circondarsi di persone buone, disposte ad aiutarci e di cui possiamo fidarci. Un'altra lezione che, soprattutto nell ultima stagione, balza agli occhi degli spettatori è questa: è sempre meglio provare a migliorarsi che non fare nulla e già provandoci si fa un'azione buona.
La serie è firmata da Michael Schur (già creatore di The Office, Parks & Recreation e Brooklyn Nine-Nine). Schur in un'intervista ha affermato che, nonostante i dubbi e la tristezza di fondo, è felice che la serie possa seguire il percorso che aveva in mente fin dall'inizio, riuscendo a far prevalere la propria volontà sull'idea apparentemente condivisa secondo cui uno show di successo deve continuare a essere rinnovato finché ha un pubblico ampio, anche se ciò influisce negativamente sulla ricezione del pubblico e sulla qualità stessa della serie.
The Good Place è diventata col tempo sempre più complicata sia a livello di trama che di linearità temporale (basti pensare che Schur ha consultato gli scrittori della serie Lost per creare le versioni alternative e i vari flashback), mantenendo comunque una coerenza di fondo e un tono sempre leggero e fruibile da tutti. E in nome di questa coerenza e dell'indubbia qualità, bisogna anche accettare l'avvento del finale di serie, godersi questi ultimi episodi e consigliare ad amici e conoscenti di iniziare questo show.