Quello dell'
omosessualità
è diventato ormai un "tema" molto diffuso nel mondo delle serie televisive (e non solo), basta guardare a serie come Orange Is the New Black. Ma non è stato sempre così.
È impossibile condensare in un unico articolo tutte le serie tv che, a partire dagli anni '90, hanno affrontato questo tema.
Per questa ragione ho deciso di parlare non semplicemente di quelle serie che hanno incluso personaggi omosessuali (altrimenti l'elenco sarebbe stato molto più lungo), ma piuttosto di quelle serie che, in questo ambito, hanno fatto la storia.
Dev: […] Indiani, asiatici, gay: può essercene uno, ma non due.

Ravi: Ma sai, ci sono due gay in Will & Grace.

Dev: Ma no, solo Sean Hayes: Jack!

Ravi: No, in quella serie ce n'erano due.

Dev: Chi?

Ravi: Will, il protagonista! La serie parla di lui, è gay.

Dev: Davvero? Non ho mai visto quella serie. È roba del '90. Will & Grace andava forte.

Ravi: Due tipi gay in Modern Family!

Dev: Va bene, ho capito. Possono esserci due gay. Viva il progresso, viva i gay!
In questa scena tratta dalla brillante serie di Aziz Ansari Master of None (qui un approfondimento sulla serie), Dev e Ravi discutono sulla questione dell'inclusione delle minoranze nelle serie televisive.
Come siamo arrivati ad avere, nel 2018, una tale abbondanza di personaggi appartenenti alla comunità LGBT (come in Orange Is the New Black)? Questo è l'interrogativo che mi sono posta e, per potervi rispondere, sono andata a cercare tutte quelle serie che nel corso degli anni hanno dato un importante contributo nella sensibilizzazione di un tema tanto delicato.
1) Ellen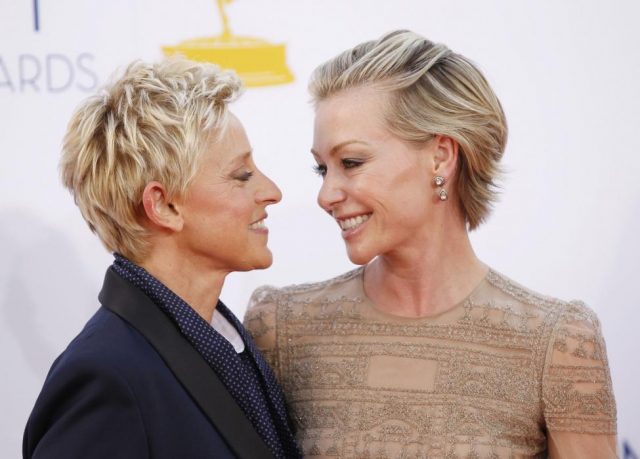 Conosciamo tutti, Ellen Degeneres, la lesbica più famosa d'America, nonché una delle persone appartenenti alla comunità LGBT più influenti al mondo. Tutto ebbe inizio quando nel 1994 uscì la mitica sitcom Ellen (inizialmente intitolata These Friends of Mine), con protagonista l'omonima attrice.
La sitcom è celebre principalmente per il coming out della protagonista (nonché dell' attrice stessa), avvenuto nella quarta stagione nel doppio episodio intitolato The Puppy Episode, che divenne il più visto di tutta la serie.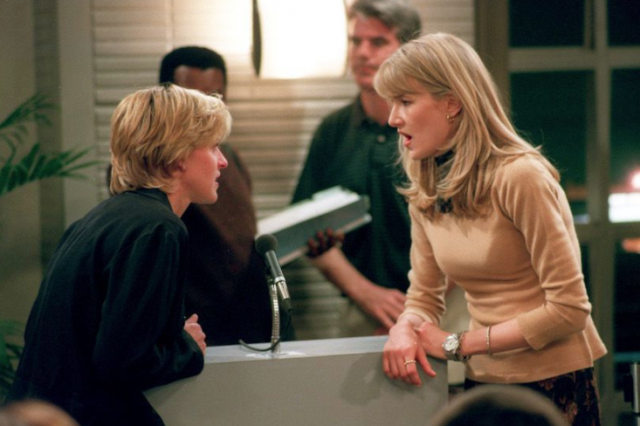 Il 30 aprile 1997, nel celebre episodio, Ellen Degeneres dichiarava davanti ad un pubblico di oltre 40 milioni di persone la propria omosessualità. Da qui in avanti è storia.
Ma il coming out non avvenne senza conseguenza. Nella nuova stagione venne aggiunto il cartello di avviso "This program contains adult content". La serie andò avanti soltanto una stagione dopo il famoso episodio e poi venne cancellata.
Al di là dello sfortunato destino della serie, il coming out di Ellen, oltre a essere passato alla storia per essere stato il primo trasmesso in prima serata in una serie
televisiva americana
, ha anche aperto la strada
a tutte le serie che sono venute dopo. Viene spontaneo chiedersi: sarebbe mai esistito Orange Is the New Black senza Ellen?