Il prison drama è un genere che sta prendendo sempre più piede sulle piattaforme di streaming, profilandosi in maniera diversa rispetto al paese di produzione. In questo articolo analizzeremo le differenze che intercorrono tra due Serie Tv di questo genere. All'angolo destro del ring, con 6 stagioni alle spalle e una popolarità mondiale: Orange Is The New Black. Dall'altra parte, con 3 stagioni e il riscatto da una cancellazione: Vis a vis.
Di Orange Is the New Black abbiamo sentito parlare tutti almeno una volta. Distribuita dal colosso Netflix, questa serie è una tra le più longeve della piattaforma. Ambientata nel penitenziario di Litchfield, segue le vicende della detenuta Piper Chapman (Taylor Schilling, che voci di corridoio dicono pronta a lasciare la serie), condannata a 15 mesi di detenzione per associazione a delinquere e riciclaggio di denaro sporco.
Vis a vis è invece una serie Tv spagnola, assai meno conosciuta, distribuita inizialmente da Antena 3, poi cancellata e infine salvata (fortunatamente) dalla Fox.
Racconta la storia di Macarena Ferreiro (Maggie Civantos) che rischia di scontare una pena di 7 anni per frode nel carcere di Cruz del Sur.
Ma partiamo con le differenze. Innanzitutto il genere.
Nonostante siano entrambe ambientate in prigione, appartengono a generi diversi. Orange Is the New Black fa parte delle cosiddetti dramedy, cioè un mix tra dramma e commedia, genere particolarmente adatto all'ambiente di una prigione di minima sicurezza. Lo stile da commedia drammatica persiste però anche nell'ultima stagione, trasferitasi nel carcere di massima sicurezza di Litchfield.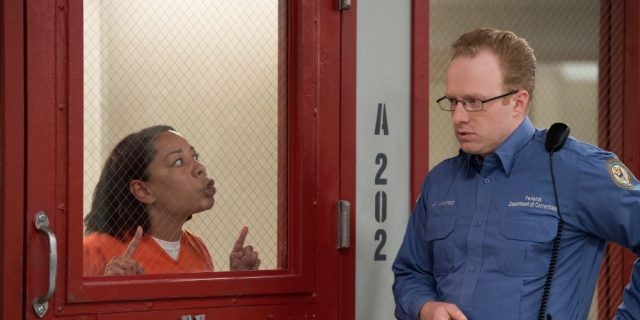 Vis a vis è invece molto più cupa e drammatica, essendo ambientata fin da subito in un carcere di massima sicurezza. La tensione e l'inquietudine perdurano durante tutte e tre le stagioni, raramente intervallate da momenti di sollievo.
L'atmosfera di Orange Is the New Black è d'altro canto generalmente molto più leggera, anche nei momenti in cui non dovrebbe esserlo. Basti pensare alla sesta stagione (leggi qui la recensione del primo episodio), in cui il conflitto tra braccio C e D si struttura inizialmente su "bambinate" e scherzi di dubbio gusto.
Ci sono poi differenze anche per quanto riguarda i personaggi.
Orange Is the New Black vanta un cast numeroso e ben selezionato, in grado di dare vita a personaggi con background diversi e dalle caratteristiche più disparate, le cui storie vengono approfondite utilizzando dei flashback.
Vis a vis presenta, al contrario, una compagnia più ristretta ma molto unita (di cui fa parte anche Alba Flores, la nostra Nairobi). Le attrici sono capaci di creare protagoniste a cui ti affezioni, indipendentemente dalla loro cattiveria. Per fare un esempio, il personaggio di Zulema Zahir (Najwa Nimri) è veramente spietato, ma è caratterizzato così bene da fartelo piacere, anzi amare, lo stesso. La tecnica del flashback, in Vis a vis, viene però sostituita da un meccanismo di interviste che si concentra più sulle opinioni delle detenute piuttosto che sul loro passato.
Ultimo aspetto che andremo ad analizzare è quello narrativo.
Con Orange Is the New Black siamo essenzialmente abituati a una trama che si sviluppa all'interno del penitenziario. Nonostante i legami che questo ambiente ha con l'esterno, per esempio la relazione tra Piper e Larry oppure la rivolta, la narrazione rimane focalizzata sulle detenute.
Vis a vis riesce invece a oltrepassare le mura della prigione e a sviluppare una cornice narrativa all'esterno di Cruz del Sur, incentrata anzitutto sulla cauzione da pagare per rimettere in libertà Macarena. Questa trama secondaria è però (sfortunatamente) poco credibile, almeno nelle prime due stagioni.
Col salvataggio della Fox, infatti, Vis a vis è stata rinnovata e trasformata in un piccolo gioiellino dei prison drama. Il tutto grazie anche a un cambio di location che ha portato una genuina ventata d'aria fresca.
Insomma entrambe le serie hanno molto da offrire, anche se in maniera diversa. Il mio suggerimento è di recuperare sia l'una che l'altra, a meno che non lo abbiate già fatto. In tal caso fateci sapere che cosa ne pensate e quale delle due avete preferito!