Molti di voi avranno probabilmente sottovalutato questa serie, non gli avranno dato troppo credito e si sarà persa nei meandri di una lista chilometrica su Netflix che chissà mai se riusciremo a svuotare. Molti altri invece non avranno nemmeno valutato l'idea di vederla in un futuro prossimo, snobbandola e reputandola di poco interesse, magari basandosi semplicemente sulle poche righe della trama. Io stesso ci ho messo 5 mesi per decidermi a vederla nonostante l'avessi aggiunta a "La mia lista" praticamente fin da subito. Ebbene, Master of None è una serie che non può non piacere! E proprio qualche giorno fa l'abbiamo inserita tra le 10 Serie TV targate Netflix che dovreste assolutamente vedere
Ma cos'ha di tanto speciale questo ennesimo, riuscitissimo, prodotto originale Netflix? Nulla probabilmente, o forse la cosa che più attira di questa nuova comedy è proprio il suo essere normale, raccontando storie di vita reali e vicine al mondo dei 30enni di oggi, soprattutto americani. E l'ingrediente del suo ottimo successo forse è proprio questo. Saper ridere e far passare una piacevole mezz'ora allo spettatore senza stupirlo con chissà quali effetti speciali ma, allo stesso tempo, tenendolo incollato al televisore desideroso di terminarla quanto prima.
Aziz Ansari comico statunitense di origini indiane interpreta un po' se stesso. Dev ha 30 anni, è americano ma nato da genitori indiani, non ama la sua lingua madre tanto da non essersi mai sforzato troppo nemmeno di impararla (infatti con la nonna, che parla solo il dialetto del suo paese d'origine, si limita a conversazioni telefoniche brevissime) e aspira a diventare un attore di successo dopo aver realizzato un paio di riuscite pubblicità. Ottiene una piccola parte in un film su un'apocalisse zombie, "Il Virus" e poi alla premiere scopre di essere stato tagliato; viene preso per un'altra pubblicità ma poi gli vengono preferite delle attrici femminili, insomma, si arrabatta come può senza mietere troppo successo.
Ma Dev combatte anche ogni giorno con gli stereotipi legati al colore della sua pelle o a parti sempre troppo uguali che produttori e registi troppo superficiali vogliono dargli, tipo il classico tassista indiano dei film americani o il ragazzo della porta accanto con il tipico accento indiano, che lui però non ha e che tantomeno vuole fingere di avere. Il suo migliore amico è Arnold, un gigante buono come il pane e ancora un po' troppo infantile, mentre Denise è la sua migliore amica, una ragazza nera con le treccine rasta e dichiaratamente omosessuale. Chiude il cerchio Brian Cheng, americano ma di origini cinesi che vive all'ombra del padre. Poi c'è Rachel, una ragazza che piace parecchio a Dev e i due finiranno per avere una lunga e impegnativa relazione.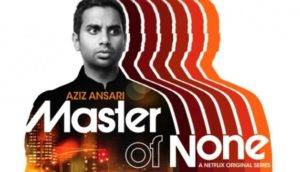 Come Friends e How I Met Your Mother, c'è sempre New York a fare da sfondo. Ci sono un paio di bar dove gli amici si riuniscono,c'è l'amore e i suoi problemi o i batticuori che porta con se,c'è l'amicizia, quella vera e forte capace di sfondare ogni barriera e c'è la continua ricerca di stabilità, di un lavoro sicuro; insomma, tutto quello che c'è nella vita di tutti i giorni di un ragazzo qualunque americano. Ma anche il razzismo viene affrontato in un modo nuovo e quasi ironico. Come già detto Dev è un americano di origini indiane, la sua migliore amica è nera e omosessuale, e lui affronta la vita ogni giorno conscio dei problemi e delle tematiche sempre care alle diverse etnie presenti ormai stabilmente nella Grande Mela. Il tutto fatto anche con leggerezza e ironia, senza prendersi troppo sul serio e giocandoci e scherzandoci su lui stesso.
Ansari ci porta così nella sua dimensione, affrontando insieme a lui la fase dell'innamoramento di Rachel, quella della routine quotidiana quando la ragazza va a vivere con lui e infine quella dell'abbandono quando lei decide di andarsene a Tokyo per fare una nuova esperienza, poche settimane dopo la loro pausa di riflessione. Delle difficoltà per un ragazzo di origini indiane di dire alla sua famiglia della sua relazione con una ragazza caucasica, dell'imbarazzo nello scoprire che i genitori, a volte, sono persone molto più vicine a noi e moderne di quanto in realtà pensiamo.
10 episodi da 30 minuti circa fanno di Master of None una commedia leggera e divertente. Pubblico e critica l'hanno accolta benissimo: su Rotten Tomatoes su 38 recensioni realizzate ha un indice di gradimento addirittura del 100% con un punteggio di 8.5 su 10. "Eseguita in modo eccezionale con fascino, umorismo e cuore, Master of None offre un punto di vista piacevolmente non convenzionale su una premessa familiare", così il commento sul sito. Inoltre negli ultimi Golden Globe, Aziz Ansari ha ottenuto la nomination come Miglior Attore in una serie Comedy, premio poi ottenuto da Gael Garcia Bernal per Mozart in the Jungle. Indubbiamente però anche la nomination, oltre al gradimento del pubblico, è un segno tangibile che l'esperimento è perfettamente riuscito e che Netflix ha colpito ancora!
Paolo Martina