Tra le citazioni scartate ma non del tutto di OITNB non ho potuto non inserire quella che si ripete costantemente per tutta la serie:
In sala visite sono concessi due abbracci: uno all'arrivo e uno quando ve ne andate.
La stessa serie che ha mandato in fumo la sessione estiva di tantissimi studenti letteralmente incatenati a Netflix a causa della quarta stagione uscita appena tre giorni fa tant'è che persino Boo/ Lea DeLaria ha comunicato tramite un video agli studenti imprigionati dietro le sbarre di Litchfield di non abusare della nuova stagione e di dedicarsi allo studio così da potersi ingozzare di OITNB a tempo debito.
Una serie che non ha remore sul demolire la sua protagonista per dedicarsi ad ognuna delle detenute dimostrando così da ottenere sufficiente materiale per andare avanti fino a sette stagioni aggirando il pericolo di far assomigliare OITNB ad una sorta di Team Drama ambientato in un liceo. Osservazione che viene messa in bocca dagli sceneggiatori a Piper nella prima stagione
Questo posto assomiglia sempre più a un liceo
Ebbene, le dinamiche potrebbero ed in parte sono le stesse: tante persone con i loro drammi privati e pubblici rinchiuse dentro in un luogo dove ti obbligano a rispettare delle regole insulse. Eppure c'è qualcosa di più che rende Orange Is The New Black un prodotto innovativo e questo qualcosa è l'intrattenimento intelligente.
Un qualcosa in più che attraverso queste trenta citazioni iconiche non potrà che colpirvi.
1 Io lavoro qui da ventidue anni e ancora non riesco a capire come funziona il sistema. Ho un pusher di crack che sta scontando nove mesi e poi ho una donna che ha investito accidentalmente con la macchina un postino che si farà quattro anni. Quel tizio si è rotto l'osso del collo…Ma andiamo! Non riesco a capire! (Sam Healy)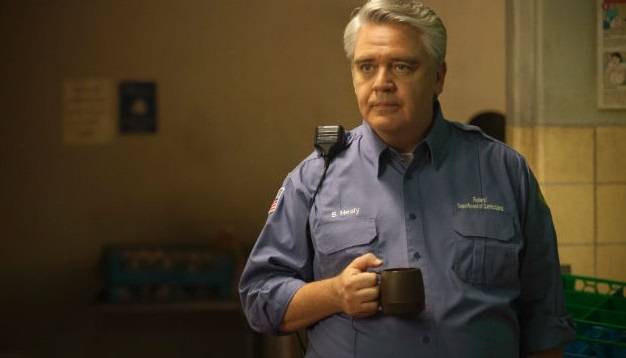 Healy è il classico uomo dall'educazione tradizionale che vorrebbe fare la differenza ma che sostanzialmente non riesce ad andare oltre il suo naso. Odia e teme le lesbiche, è convinto che un giorno domineranno la terra rendendo gli uomini come lui inutili. Nonostante il suo background, Healy vorrebbe davvero dare una mano alle detenute per sentirsi a posto con la coscienza senza ridurre il suo lavoro a scriba di scartoffie perché sa bene che il sistema non verrà mai incontro ai più deboli e che, allo stesso tempo, è possibile sfruttarne le falle. Amareggiato, frustato e mediocre Healy ci da il giusto input per dare il via a questa selezione di citazioni di Orange Is The New Black ricordandoci sempre che uno dei leitmotiv della serie è che il sistema non funziona.