La produzione di The Witcher continua ad andare avanti ed è stato annunciato con un tweet proprio dalla sceneggiatrice e produttrice Lauren Schmidt Hissrich.
La Hissrich, infatti, ha postato una foto dove rende pubblico a tutti la fine della sceneggiatura riguardante il primo episodio della futura Serie Televisiva.
Malgrado le notizie riguardo il progetto siano tenute "sotto chiave", questa è una notizia molto importante per quella fetta di appassionati che stanno seguendo da vicino tutto ciò.
La domanda che tutti, però, si stanno chiedendo è da quale degli otto libri scritti dall'autore polacco, Andrzej Sapkowski, la Serie prenderà ispirazione.
Ma soprattutto, resterà fedele al The Witcher che tutti noi conosciamo?
A questa domanda la stessa Hissrich aveva rassicurato i fan, specificando che non si sarebbe allontanata dalla storia originale. D'altronde, c'è da far presente che, Sapkowski, attualmente sta collaborando come direttore creativo della Serie Televisiva.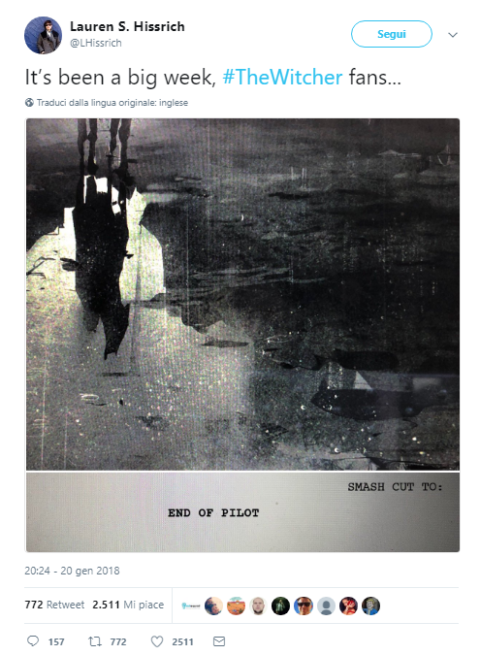 Ma chi starà dietro la cinepresa?
Tomasz Baginski, si occuperà di dirigere gli episodi, mentre Sean Daniel e Jason Brown saranno rispettivamente co-produttori.
Per chi non ne fosse a conoscenza, The Witcher non è divenuto famoso tanto per la saga di romanzi, ma per i tre videogiochi prodotti dall'azienda CD Project Red. Proprio quest'ultima, non avrà alcun coinvolgimento per quanto riguarda la Serie Televisiva. Oltre alla Serie di videogiochi sono stati prodotti un gioco da tavolo e delle miniserie a fumetti.
Al momento non si hanno notizie su una data d'inizio produzione o se, eventualmente, ci sarà un cast vero e proprio.
Un'altra domanda, infatti, che i fan si sono posti è: The Witcher sarà un live-action o uno Show interamente in CGI?
Ovviamente gli appassionati hanno fatto presente più volte, su internet, che il loro desiderio sarebbe un The Witcher girato con attori in carne ed ossa; e, a tal proposito, sono cominciati anche i fan casting per i ruoli principali.
Chi vedreste voi nel ruolo del protagonista, Geralt di Rivia?