The Umbrella Academy 2 ci ha portato nuovamente nelle vite dei fratelli Hargreeves, catapultati indietro nel tempo negli anni '60 e costretti a far fronte a una nuova Apocalisse.
E se su Netflix possiamo (ri)vedere gli episodi della prima e della seconda stagione dedicandoci al bingewatching, sui social possiamo dare uno sguardo al dietro le quinte. Sull'account twitter ufficiale della serie è stato rilasciato il video con i blooper, che ci svela alcuni retroscena.
The Umbrella Academy 2 ha evitato l'errore della tazza
I blooper mostrano anche che gli attori sono riusciti a evitare un errore fatto nell'ottava stagione di Game of Thrones.
ATTENZIONE: seguono spoiler!
Vi ricordate la tazza di Starbucks rimasta in scena nell'episodio 8×04? Jon, Daenerys e gli altri personaggi stavano festeggiando la vittoria contro gli Estranei… con una bella tazza di Starbucks proprio di fronte alla Madre dei Draghi.
Da questo errore nacque la "saga della tazza": Sophie Turner incolpò Kit Harington, i due creatori Benioff e Weiss scherzarono dicendo che la tazza ricordava loro la loro imperfezione, Emilia Clarke rivelò poi che la tazza era di Conleth Hill, che si difese dalle accuse. Un gran casino!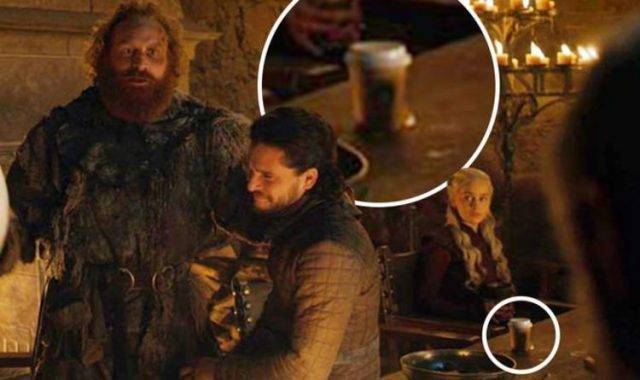 The Umbrella Academy è riuscita a evitare tutto ciò.
Il video dei blooper mostra che David Castañeda (Diego) ha visto una lattina di club soda (acqua gassata) e l'ha fatto notare dicendo: "Game of Thrones!, Game of Thrones! Portate via quella club soda!". Tom Hopper (Luther) l'ha prontamente portata fuori di scena. Bravi ragazzi!
Al momento, Netflix non ha ancora ufficialmente confermato la terza stagione di The Umbrella Academy. Sarebbe davvero un peccato se la serie non continuasse, soprattutto dopo un finale che ci introduce a una timeline alternativa in cui l'Umbrella Academy non esiste più, Ben e Reginald Hargreeves sono vivi e ci sono nuovi ragazzi con superpoteri, la Sparrow Academy. Speriamo di ricevere presto la notizia del rinnovo!
Fun fact: anche Lauren S. Hissirich, showrunner di The Witcher, ha scherzato sul clamoroso errore di Game of Thrones.