L'ottava stagione di Game of Thrones ci ha lasciato con tante cose su cui riflettere: un finale che non è piaciuto a tutti; i seri dubbi di molti sulle capacità di Benioff e Weiss. Misteri tuttavia ne sono rimasti davvero pochi, e dopo lo sviluppo di quasi due settimane fa, con una rivelazione di Emilia Clarke (che avevamo riportato qui), credevamo che l'ultimo grande mistero di Game of Thrones fosse cosa diavolo stava combinando Bran mentre faceva da esca per il Re della Notte nel parco degli dei.
Ma ci eravamo sbagliati. La saga della tazza di Starkbucks… pardon, Starbucks, è tutt'altro che conclusa. Ricapitoliamo velocemente cosa è successo negli scorsi episodi.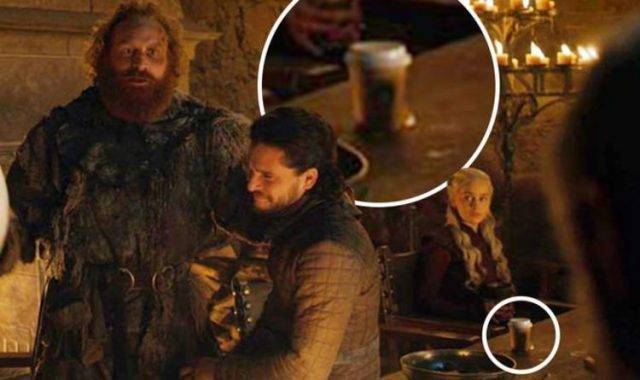 Una tazza di caffè appartenente alla nota catena Starbucks compare magicamente nella scena dei festeggiamenti post-Battaglia di Grande Inverno, nella 8×04 di Game of Thrones. Ovviamente il web si è scatenato ed è partita la caccia al colpevole. La patata bollente ha girato parecchio e i membri del cast hanno lanciato accuse qua e là. Durante un'intervista Sophie Turner ha ipotizzato che la colpa fosse di Kit Harington. Poi Emilia Clarke ha raccontato di come Conleth Hill si sia confessato colpevole.
Credevamo che la confessione del Varys di Game of Thrones fosse l'episodio finale, e invece no! Conleth Hill non ci sta, e sull'emittente britannica Channel 4 ha rifiutato le accuse.
Sapete, non ci sono prove che sia stato io, quindi accusate pure. Avrei dovuto avere le braccia di Mr. Man per lasciare la tazza lì.
Certo, per lasciarla lì durante una pausa e spostarsi nel momento in cui ricominciassero le riprese non ci volevano i superpoteri di un eroe di libri per bambini, ma la star di Game of Thrones non si perde in speculazioni su come il colpevole (lui o un altro membro del cast) possano averla lasciata lì. Anzi, commenta scherzosamente:
Non ho intenzione di fare commenti finché non avrò un avvocato.
Insomma, su chi sia il ad aver commesso il misfatto non abbiamo ancora certezze. Chissà che tra qualche altra settimana non ci sia qualche nuovo sviluppo. Ci becchiamo (forse) al nuovo episodio di Game of Coffee.