A distanza di qualche mese dalla conclusione di Game of Thrones, la pluri premiata serie tv che ha tenuto tutti con il fiato sospeso fino al suo epilogo, torna a far discutere. Stavolta il motivo riguarda Emilia Clarke e uno degli avvenimenti più discussi di tutto lo show.
Ricorderete tutti l'episodio 8×04 di Game of Thrones (qui la nostra recensione), intitolato "The Last of the Starks". L'episodio raccontava le fasi successive alla vittoria contro il Re della notte, e fin dai primi minuti si respirava un'atmosfera di festa e gioia.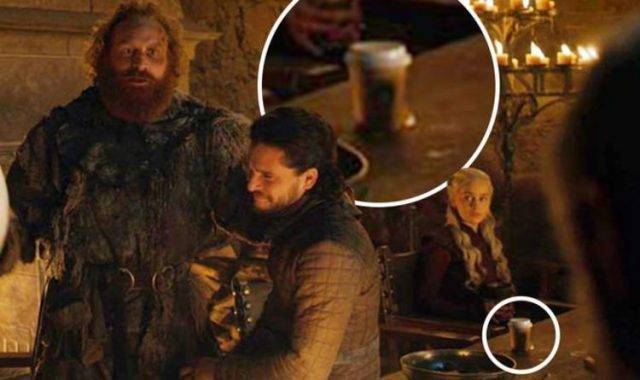 Tra elogi e divertimento, qualcuno si è dimenticato un bicchiere, molto simile a quelli utilizzati da Starbucks, sulla scena del set di Game of Thrones. Tale errore non è sfuggito agli spettatori che con ilarità in poco tempo hanno diffuso la notizia, facendola diventare virale.
Per svariato tempo in molti hanno ipotizzato che l'errore fosse di Emilia Clarke, probabilmente perché il bicchiere compariva proprio di fronte a lei, tesi inizialmente confermata anche da Sophie Turner. In occasione del celebre programma televisivo statunitense "The Tonight Show with Jimmy Fallon" l'interprete di Daenerys Targaryen ha fatto luce sulla vicenda, svelando il mistero.
Ecco la verità, prima degli Emmy abbiamo fatto una festa e Conleth Hill, l'interprete di Varys, che era seduto di fianco a me in quella scena, mi prende da parte e mi dice: "Emilia ti devo dire una cosa, ti devo rivelare che quella tazza di caffè era mia!"… era sua! Era di Conleth, lo ha ammesso."
Emilia Clarke ha in seguito aggiunto, sempre durante la trasmissione televisiva, perché il collega non le avesse raccontato prima la verità.
Mi dice così: "mi spiace tesoro, non ho detto niente prima perché tutti erano impegnati a prendersela con te!"
E io ho detto: "cosa?!"
Alla fine dei giochi è stata una dimenticanza di Conleth Hill (e qui vi raccontiamo come l'attore è stato deluso dalle ultime due stagioni) anche se il vero errore è stato dell'intera produzione e di tutte le figure coinvolte, che non si sono accorti di un errore simile durante le riprese di Game of Thrones.