La piattaforma Netflix ha rivelato la data di uscita di The Politician, la serie comica con venature oscure, oltre a ulteriori dettagli sul nuovo cast. Creata da Ryan Murphy, la serie tv segue Payton Hobart (Ben Platt), un giovane ambizioso che a sette anni ha tracciato il suo percorso per diventare presidente degli Stati Uniti. Affiancato dai suoi migliori amici, McAfee (Laura Dreyfuss) e James (Theo Germaine), Payton deve affrontare le prove e le tribolazioni della Saint Sebastian High School, mentre condiziona i suoi piani per diventare il futuro comandante a capo.
La seconda stagione di The Politician sarà presentata il 19 giugno sulla piattaforma streaming. La serie televisiva riprenderà dopo il salto temporale rivelato al termine della stagione scorsa garantendo, allo stesso tempo, stranezze politiche.
La seconda stagione sarà incentrata su Payton che tenta di "spodestare Dede Standish (Judith Light) nella corsa al Senato di New York". Dede e il suo capo staff di lunga data, Hadassah Gold (Bette Midler), si aspettavano un'altra campagna docile, tuttavia, Payton pone nuove sfide. Inoltre lui "deve decidere che tipo di politico vuole essere per avere successo, anche se questo significa svelare segreti, bugie e una coppia a tre".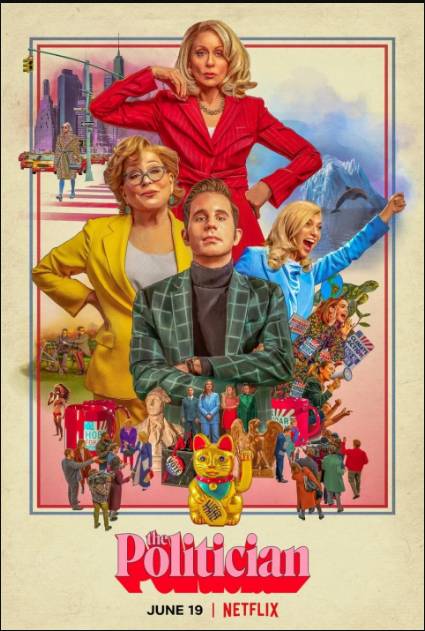 The Politician nella seconda stagione vedrà Gwyneth Paltrow riprendere il suo ruolo di Georgina, la madre di Payton. I co-protagonisti Zoey Deutch (Infinity), Lucy Boynton (Astrid), Julia Schlaepfer (Alice) sono inoltre previsti per completare l'ensemble della prossima stagione. Offrendo uno sguardo satirico su ciò che si deve sopportare per diventare un politico, la nuova stagione sarà composta da sette episodi.
The Politician è rapidamente diventato uno show di grande successo, con una trama avvincente e con numeri musicali cantati direttamente da Platt. In precedenza, Murphy aveva espresso che avrebbe concluso la serie dopo la terza stagione. Mentre questa potrebbe essere lontana dato lo stop delle produzioni fino a data da destinarsi, senza dubbio i fan potranno godersi la seconda stagione a partire dal prossimo mese.