Debutterà sui nostri schermi venerdì 10 gennaio 2020 The New Pope, la serie tv firmata da Paolo Sorrentino e nata dalla collaborazione di SKY, HBO e Canal +.
Reduce dal successo di The Young Pope, The New Pope continuerà il viaggio di esplorazione religiosa ed estetica che l'eccentrico cineasta romano aveva iniziato nell'ottobre del 2016.
Ecco qui, in breve, la trama:
Troviamo Pio XIII in un letto di ospedale, in coma. Sorge dunque la necessità di un nuovo papa. Per mezzo delle sue ambigue strategie, il cardinal Voiello riesce a far eleggere Papa Sir John Brannox. L'aristocratico inglese salirà al Soglio Pontificio con il nome di Giovanni Paolo III. Quest'ultimo dovrà guadagnarsi la stima e la devozione dei fedeli, compito arduo considerato il suo illustre e affascinante predecessore che, nel frattempo, inizia a lanciare "strani" messaggi nonostante sia in stato comatoso, dando modo ad alcuni fedeli di sviluppare una vera e propria idolatria nei suoi confronti. Il Vaticano, intanto, rischia di essere sommerso dagli scandali.
Insomma, pare che ne vedremo delle belle. Se non bastasse l'assurdo e affascinante plot a convincervi alla visione, vi facciamo i nomi di chi ha collaborato alla realizzazione di questo progetto: scritto da Paolo Sorrentino, Umberto Contarello e Stefano Bises, il cast è composto da nomi altisonanti quali Jude Law, John Malkovich, Silvio Orlando, Javier Cámara, Cécile de France, Ludivine Sagnier e Maurizio Lombardi, Henry Goodman, Ulrich Thomsen, Mark Ivanir, Yuliya Snigir, Massimo Ghini. Ma non è finita qui, compariranno anche, come guest star, Sharon Stone e Marilyn Manson.
Vi lasciamo la locandina e le immagini rilasciate da Sky :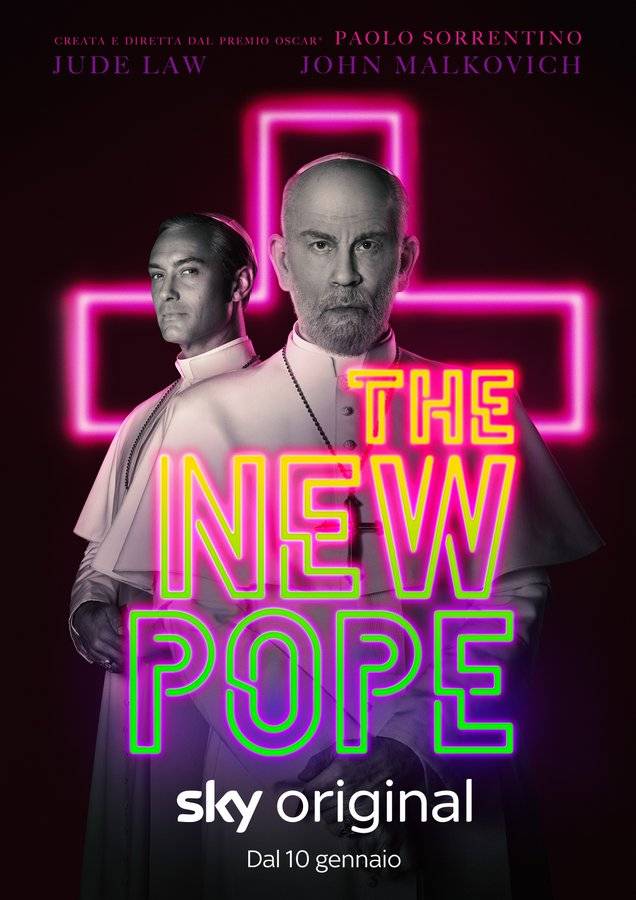 @credits Sky
Insomma, non vediamo l'ora di scoprire cosa accadrà in quel mondo incredibile che esce dalla testa di Sorrentino. Chissà cosa ne sarà di Pio XIII e Giovanni Paolo III: non ci resta che aspettare.