Come ormai è risaputo da diverso tempo, nelle prossime due stagioni (terza e quarta) di The Crown non vedremo l'attrice Claire Foy nei panni della Regina Elisebetta II. Una scelta che ha fatto storcere il naso a molti appassionati della Serie televisiva i quali, ormai affezionati alla protagonista, avrebbero preferito ancora lei.
In queste ultime ore però l'emittente streaming Netflix ha diffuso una prima immagine ufficiale di Olivia Colman nelle vesti della Regina.
Nella foto si vede l'attrice intenta a bere una tazza di te: il contesto dell'immagine rimane, ad ogni modo, sconosciuto.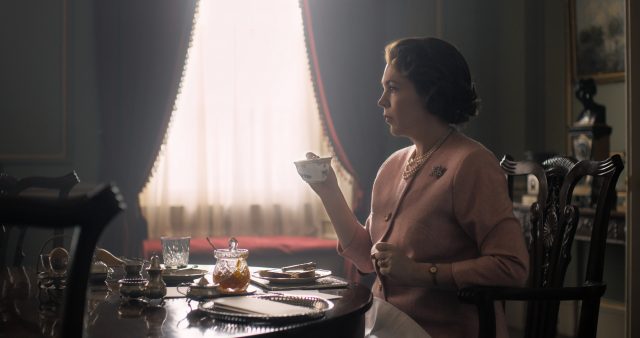 Al momento la produzione della terza stagione è ancora in corso e la data di debutto è sconosciuta; sappiamo solo che, per il 2019, avremo dei nuovi episodi della Serie Tv prodotta da Netflix.
La Foy non è stata, ovviamente, l'unico membro del cast ad essere sostituito. Vedremo, oltre la Colman, anche: Tobias Menzies (Principe Filippo), Helena Bonham Carter (Principessa Margaret), Ben Daniels (Antony Armstrong-Jones) e Jason Watkins.
Le prossime due stagioni copriranno gli anni che partiranno dal 1963 in poi.
Verranno inclusi eventi molto importanti a livello internazionale, come la nascita e crescita del fenomeno Beatles e l'Inghilterra vincitrice della Coppa del Mondo nel 1966.
L'immagine è stata diffusa a seguito delle nomination per i prossimi Emmy Award che vedono The Crown in più di una singola categoria. Le nomination assicurate, in totale, sono ben 13.
Gli attori Claire Foy e Matt Smith sono stati entrambi nominati nella categoria attori protagonisti di una Serie televisiva dal genere drama.
I numerosi fan dello show targato Netflix sperano in una loro vittoria per poter salutare al meglio il lavoro compiuto in questi ultimi due anni.
Che cosa ne pensate?
La Colman e Menzies riusciranno a non farci rimpiangere i loro predecessori?