Ricordate la notizia di qualche giorno fa riguardo le minacce del Tempio Satanico nei confronti di Netflix e il suo show, Chilling Adventures of Sabrina?
Ebbene, sembrerebbe proprio che i satanisti siano andati avanti attraverso un'azione legale.
Il risarcimento che avrebbero richiesto a Netflix e alla Warner Bros. per aver sfruttato l'aspetto della statua di Baphomet ammonterebbe a 50 milioni di dollari.
Nella denuncia presentata dai satanisti si legge che la statua mostrata all'interno della serie televisiva, creata dal Tempio fra il 2013 e il 2014, basata su un'iconografia del 19esimo secolo, "alimenta un panico satanico" fra gli spettatori.
Il Tempio Satanico sostiene, inoltre, che l'artefatto è soggetto a copyright; dunque, Netflix, l'avrebbe sfruttato per fomentare un pregiudizio nella rappresentazione del male. L'organizzazione ha difatti dichiarato che:
Il design della statua di Baphomet è una parte centrale degli sforzi per promuovere i valori del primo emendamento di separazione tra la chiesa, lo stato e pari protezione.
I satanisti, all'interno della denuncia, hanno anche indicato che la statua non deve apparire nei prossimi episodi di Chilling Adventures of Sabrina.
Considerando che le riprese per la seconda stagione è già iniziata da qualche settimana, tutto ciò comporterebbe un problema con la produzione dello show.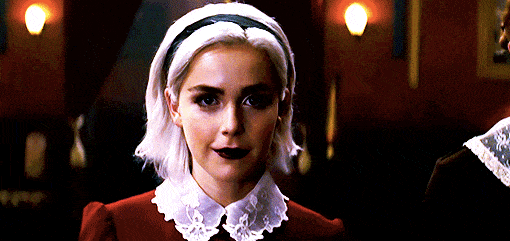 Una storia, che per molti, è stata definita surreale.
Il Tempio Satanico, a ogni modo, è molto conosciuto per questo genere di notizie, soprattutto a livello governativo sul suolo americano.
L'organizzazione in passato avrebbe fatto richiesta di poter situare la propria statua di Baphomet accanto a un'altra che rappresenta i Dieci Comandamenti nella zona del campidoglio della città di Oklahoma. Attualmente starebbe attraversando una situazione simile nello Stato dell'Arkansas.
Sia Netflix che la Warner Bros. hanno espressamente rifiutato di commentare la vicenda.
Cosa ne pensate?