Con tutto il materiale che c'è sui cataloghi delle piattaforme di streaming è impossibile non trovare un film o una serie tv che faccia al caso vostro. Farsi un giro tra i titoli di Netflix, di Amazon Prime o di qualunque altra piattaforma è un po' come andare a zonzo tra gli scaffali del supermercato: si passano in rassegna i prodotti migliori, si legge la marca, si valuta la convenienza, si cerca la scadenza. E poi si mette nel carrello un po' di tutto, aspettando il momento adatto per aprire la busta e iniziare il pacco.
Selezionare i migliori titoli da Amazon e Netflix significa però perdersi in un iper-market pieno di prodotti di qualità.
Le due piattaforme sono dei container televisivi pieni di tutto. Ma davvero di tutto. Perché, al di là delle serie originali, il catalogo offre in entrambi i casi una lista impressionante di titoli disponibili in streaming. Serie di successo, prime visioni, show storici, nuove scommesse. Operare una selezione in questo senso è un'impresa titanica. Cinquanta sembra un numero abbastanza grosso da poterle contenere tutte e invece si scopre che, malgrado l'ampio raggio, sono tante le serie di spessore a restare fuori dalla lista. Non troverete ad esempio alcuni show che hanno segnato la nostra giovinezza come La Tata e Dawson's Creek, che pure sono disponibili su Amazon Prime Video. Non troverete Gossip Girl, Ugly Betty, New Girl, Una mamma per amica, Shameless, Supernatural. E neanche Grey's Anatomy o This Is Us, tanto per fare dei nomi che contano.
Abbiamo cercato di operare una scelta che possa investire tutto il catalogo a trecentosessanta gradi. Non prendetevela se diamanti di punta come La Casa de Papel, Lucifer o Élite non sono in lista, qualcosa doveva pur rimanere fuori. Abbiamo cercato di accontentare un po' tutti i gusti, puntando sulla varietà di genere, ma anche di qualità. Andando a prediligere i grandi successi, ma inserendo anche quelle serie che hanno fatto la storia della televisione. Titoli datati, prodotti originali, cult che vengono riproposti.
Vi avevamo avvisato: Netflix e Amazon Prime Video sono davvero un calderone dal quale è impossibile non attingere.
Non puntiamo tutto solo sulla qualità, o solo sul nome, sulla potenza narrativa o sulla popolarità. Altrimenti serie come I Griffin, Pretty Little Liars, Downton Abbey o When They See Us, The Witcher, Mindhunter (Netflix) e Modern Love (Amazon Prime) non sarebbero certamente state escluse. Cerchiamo più che altro di fornire una lista – badate bene, una lista, non una classifica – che possa accontentare davvero i gusti di tutti.
E se non riuscite a pescare un titolo che faccia al caso vostro da qui, beh allora rinunciateci davvero.
Iniziamo, quindi. E attenzione: è una lista, non una classifica.
1) Breaking Bad
Inutile girarci intorno: il capolavoro di Vince Gilligan con Bryan Cranston e Aaron Paul non poteva mancare. Non solo in questa lista, ma in tutte le liste che abbiano qualcosa a che fare con il mondo delle serie tv, con la televisione, con le opere d'arte, con la bellezza in generale. Breaking Bad resta una di quelle punte inarrivabili con cui ogni sceneggiatore deve purtroppo confrontarsi, riuscendo quasi mai ad eguagliarla.
2) Peaky Blinders
Tra i migliori period drama mai realizzati per la televisione, la serie della BBC con Cillian Murphy è attualmente disponibile su Netflix con tutte le stagioni e su Amazon Prime solo con le prime due. Steven Knight ci ha regalato con questo dramma storico un gioiellino che, con poche puntate per stagione, riesce ad elettrizzarci e a catapultarci nella grigia Birmingham degli anni Venti. Gli amanti del genere la adoreranno, ma anche chi non ama le serie tv storiche potrebbe ritrovarsi imbrigliato in questo mondo senza volerne uscire più.
3) Prison Break
4) Mr Robot
5) Doctor Who
6) Stranger Things
7) The West Wing
Tutti gli uomini di Martin Sheen, il presidente, contribuiscono a rendere questo political drama a stelle e strisce uno dei più amati di sempre. Sette stagioni, tutte finalmente disponibili su Amazon Prime, andate in onda a cavallo del secolo, dal 1999 al 2006. Aaron Sorkin ha sceneggiato la prime quattro stagioni, poi la palla è passata a John Wells. E sebbene ci sia stato un lieve calo degli ascolti nel passaggio da uno showrunner all'altro, The West Wing rimane, con i suoi 26 Emmy, una delle serie di maggior successo nella storia della televisione americana.
Molto prima di House of Cards, questa serie ci porta nel mondo della politica americana, attraverso lo sguardo del Presidente e del suo staff, che occupa appunto l'Ala Ovest della Casa Bianca. Un'ottima chiave di lettura su uno dei mondi politicamente più interessanti del pianeta: gli Stati Uniti d'America.
8) Lost
9) Better Call Saul
10) Sherlock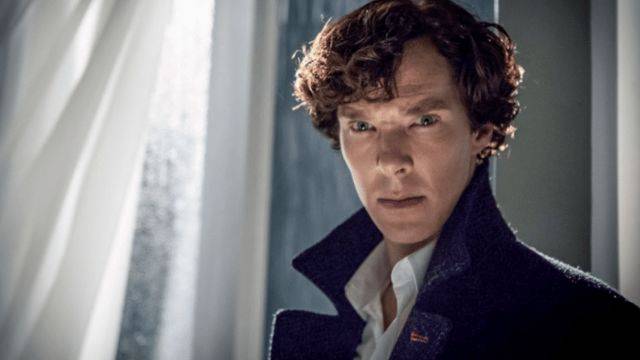 Le tetre atmosfere londinesi, un vago accenno allo stile di Arthur Conan Doyle e la straordinaria capacità interpretativa di Benedict Cumberbatch, affiancato in questo show da Martin Freeman. Sherlock è una delle perle che potete trovare ancora su Netflix e che rivisita l'intramontabile mito di Sherlock Holmes, riportandolo ai nostri giorni. Tra indagini apparentemente senza via d'uscita, il giovane investigatore riesce sempre a trovare la via giusta grazie alle sue incredibili intuizioni.
Netflix ci ha fatto un bel regalo inserendo in catalogo questo giallo della BBC.
Peccato che si sia bloccato alla quarta stagione lasciando migliaia di fan nell'incertezza più totale.
11) Friends
12) Sons of Anarchy
13) How to Get Away With a Murder
14) Black Mirror
15) Seinfeld
Conviene soffermarsi su questa sit-com perché, malgrado non abbia avuto grande successo in Italia, negli Stati Uniti ha segnato una tappa importante nel mondo delle commedie televisive. Jerry Seinfeld è il protagonista di questo show che è stato definitivo "uno show sul nulla", che è poi diventato uno show sul tutto.
Seinfeld è una serie che parla del banale senza essere superficiale. Si passa attraverso le situazioni più ordinarie del vivere quotidiano, senza la pretesa di voler trasmettere insegnamenti e con una vena di politicamente scorretto. Andata in onda negli anni Novanta, ha influenzato gran parte delle sit-com moderne, da The Office ad Arrested Development. È disponibile su Amazon Prime Video e va recuperata tutta.
16) Buffy l'ammazzavampiri
17) Vikings
18) Dark
19) BoJack Horseman
20) Colombo
Un altro pezzo d'antiquariato che vi capiterà di trovare su Amazon Prime è Colombo, la serie che negli Stati Uniti è andata in onda dagli anni Settanta per almeno un trentennio. È un cult assoluto del genere giallo-poliziesco, che ha fatto scuola a tante serie successive. Magari riguardare un episodio di Colombo oggi non sarà poi così entusiasmante, ma questo è il classico caso di una serie che, per la sua popolarità e per il fatto di aver rappresentato un pezzo di storia della televisione, andava inserita per forza in lista.
21) Brooklyn Nine-nine
22) Fleabag
23) Mad Man
24) How I Met Your Mother
25) Boris
Boris è quel piccolo gioiellino sfornato dalle produzioni italiane che possiamo recuperare per intero su Netflix – su Amazon Prime è disponibile invece Boris – Il Film. Tre stagioni (avete letto le news sulla quarta?) da 14 episodi l'una, con Alessandro Tiberi, Francesco Pannofino, Caterina Guzzanti e Pietro Sermonti tra i personaggi principali.
Questo è un ottimo esempio di come si possa fare bene un certo tipo di commedia in Italia. Boris è una serie che prende in giro la televisione italiana e, quindi, l'Italia stessa. È satirica, irriverente, esilarante ed è diventata un vero e proprio cult del genere comedy nel nostro Paese.
26) Narcos
27) Modern Family
28) Ozark
Tra gli Originali Netflix, Ozark occupa un posto fondamentale. Secondo alcuni sarebbe addirittura il miglior prodotto realizzato dalla piattaforma, ma, al di là delle esagerazioni, la serie con Jason Bateman e Laura Linney merita davvero. Un dramma in cui la vita tranquilla di uomo ordinario viene stravolta dall'emergere del suo profilo criminale. L'ambientazione e la sceneggiatura sono di altissimo livello e, se vi piace il genere, un tentativo dovete farlo. Il magnetismo del lago di Ozark potrebbe conquistarvi sin dal primo sguardo.
29) Orange Is The New Black
30) Rick and Morty
Le serie animate non sfuggono certo alla rete con cui abbiamo acciuffato i migliori titoli dei cataloghi Netflix e Amazon Prime. Insieme a BoJack Horseman, Rick and Morty è tra le più belle che siano state prodotte di recente. È una commedia in cui c'è dentro avventura, fantascienza, black humor e tanto altro. I creatori Justin Roiland e Dan Harmon hanno messo su la storia divertente di uno scienziato un po' fuori di testa – Rick – che, in compagnia del nipote Morty, esplora mondi paralleli e vive situazioni estremamente surreali. Il tono da sit-com aiuta a fare ogni volta scorpacciate di episodi in attesa delle nuove avventure.
31) Scrubs
32) The Crown
33) The Boys
Tra gli originali di Amazon Prime, invece, uno dei titoli che sta facendo più discutere è The Boys, giunto da poco alla seconda stagione. I fan si sono scatenati sul web con il review bombing, lasciando recensioni negative agli episodi appena usciti. Oggetto del disappunto la scelta della piattaforma di rilasciare gli episodi a cadenza settimanale invece che in blocco.
Ma al di là delle polemiche, questa serie sui supereroi ha conquistato una fetta di pubblico consistente ed è stata già rinnovata per una terza stagione.
34) The Good Place
35) Glee
36) Black Sails
Toby Stephens, Luke Arnold, Jessica Parker Kennedy, Tom Hopper, Zack McGowan e Hannah New sono tra i protagonisti di questa meraviglia creata da Jonathan E. Steinberg e Robert Levine per Starz, che potete recuperare sia su Netflix che su Amazon Prime. È un dramma storico in costume e racconta l'epopea di un gruppo di pirati che ha creato la libera Repubblica di Nassau opponendosi alla corona britannica.
Si tratta di una di quelle storie veramente belle che meriterebbero molta attenzione in più. In Black Sails c'è filosofia, c'è poesia, c'è azione, ci sono avventura e tensione. E non avete davvero più scuse per non guardarla.
37) Suits
38) American Horror Story
39) The Office
40) Dr. House
41) Misfits
Una serie tv che mischia fantascienza, commedia e dramma adolescenziale. Fu ideata da Howard Overman e trasmessa per la prima volta nel 2009 nel Regno Unito. La trama racconta di un gruppo di ragazzi che, dopo essere stati arrestati per dei reati minori, sono costretti a fare i lavori socialmente utili. Ciò che rende interessante questo show è che i protagonisti – i giovani Robert Sheehan, Iwan Rheon, Lauren Socha, Nathan Stewart-Jarrett, Antonia Thomas e Joseph Gilgun – hanno acquisito dei superpoteri dopo esser stati colpiti da un fulmine e devono imparare a gestirli.
Se Netflix ci ripropone Skins, Amazon Prime include nel catalogo questa serie che ha vinto il BAFTA come miglior serie drammatica nel 2010.
42) The Marvelous Mrs. Maisel
43) Fargo
44) Skins
45) Futurama
46) 24
Kiefer Sutherland – protagonista della serie Designated Survivor, presente su Netflix – è qui l'agente federale Jack Bauer, dell'unità anti-terrorismo di Los Angeles. Ogni giorno, negli Stati Uniti, c'è una minaccia per la tenuta del Paese e spetta a uomini come l'agente Bauer risolvere i problemi e tutelare la pace e la sicurezza. Il tutto in ventiquattro ore.
La serie andò in onda per la prima volta nel 2001 e appartiene a quel genere action-thriller che tanto piace agli americani. È una serie bella lunga da recuperare – 8 stagioni da 24 episodi l'una – ma che per la sua popolarità nei primi anni Duemila non poteva certo mancare in questa lista.
47) The Handmaid's Tale
48) The Man in the High Castle
49) The Shield X-Files
50) X-Files
C'è spazio anche per lo sci-fi con una delle serie più iconiche del genere. David Duchovny e Gillian Anderson interpretano due agenti dell'FBI che si trovano imbrigliati in una serie di casi paranormali, in cui c'è un po' di horror, un po' di giallo, un po' di thriller e tanta fantascienza.
UFO, alieni, intelligenze artificiali sono ospiti fissi di questa serie, che sul catalogo Netflix non si trova ma che è disponibile su Amazon Prime.
A livello qualitativo non è nettamente migliore di tante altre escluse dalla lista, ma X-Files è diventato un vero e proprio classico del genere thriller-fantascientifico, per cui era impensabile non prenderlo in considerazione nella nostra selezione.
Avete trovato qualcosa che vi piace oppure no?