Quella che oggi andremo ad analizzare è una serie tv ancorata nei più vividi ricordi di chi, come tanti tra di noi, passava i suoi pomeriggi sul divano tra il 2004 e il 2008 per vedere il palinsesto di Italia 1. Una famiglia disastrata, un ragazzino che si gira per fare monologhi di fronte alla telecamera, tanti scherzi e una sigla che tuttora non possiamo evitare di canticchiare: si parla di Malcolm in the Middle, o come più noto in Italia, semplicemente Malcolm.
Esatto, si discute di una serie cult come poche, ma, assurdo a dirsi, data la sua popolarità, praticamente introvabile su qualsiasi servizio streaming disponibile nel nostro paese. In attesa di poterla forse un giorno trovare su Disney+ (dato che i diritti della serie tecnicamente apparterebbero alla FOX, già acquisita dall'azienda di Topolino), oggi proviamo dunque a sviscerare tutti quegli aspetti che hanno reso Malcolm una perla unica nel suo genere e che hanno contribuito a caratterizzarne l'umorismo.
Per i pochi che non sapessero di cosa stiamo parlando proviamo a fornirvi qualche informazione su questa iconica serie tv, che ci ha saputo regalare ore e ore di divertimento, una valanga di tormentoni indimenticabili e che ha avuto tra l'altro il merito di lanciare la carriera di Bryan Cranston.
Tutta la comedy ruota attorno alle vicende di Malcolm, il terzogenito di una stramba quanto disfunzionale famiglia dal grande quoziente intellettivo. Assieme a lui vivono infatti la tirannica e possessiva madre Lois, il suo devoto e imbranato padre Hal e i fratelli Reese, teppista non troppo brillante in continua ricerca di guai, e Dewie, un ragazzino innocente che nasconde però una gran furbizia. A completare il quadretto c'è poi il primogenito Francis, in trasferta alla scuola militare come punizione per le sue bravate e causa del suo carattere ribelle.
Malcolm è stata per molti versi, una comedy davvero all'avanguardia: intelligente, a tratti cinica e ideatrice di tanti stilemi che poi sarebbero divenuti la prassi negli anni seguenti. Ribaltando i cliché di quelle che erano le sitcom e le comedy familiari, Malcolm in the Middle ha infatti saputo ritagliarsi uno spazio del tutto nuovo grazie alla sua grande originalità.
Partiamo dal soggetto: alla larga dal classico stereotipo della tipica famiglia dal tenore alto-borghese a cui il pubblico era abituato, Lois, Hal e figli vanno a dare rappresentanza a un tipo di nucleo familiare che in precedenza raramente aveva trovato il proprio posto in televisione: sempre sul limite, costantemente a un passo dalla rovina ma in qualche modo in grado di cavarsela di fronte alle difficoltà della vita. Abbandonato l'idilliaco scenario alla Mulino Bianco e il mito della stabilità economica, ecco che anche le dinamiche familiari si fanno diverse: le figure genitoriali non sono più le colonne portanti amorevoli e in grado di indirizzare i figli sulla retta via, quanto più figure comiche caratterizzate molto di più nei loro difetti che nei loro pregi.
Ecco, dunque, Malcolm e i suoi fratelli: piccoli criminali che ritraggono, nel miglior modo possibile, dei figli che vogliono trovare la propria indipendenza lontani dalle regole e disposti a tutto pur di soddisfare il proprio tornaconto. Lontani da qualsiasi tipo di moralità, egoisti, scalmanati e in fuga dalle proprie responsabilità: i protagonisti della serie sbagliano sapendo di sbagliare e, anche qualora ritornino sui propri passi, ciò non avviene quasi mai per un pentimento, quanto per i disastrosi risultati a cui portano le loro marachelle e le loro bravate.
A risolvere le questioni non sono discorsi accorati e buoni sentimenti quanto le inevitabili conseguenze delle loro azioni.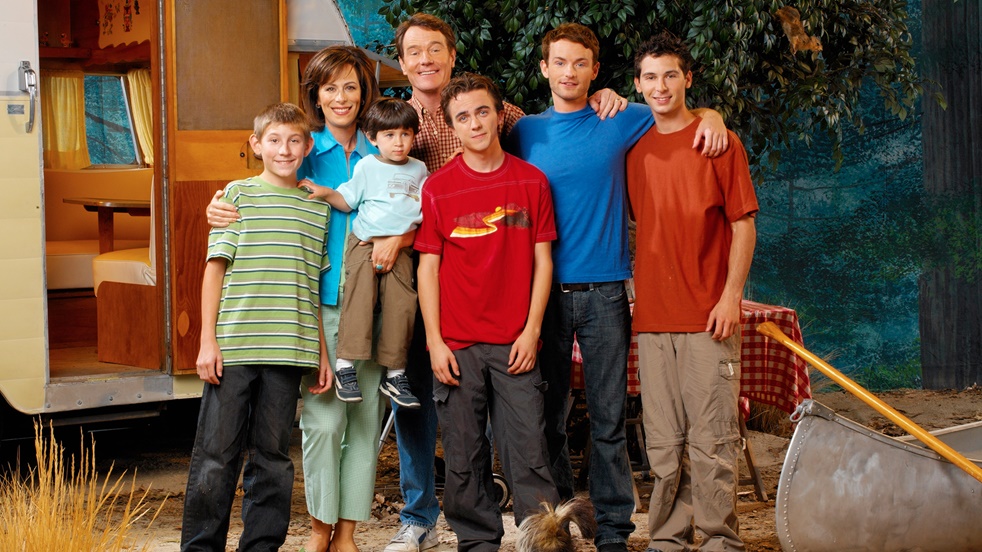 Un umorismo che spesso sceglie di indulgere quindi sulle disgrazie altrui, sulle severe ma anche ironiche punizioni che Lois riserva ai suoi pestiferi figli, quanto sulle geniali soluzioni che essi mettono in scena per liberarsene. Un umorismo quasi cinico, che punta sulla presa in giro e sull'estremizzazione dei vizi umani. Ridendo dei guai e dei pasticci in cui i protagonisti della serie si ritrovano a finire, riusciamo infatti a esorcizzare parte dei nostri drammi quotidiani. Le situazioni assurde in cui essi vanno a cacciarsi infatti non sono altro che versioni estremamente caricate e portate agli estremi di vicende quotidiane.
I personaggi della serie, infatti, pur essendo molto caricaturali e pur nascondendo un grande talento (Malcolm è intelligentissimo, Dewey è un genio musicale, Reese ha incredibili doti culinarie ecc.) sono persone estremamente comuni, che hanno le stesse passioni dei ragazzi della loro età, che amano divertirsi a scapito di tutto e che svolgono lavori del tutto ordinari. A risultare strane però sono per lo più le relazioni interpersonali tra di essi. Prendiamo per esempio in esame le dinamiche genitoriali della famiglia Wilkerson, caratterizzate da un lato dall'atteggiamento tirannico della madre Lois, non rispettata quanto temuta dai propri figli, dall'altro dalla figura di Hal (interpretato magnificamente da Bryan Cranston), eterno bambinone incapace di gestire i suoi figli e che tende a delegare il gravoso compito all'adorata e idealizzata moglie.
Ma l'umorismo di Malcolm in the Middle non si limita a questo e si avvale di un gran numero di espedienti per attirare l'attenzione del pubblico, da divertentissime running gag, passando per le spassose cold open (esilaranti scene e siparietti messi a inizio puntata e completamente slegati dalla restante trama), fino a un magistrale uso della rottura della quarta parete, che spinge il pubblico ad avvicinarsi ancora di più alle divertenti dinamiche di potere che stanno al centro dei rapporti interni alla famiglia.
I dialoghi che Malcolm intesse con il pubblico non sono altro che i precursori dell'ondata delle comedy mockumentary che si svilupperanno da lì a poco e che detteranno un vero e proprio trend. Tramite gli occhi di Malcolm, protagonista e narratore, colui che mette in azione e poi commenta i disastri in cui lui e i fratelli si vanno a cacciare, non possiamo infatti fare altro che sentirci catturati dalla storia, rimanendo al contempo straniati dai suoi ragionamenti sregolati e dalle sue folli idee.
La rottura della quarta parete da parte del protagonista svolge infatti più funzioni: spiegarci i pazzi comportamenti e le dinamiche della sua famiglia, esprimere le proprie emozioni (dalla gioia fino alla rabbia), illustrarci i suoi piani e ragionamenti, ma anche giustificare le proprie azioni e le proprie colpe.
Le frasi caustiche del protagonista, inoltre, non fanno altro che mettere in luce il sarcasmo che permea l'intera serie: grazie alle riflessioni del ragazzo, ma anche alle paradossali situazioni vissute dagli Wilkerson, la serie non si esime infatti dal trattare, sempre con grande ironia e satira, situazioni scottanti per il pubblico e la sensibilità americani.
Temi sociali come il razzismo, la disabilità e la sessualità sono solo alcune delle tematiche affrontate dalla serie, che, escludendo qualsiasi tipo di buonismo, spinge alla riflessione senza perdere mai il proprio tono intelligente e canzonatorio. Tuttavia, tra tutte quelle affrontate, la tematica maggiormente approfondita è sicuramente quella sociale: oltre alle gag tipiche della situation comedy, grazie a ribaltamento di cliché tradizionali e della satira, la serie non si esime infatti dal parodiare la classe sociale medio-bassa così come i rappresentanti della high class. Gli Wilkerson, infatti, incarnano al 100% lo stereotipo di famiglia dal basso ceto, caratterizzata da cattive maniere, lavori umili, abbigliamento economico e abitudini poco sane come l'eccessivo consumo di fast food e il grande attaccamento alla televisione.
Comportamenti che paradossalmente vengono rivendicati con orgoglio di fronte al senso di superiorità rimarcato da alcuni personaggi dal più alto tenore di vita.
Malcolm ha di fatto anticipato i tempi, dettando stilemi che di lì a poco tempo avrebbero completamente fatto scuola, riuscendo a dare nuova linfa al genere delle commedie familiari televisive. Con il suo umorismo tagliente e al contempo spassoso e con le originali situazioni che ha saputo mettere in scena in maniera innovativa, quest'eccezionale serie tv è riuscita a diventare un istant-cult che chiunque, prima o poi, dovrebbe recuperare.
Se dopo tutto questo tempo ancora amiamo parlare del Blallo, un motivo ci sarà, no?