Vi ricordate quei pomeriggi trascorsi davanti alla televisione, nel salotto di casa, aspettando con impazienza che trasmettessero la vostra serie tv o cartone animato preferito? Magari cercando uno sfogo o una distrazione dopo una asfissiante giornata a scuola o durante una pausa dai compiti a casa? Tra questi, immancabile nella programmazione di Italia Uno, c'era sicuramente Malcolm in the Middle, che non abbiamo mai smesso di amare (qui 20 curiosità sulla serie).
Nonostante siano passati anni, la nostra routine sia cambiata, sia frenetica, e magari la pausa dai compiti a casa non ce la prendiamo più, a volte il nostro pensiero corre senza neanche badarci a quella sitcom brillante e forse sottovalutata, che oggi vorremmo rivedere per apprezzarne nuovamente la genialità.
Sì, perché è impossibile non riconoscere la genialità che si cela nella narrazione e nella storia della famiglia stravagante e assurda di Malcolm.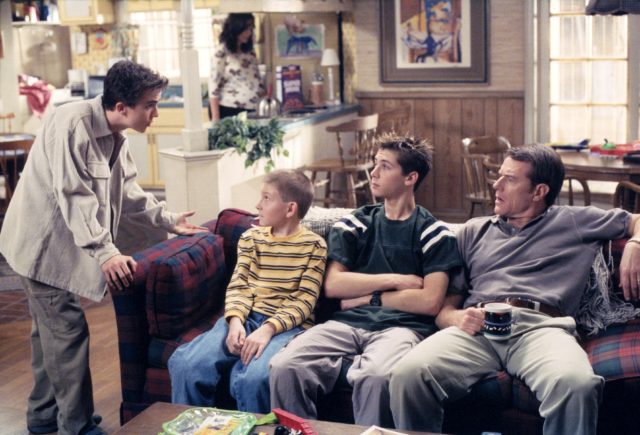 Il protagonista è Malcolm, il figlio "di mezzo" per l'appunto che rompe costantemente la quarta parete per ospitarci in casa sua e presentarci gli altri protagonisti. Il padre Hal, un impiegato frustrato e succube del ruolo impostogli dalla società, che trova piacere nelle piccole attività quotidiane, come fare il barbecue o stare con sua moglie, e che nonostante tutto trova sempre un modo per sorridere. Indubbiamente è il personaggio più esilarante e il merito va al fenomenale Bryan Craston, che dimostra così cosa vuol dire essere un attore camaleontico e dinamico (qui la folle teoria che collega Hal a Walter White).
Sua moglie Lois è la tipica madre severa, esasperata e sfiduciata a volte, che cerca di star dietro alle bollette e ai quattro figli scalmanati. Il fulcro, il nodo di ogni puntata è proprio questo: le "marachelle" dei ragazzi. Il primogenito, Francis, ne ha combinate di tutti i colori (come dare fuoco all'auto o farsi arrestare diverse volte) e alla fine è stato spedito all'accademia militare dai suoi stessi genitori. Reese, il classico bullo un po' tonto che ci ha regalato l'indimenticabile Blallo che si commenta da solo. E in ultimo il piccolo Dewie, un bambino strano costretto a subire i tormenti dei fratelli più grandi.
Malcolm si ritrova nel mezzo di questa turbolenta famiglia che, quando viene a sapere che possiede un Q.I. superiore alla media, inizia a trattarlo con sospetto. È il tipico nerd, impacciato con le ragazze e terribilmente sfortunato.
Potrà sembrare tutto un po' sopra le righe, ma la grande forza di Malcolm in the Middle è proprio il suo realismo. La cosa sconcertante è che le situazioni, le dinamiche, le risposte e gli atteggiamenti sono veri. Reali. Non c'è perfezione, non c'è finzione. È una famiglia normale, che a volte fatica anche a pagare le bollette di una casa sempre in disordine. Una famiglia composta da quattro figli maschi irrequieti e in piena adolescenza. Le reazioni furiose di Lois, il tentativo di fare da paciere del marito Hal, l'incoscienza di Reese e la voglia di ribellarsi e non essere come la società vuole che diventi di Francis. Gli scherzi tra fratelli, i pugni sotto al tavolo e le ingiustizie che Malcolm subisce a scuola come a casa. L'innocenza a volte fuori luogo di Dewie. Sono dinamiche ricorrenti nel corso degli episodi (che puntualmente si concludono con una porta che sbatte e il ritorno allo stato iniziale) e che rendono vivi, quotidiani, i protagonisti.
A chi non è capitato di rivedersi in Malcolm o addirittura in uno dei suoi fratelli? Chi non ha rivisto il proprio papà spaparanzato la domenica sul divano in mutande o la propria mamma che cerca – incompresa – di riordinare tutto, dalla casa alla vita stessa?
È fin troppo facile immedesimarsi in loro. E di conseguenza viene naturale affezionarsi.
Ma non sono solo i protagonisti a rendere così verosimile questa serie. Malcolm in the Middle è così imbevuta della cultura pop anni '90 che è facile cogliere ogni riferimento e l'effetto nostalgia è assicurato. La stessa sigla – così iconica e travolgente – è uno spaccato della vita di quegli anni. Le note di alternative rock accompagnano immagini di fumetti, programmi televisivi, scene giornaliere. Lanciando un grido di rivalsa "You're not the boss of me now and you're not so big!" subito seguito dal verso "Life is unfair" (La vita è ingiusta), un'ironica verità che accompagna la famiglia di Malcolm nella sua realtà.
Una cultura, quella di questa sitcom, non ancora calata nella nuova e sempre più dilagante politica del corretto. E infatti Malcolm era una serie decisamente politically uncorrect, ma non si impegnava neanche a esserlo. Semplicemente, nel rappresentare l'ordinarietà finiva per affiancare la scorrettezza a messaggi più profondi, come l'amore incondizionato per i propri familiari. O l'apprezzare quello che si ha, senza vivere nell'idea che l'erba del vicino sia sempre più verde. Una serie spregiudicata, iperbolica, assurda, ma paradossalmente sempre con i piedi per terra. E per quanti anni possano passare, resterà un manifesto di una generazione e di una concreta visione della vita. Una vita ingiusta, ma non per questo meno divertente o scontata.
Questi personaggi, le loro storie, evoluzioni e scoperte, ci appartengono. Quindi facciamo un appello alle nostre piattaforme preferite: dateci immediatamente quella meraviglia di Malcolm!