Cold open, ossia la tecnica narrativa che porta lo spettatore direttamente nel vivo di uno show ancor prima che la sigla o i titoli di testa prendano il via, in modo tale che lo spettatore non si distragga ma si sintonizzi subito sulle frequenze della serie in questione. Tale espediente, reso celebre da esempi virtuosi come Breaking Bad e Lost, capaci di lasciare di stucco ancor prima che la puntata vera e propria prenda il via, è diventato però anche uno dei punti di forza di alcune tra le più celebri serie tv comedy della storia. The Office e Brooklyn Nine-Nine per esempio ne hanno fatto uno dei propri marchi di fabbrica, ma anche altri show devono gran parte della propria popolarità alle cold open, destinate, grazie alla loro breve durata e alla loro estrapolabilità, a diventare dei veri e propri fenomeni virali.
Data questa premessa, abbiamo oggi deciso di presentarvi 8 tra le più comiche e geniali cold open di sempre. Per garantirvi una maggior eterogeneità abbiamo voluto focalizzarci su un'unica scena per serie, pur rimanendo ben consapevoli del fatto che prodotti seriali come The Office abbondano di sequenze di questo tipo!
Come dimenticare la gag del Parkour, del chili di Kevin o di quella su Nobody But Me? Come scordare le urla disperate di Michael Scott di fronte al ritorno di Toby? La stessa cosa vale anche per Brooklyn Nine-Nine: dalla intro sull'imitazione di come Holt dovrebbe mangiare un marshmallow agli accesi dibatti su Kelly moglie/cane di Scully. Dal capitano Holt e il suo hula hoop a falliti e disastrosi tentativi di scacciare un piccione dal distretto.
Senza ulteriori indugi vi lasciamo alla nostra lista. Buona lettura!
La prova antincendio (The Office)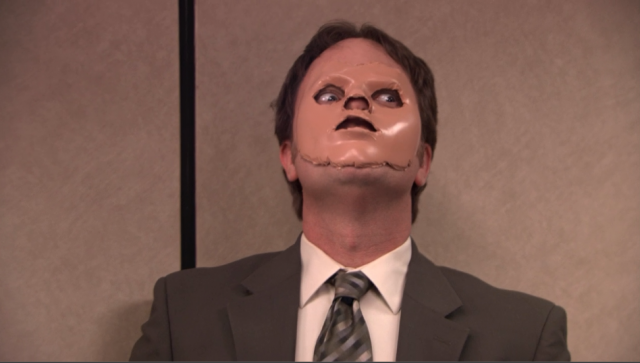 La nostra lista non poteva che partire da qui: Stress Relief, 5×13, a mani basse uno degli episodi più divertenti di tutta The Office.
La genialità che sta dietro a questa sequenza tanto spassosa quanto delirante non conosce limiti. Dwight infatti per dare una scossa ai colleghi e per far loro apprendere le procedure antincendio in caso di emergenza mette in scena una farsa che si trasforma in men che non si dica in puro caos. Ogni personaggio reagisce coerentemente con la propria caratterizzazione creando scenari che fanno letteralmente morire dal ridere: Michael dà di matto, Kevin si precipita a distruggere il distributore automatico, Oscar sceglie la via più furba, Angela cerca di mettere in salvo il gatto abusivo gettandolo all'interno del condotto di aereazione al celebre grido di "SAVE BANDIT!".
Una situazione che allo spettatore, consapevole della farsa, risulta spassoso: una scena che pur essendo vista e rivista dai fan di The Office non perde mai il proprio smalto e che ci fa ridere dall'inizio alla fine proprio grazie ai suoi esiti grotteschi.
"Stanley, You'll not die! Stanley, Barack is President! You are black, Stanley!!!"

Michael Scott
2) Il rap di Leslie Knope (Parks and Recreation)
Come The Office, anche Parks and Recreation, comedy ancora poco conosciuta in Italia, è stata in grado di sfornare una serie di cold open davvero godibili.
Epica è per esempio l'esilarante scena in cui Ron Swanson scopre cosa sono i cookies e, preoccupato dalla violazione della propria privacy distrugge qualsiasi suo apparecchio elettronico. Altrettanto apprezzata è poi la intro della 2×01 in cui la nostra Leslie Knope si esibisce in una strana ma divertente versione della canzone "Parents Just Don't Understand, di DJ Jazzy Jeff e di The Fresh Prince (Will Smith). E chi la ferma più? Di certo non Ron,che pur con una certa insofferenza, rimane ad aspettare che la donna (che nel frattempo ha fatto un lungo giro per tutto l'ufficio) termini la sua esibizione, tra gli applausi dei colleghi, prima di parlare. Leslie conclude così la sua tanto goffa quanto divertente versione, soddisfatta di sé. È allora che l'uomo parla, affermando che qualcuno ha appiccato fuoco a un parco di Pawnee.
L'espressione sul viso della donna è assolutamente impagabile.
Kitten Mitten (It's Always Sunny in Philadelphia)
Anche It's Always Sunny in Philadelphia non è molto nota in Italia, eppure questa comedy dal forte dark humor e dal peculiare senso del grottesco riserva davvero tante sorprese tra cui le sue divertentissime cold open. Tra le tante a disposizione, abbiamo scelto di raccontarvi di "Kitten Mittens", opening in cui quel pazzoide di Charlie mostra agli amici una pubblicità da lui ideata e recitata in cui espone il nuovo prodotto che ha inventato, le Kitten Mittens (letteralmente "guanti per gatti"), una creazione davvero assurda e inutile se non addirittura dannosa.
Mentre l'uomo ci espone come nei peggiori canali televisivi di venditori locali il suo "geniale" prodotto con una voce così squillante e impostata da far sbellicare dalle risate, assistiamo a scene assurde in cui un impacciato gatto guantato di rosso continua a scivolare proprio a causa delle strabe babbucce che porta sulle zampe. Un risultato fallimentare che compiace Charlie ma che lascia gli altri protagonisti senza parole.
L'artigianalità del prodotto con tanto di scritte in word art, slogan senza senso e la fantastica recitazione dell'attore Charlie Day creano qualcosa di assolutamente unico e spassoso!
"Chi vuole guadagnarsi 5 dollari?" (Malcolm in the Middle)
"Chi vuole guadagnarsi 5 dollari?". No, non è il vicino di casa che vuole che tagliate l'erba del suo giardino o la nonna che chiede che andiate a farle la spesa. A parlare è un padre che l'ha fatta grossa. In questa cold open di Malcolm in the Middle, Hal ne ha, infatti, combinata una delle sue ma non può sopportare di essere beccato dalla terrificante moglie Lois. Così, in una ventina di secondi, l'uomo chiede aiuto ai figli a cui promette del denaro per prendersi la colpa di un non specificato fattaccio di cui è responsabile. I ragazzi ci riflettono su, poi, dopo una breve contrattazione, Malcolm accetta. "Sei un bravo figlio!" mormora Hal prima di prendere il braccio il ragazzino per consegnarlo alla moglie fingendo di aver appena catturato il colpevole: le urla della donna però non ci fanno ben sperare per la sorte del ragazzino.
La comicità espressiva di Bryan Cranston è magnifica e la paradossale scena di un genitore che sfrutta i figli per non dover subire le conseguenze delle proprie azioni non può che strapparci una risata a ogni visione!
We Will Rock You (Cheers)
Forse ai giorni nostri potrebbe non sembrarci così originale, ma fidatevi, questa divertente cold open di Cheers, nota in Italia col titolo di Cin Cin è stata ripresa in numerosi film e serie tv posteriori. Ci troviamo nel tanto famoso bar che sta al centro della trama della serie e nessuno sta parlando: si sentono solo suoni ambientali che sembrano quasi seguire un certo ritmo. Così, pian piano, gli avventori del locale quasi inconsciamente iniziano a ripetere il beat per poi scambiarsi segni d'intesa. I battiti aumentano d'intensità e anche Woody e Sam cominciano a seguirli finché l'iconica e immancabile We Will Rock You dei Queen viene intonata a gran voce da i presenti. Una scena che ha davvero fatto la storia!
Fun fact: una scena molto simile sarà replicata in un episodio di The Big Bang Theory durante il quale Sheldon darà sfogo della sua voce acuta suscitando sbigottimento tra i suoi amici. Ve lo ricordavate?
Le tacche sul tavolo (Community)
Pur dando il meglio nelle scene post fine puntata, Community riserva anche parecchie chicche nelle sue cold open. Indimenticabile è per esempio il rap che il rettore Pelton improvvisa fino ad avere un crollo nervoso durante la 5×09, ma abbiamo scelto di parlarvi di una scena differente che riassume perfettamente lo spirito della serie.
Siamo nella puntata 2×17 e il gruppo di Jeff Winger è in fervente attesa: per la prima volta da secoli pare che a scuola non ci sia nulla di interessante e che quindi tocchi loro mettersi sul serio a studiare. Fortunatamente però il rettore porta buone nuove, ossia l'imminente arrivo del vicepresidente Joe Biden – pensate un po'!- al Greendale. Rinvigoriti dalla novità, i membri del gruppo di studio iniziano a lanciarsi acute frecciatine. A ogni "mossa tipica" di uno di loro uno degli altri componenti del gruppo segna con aria soddisfatta una tacca sul tavolo della sala!
"Classica mossa alla Winger", "Riferimenti agli addominali"… I protagonisti si conoscono alla perfezione e insieme a loro il pubblico!
Semplice ma dannatamente divertente ed efficace.
Niles appicca un incendio (Frasier)
A volte le parole sono superflue e per far ridere basta davvero poco: questa è la filosofia di Frasier, una vera e propria istituzione in America. Durante questa cold open, in poco meno di tre minuti assistiamo infatti alla catena di disastri che porta il personaggio di Niles Crane ad appiccare accidentalmente un incendio nel proprio soggiorno. E pensare che l'uomo voleva semplicemente stirare i propri pantaloni!
Senza dover dire una parola e bofonchiando appena, grazie alla propria perfetta mimica e gestualità, David Hyde Pierce (che l'anno della messa in onda dell'episodio vinse un Emmy Award per la serie) mette infatti in scena una situazione di normalissima quotidianità che via via assume toni sempre più paradossali in un'escalation di risate e di divertimento. Un vero e proprio miracolo comico se pensiamo che l'intera scena fu girata una sola volta, tutta d'un fiato!
I Want It That Way (Brooklyn Nine-Nine)
E infine non poteva mancare lei, la regina delle cold open, divenuta tanto virale da essere conosciuta anche da chi Brooklyn Nine-Nine non l'aveva mai visto prima di allora. Siamo nella 5×17: Jake Peralta sta conducendo il riconoscimento di un omicida grazie alla testimonianza della sorella della vittima. Unico indizio: una voce che cantava la celebre canzone I Want It That Way.
Jake Peralta + Backstreet Boys + la genialità di trasformare dei possibili sospettati in una boy band e il gioco è fatto. Si crea un capolavoro della comicità.
Potrete aver visto quest'iconica scena migliaia di volte, ma non importa, alla successiva visione riderete come se fosse la prima. Una cold open che non solo risulta brillante, fresca e divertente, ma che ha aiutato a suo modo a rendere sempre più popolare la comedy poliziesca! E, non negatelo, siamo sicuri che anche voi mentre cantate la canzone, arrivati a un certo punto, non potete fare a meno di urlare a squarciagola: "Now number Five!".