# #
Dal 9 settembre è iniziata la tanto attesa Serie Tv Kidding, con protagonista Jim Carrey, che torna sul piccolo schermo dopo The Duck Factory e In Living Color. Una comedy-drama cruda e dal taglio geniale, merito anche della mente di Michel Gondry (regista di Eternal Sunshine of The Spotless Mind). L'opera sembra ricamata proprio sull'attore canadese, che sta attraversando un particolare momento della sua vita, molto simile a quello del protagonista Jeff.
# #
Jim Carrey torna così a tutta velocità in Tv, con una Serie che potrebbe definitivamente celebrare la sua immensa creatività. Sarà come assistere al monologo di un grande attore allo specchio, faccia a faccia con la propria maschera.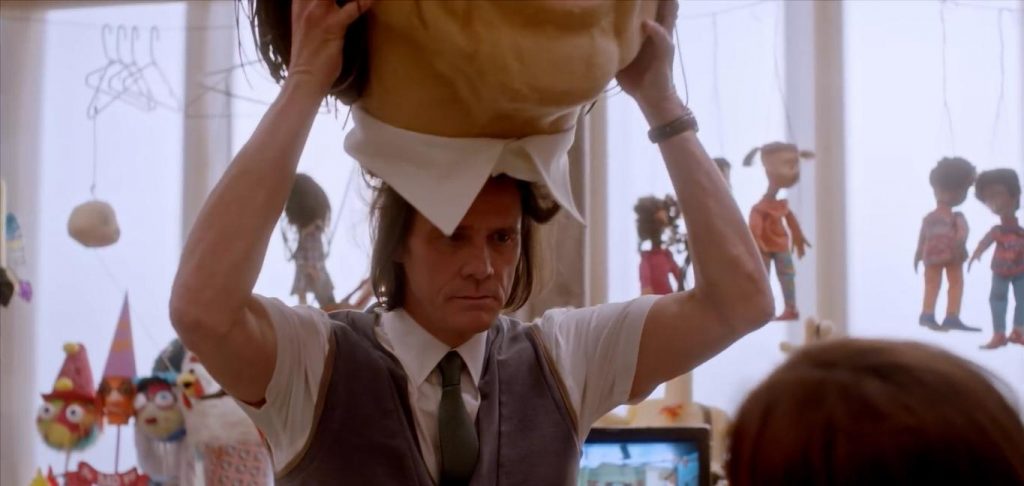 Kidding racconta la storia di Jeff, amatissimo personaggio televisivo di programmi per bambini. Ha dedicato tutta la sua esistenza a far ridere la gente, a mostrare quanto la vita sia meravigliosa. La sua di vita, però, si trasforma improvvisamente nell'opposto. Jeff infatti vive in un vero e proprio psicodramma. La morte di un figlio e la separazione con la moglie sembrano ormai averlo distrutto, Jeff/Jim decide così di parlare della morte al suo pubblico. Subito ci rendiamo conto che non siamo di fronte alla solita commedia a tinte drammatiche, ma a qualcosa di più intimo, fastidioso, quasi spaventoso. Nelle profondità di questa Serie è nascosto il segreto della fusione tra Jim Carrey e Jeff.
# #
Gondry ha letteralmente messo in mano al comico una bomba a orologeria. Kidding non è solo una Serie Tv, ma lo schermo stesso. Si sa che sullo schermo non vediamo solo immagini, ma anche i nostri sogni, le nostre aspettative, la visione di ciò che per noi è la realtà. Questo è Kidding per Jim Carrey. Specchio, Anima, Doppio, Libertà e Prigione. Un gioco di intrecci e di contraddizioni. La rappresentazione ultima di chi si è spinto oltre, di chi non riesce più a uscire dalla gabbia del suo personaggio. Se conosciamo Jim Carrey, non ci sarà un momento in cui non penseremo a lui guardando Jeff. Quasi come se Gondry avesse chiesto all'attore di servirsi di tutta la sua bravura per parlarci finalmente di lui.
Chi è Jim Carrey? Chi è Jeff? Il comico di In Living Color o il personaggio amato dai bambini? Buono o Cattivo? Kidding è un saggio sull'attore, sulla vita e sulla televisione stessa. Solo una persona poteva avere la forza di portarsi sulle spalle il peso di tutte queste diverse realtà.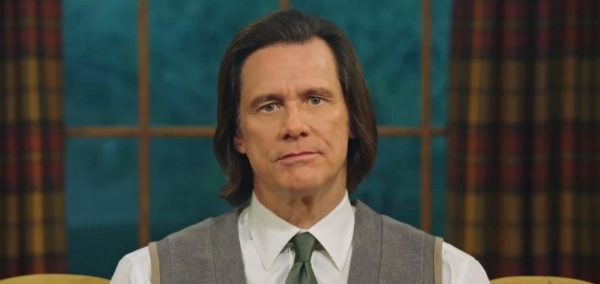 Sulla professione dell'attore sono stati scritti innumerevoli testi. Se volessimo concentrare in poche battute il concetto di attore potremmo dire che esso è corpo, espressione e prigione allo stesso tempo. Tutti questi elementi lo caratterizzano, ancor prima della sua stessa preparazione accademica. Jim Carrey è sempre stato unico nel suo genere. Il suo corpo lo ha sempre contraddistinto, in particolare con i suoi movimenti cartooneschi (vedi Il Grinch). Lo stesso vale per le espressioni del viso: una fisionomia che lo rende unico, smorfie iperboliche che sono tra le più famose della storia del mondo dello spettacolo. Questi elementi hanno reso Jim Carrey un involucro. Singolare, irripetibile, ma allo stesso tempo schiavo di se stesso.
Quando devi impersonare Pablo Escobar o Iron Man, stai entrando in un involucro. Puoi essere un eccellente professionista, ma sarai sempre in "casa" di qualcun altro. In Kidding è presente Jeff, ma in realtà vediamo Jim Carrey. È uno di quei casi in cui non è il personaggio ad essere la casa dell'attore, ma è l'attore che ospita il personaggio. Per chi ha guardato il documentario Netflix Jim & Andy, o quanto meno abbia ascoltato un'intervista di Carrey, noterà che in Jeff vive lo stesso spaesamento totale dalla realtà che vive nell'attore. La voglia di fuggire, di cacciare l'altro, ma allo stesso tempo averne bisogno a ogni costo, perché è l'unico che sembra dargli un minimo di affetto.
La vita privata di Jim è stata un inferno negli ultimi anni e la depressione lo ha logorato. Nelle interviste addirittura non riuscivamo a capire se fosse davvero lui a parlare, o una delle sue "istanze intrapsichiche Freudiane".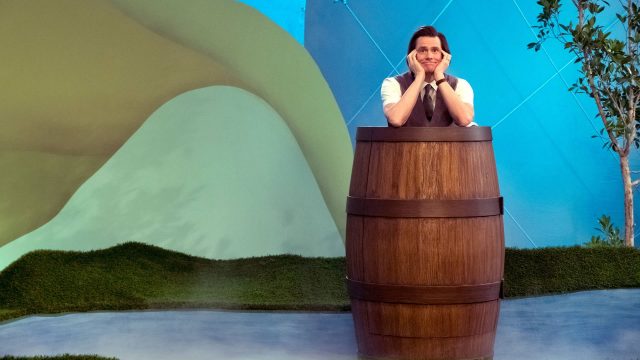 Una vita intera dedicata al suo pubblico, agli altri, fino ad arrivare al punto di dimenticarsi di esistere. Un'anima che si intrufola in manichini vuoti e li fa vivere, ma tutti allo stesso modo. Il coraggio incredibile di questa Serie lo si nota nel lasciare libertà quasi totale all'attore. Vengono trattati temi scottanti quali la sessualità, l'omosessualità, la confusione giovanile, il divorzio, la depressione e la morte. Si parla più in generale dello smarrimento della vita, della paura stessa di vivere e di dover per forza compiacere gli altri. La bravura di Gondry è quella di riuscire ad affrontare tali argomenti in maniera originale e diretta. Per questo ha voluto fortemente Jim Carrey: aveva bisogno di qualcuno che lo aiutasse a parlare di questi concetti in maniera sincera, distaccata dalle ipocrisie e dai luoghi comuni della società.
E così la macchina da presa riesce, con dei movimenti a volte repentini, a creare un senso di spaesamento e claustrofobia, tanto da farci sembrare di guardare un thriller. Kidding è e sarà un prodotto seriale unico. Uno di quelli che non apparterrà mai a un vero e proprio genere. In un'era moderna costellata di "soap opera" di qualità, intrighi di potere, supereroi e spacciatori, Kidding riesce a fare a pugni con la nostra anima più oscura, distinguendosi dalla massa. Altro elemento rilevante è la durata degli episodi, incredibilmente ridotta. Questo permette a Kidding di essere più schietta, sfruttando anche i tempi della commedia.
Gondry e Carrey tornano dopo Eternal Sunshine of The Spotless Mind a lavorare insieme, quasi per completare ciò che avevano iniziato: la storia di Jim/Jeff.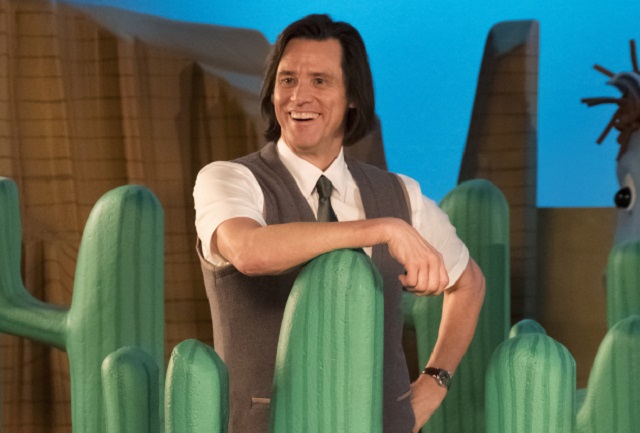 Kidding è destinata a diventare una serie di culto. Il diario personale di Jim Carrey, che finalmente potrà dimostrare ancora una volta il suo straordinario talento. Ci sarà permesso di conoscere sia l'anima che la maschera? O siamo destinati a smarrirci ancora di più nella mente labirintica del comico? Per ora possiamo solo ringraziare Showtime per aver avuto il coraggio e la determinazione di puntare su un progetto così importante, che non deve assolutamente passare in secondo piano.