Jim Carrey ti voglio bene. Sì, ti voglio decisamente troppo bene per vederti stare troppo male. E quando ho saputo che saresti stato il protagonista di una nuova Serie TV, Kidding – ne abbiamo parlato recentemente qui – sono rimasto lietamente colpito da come tu potessi essere tornato sulla cresta dell'onda. O almeno lo spero per te, perché la tua dote attoriale non è dubbia, ma quello che ti è accaduto negli ultimi tempi forse te lo ha fatto credere. Cosa ti è successo?
Perché prima di essere un attore, tu caro Jim Carrey, sei un essere umano. Una persona in carne e ossa con sentimenti, valori, pensieri, azioni e con opinioni non sempre condivisibili (davvero sei contro i vaccini?)
Ti abbiamo conosciuto per le tue performance in commedie come il dittico Ace Ventura – L'acchiappanimali (1994), Scemo & più scemo (1994) o per Ace Ventura – Missione Africa (1995), Bugiardo bugiardo (1997) e Una settimana da Dio (2003). Oppure per le tue parti drammatiche in The Truman Show (1998), Man on the Moon (1999), The Majestic (2001), Se mi lasci ti cancello (2004) e Number 23 (2007), apprezzandoti anche per le tue capacità di metamorfosi incredibile in The Mask – Da zero a mito (1994), Batman Forever (1995), Il Grinch (2000) e Lemony Snicket – Una serie di sfortunati eventi (film del 2004 – mentre per la Serie Tv qui vi avevamo parlato della seconda stagione, andata in onda nel 2018 con Neil Patrick Harris nei panni del Conte Olaf).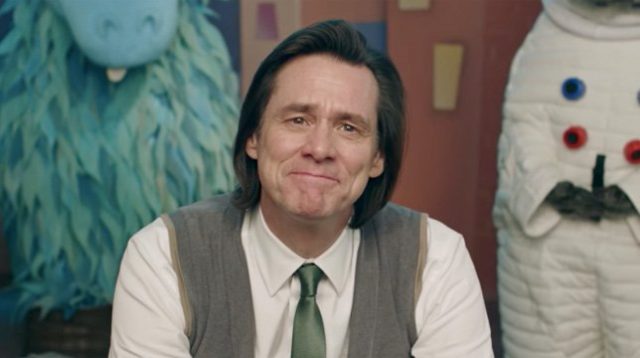 In pochi però ti conoscono veramente. Forse è la maledizione dell'attore cine-televisivo, rimanere intrappolato in miliardi di maschere e dimenticarsi il proprio volto. Tu che a dieci anni mandasti il curriculum al The Carol Burnett Shoe – un famoso programma televisivo americano degli anni '60/'70 basato su sketch comici, andato in onda sulla CBS – e tu che convincesti gli insegnanti di liceo a lasciarti qualche minuto per esibirti in stile cabaret. Avevi le idee chiare, ti divertiva far divertire gli altri. Amavi fare espressioni buffe, strane, allucinanti, e trasformavi gli sguardi curiosi degli altri in chiassose risate.
Continuasti a far ridere nonostante i tuoi genitori non passassero un buon periodo, le ristrettezze economiche vi avevano obbligato a trasferirvi. Hai raccontato di aver vissuto addirittura in un furgone Volkswagen parcheggiato nel giardino di un parente a causa di queste difficoltà. Poi lasciasti la scuola per dedicarti alla carriera di comico nei club e trasferendoti a Los Angeles incontrasti un famoso comico che, rimanendo colpito dalle tue doti, ti assunse per aprire i suoi spettacoli.
Ed eccoci arrivati al tuo primo contatto con la Tv. Facesti un'audizione per il Saturday Night Live, ti sentivi più sicuro di te e avevi voglia di farti conoscere. Non ti presero ma continuasti a cercare il modo di entrare nell'industria televisiva. Stringesti amicizia con il comico Damon Wayans e suo fratello ti volle inserire in alcuni sketch ideati da un programma della Fox, In living Color. Qui la tua comicità estrema con smorfie al limite di un cartoon e il tuo modo di fare con personaggi insoliti portati davanti alle telecamere ti hanno posizionato al centro dell'attenzione. E così arrivano piccole parti in film e Hollywood ti scopre per quello che saresti diventato.
La tua carriera inizia davvero a questo punto. Tutti si ricordano di te, dei tuoi film, della tua ascesa. Hai abituato il grande pubblico a interviste fuori dall'ordinario, alla tua irriverenza. Poi hai cominciato a trasformarti. È arrivato il dubbio – un foro si è aperto all'altezza del tuo cuore, ciò che molti chiamano depressione. Sei entrato in una vera crisi esistenziale quando nel 2015 Cathriona White, la tua ex fidanzata, si è suicidata dopo che vi eravate lasciati da pochi giorni. Hai detto che era un fiore irlandese delicato, troppo sensibile per questa terra. Per lei amare ed essere amata era tutto. Ti sei perso, e Jim Carrey ha smesso di esistere per un po'. Non so se ti ricordi quell'intervista che hai fatto a E! News, quando tu dicesti che non esistevi, che ci sono semplicemente cose che accadono e che questo non è il nostro mondo.
Mi sono spaventato perché nei tuoi occhi ho visto che avevi ragione: non eri più quello di prima. A quell'intervista si sono succedute molte altre dove non hai fatto altro che confermare tutto ciò. Tu stesso hai detto che in verità Jim Carrey non esiste, appare solamente una relativa manifestazione di coscienza, ma in verità non esiste. Eppure, la tua lotta è continuata e nella tua follia sei leggermente riemerso. Eri sceso in profondità del tuo abisso e sei tornato in superficie ancora più deciso.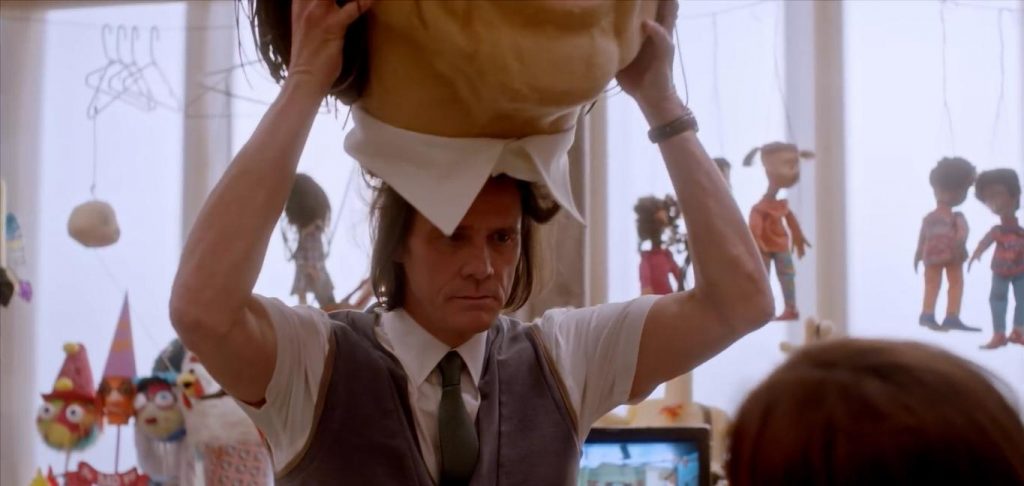 Il tuo amico Chris Smith, regista di Jim e Andy- The Great Beyond (film presentato alla 74esima Mostra Internazionale d'Arte Cinematografica di Venezia che parla della vita di Jim Carrey e Andy Kaufman) ha ammesso che poco prima delle riprese ti ha fatto solo una domanda, e tu hai cominciato a parlare, senza più fermarti. Per ben quattro ore. Un flusso di coscienza.
"È una prospettiva interessante quella che è emersa dal perdere me stesso in un personaggio, che mi ha portato a realizzare che io stesso stavo recitando una parte, per tutta la durata della mia vita. La maggior parte delle persone pensa che stia passando un momento, ma è la storia di tutta la mia vita. Quando provo a tornare indietro e a recitare la parte di Jim Carrey, mi deprimo. E ora non voglio farlo, mai più".
Adesso tornerai con una nuova prova, non sul grande schermo bensì su quello piccolo, sarà un ritorno alle origini. Ancora dobbiamo vedere Kidding, ma già da quello che sappiamo (sinossi e trailer) questa storia sembra ricordare un po' la tua vita. Questi elementi autobiografici ci saranno nella Serie? Non ci resta che aspettare e vedere.
Ma di una cosa sono sicuro. Chi è Jim Carrey? Io lo so. Jim Carrey è un essere umano che cerca di interpretare la parte più difficile di tutte: se stesso.