4) Serpeverde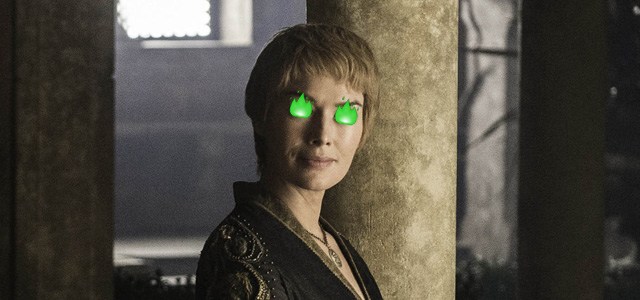 Veniamo quindi all'ultima casata. Probabilmente la più difficile e la più criticata. I Serpeverde sono conosciuti come i cattivi della saga ma non è sempre e per forza così. Voldemort e i Mangiamorte sono praticamente tutti Serpeverde ma non vuol dire che questa casa sia composta esclusivamente da persone malvagie. I Serpeverde sono molto intelligenti, furbi e determinati come pochi.
Due dei componenti più degni di questo gruppo sono i migliori esponenti di casa Lannister, ovviamente: Tywin e Cersei.
Tywin è uno stratega di prima qualità che sa prevedere le mosse del nemico e prendersi quello che gli spetta con decisione. Non agisce mai con impulsività, anche quando è molto coinvolto, sa imporre sempre il suo punto di vista e far valere il suo ruolo. La figlia, Cersei, è lo stereotipo del Serpeverde come lo conosciamo tutti.
Lei è qualcosa di simile alla moglie che Voldemort non ha mai avuto. Furba come pochi e con quel giusto pizzico di "disprezzo per le regole" che piace tanto anche a Silente. Cersei non solo progetta piani davvero malvagi, degni di Salazar Serpeverde e del Re Folle, lei aspetta, sopporta e poi quando agisce spazza via tutto quello che ha intorno. Un altro cattivone che farebbe ovviamente parte di questa casa è Mr. Ramsay Bolton. La sua cattiveria ha portato a un nuovo livello l'indice di malvagità della Serie. Alcune delle sue torture sono così intelligenti e ben progettate che potrebbero essere davvero degne di un Serpeverde come il Signore Oscuro.
Anche Ditocorto apparterrebbe alla casa seguendo il solito stereotipo che impariamo dalla saga. Serpeverde di natura ma di quelli più servili, di quelli che credono di potersi accontentare di stare vicino ai potenti per esserlo a propria volta, un po' come Lucius Malfoy. Astuto, totalmente sprezzante delle regole e sempre pronto a leccare i piedi giusti.
Dopo dei protagonisti di Game of Thrones molto scontati, passiamo a qualcosa di più interessante. In primo luogo abbiamo Sansa Stark. Sebbene fino a poco tempo fa la si potesse considerare una bambinetta frignona, quella bambina ha sempre agito, in mancanza di altri mezzi, con la sua testa per rimanere viva. Ha fatto moltissimi errori, è vero, ma oggi lei è una persona diversa (e poi come) in grado di decidere, governare e usare la sua conoscenza, astuzia e intelligenza nel modo più strategicamente vincente. Sansa potrebbe essere una Serpeverde di Game of Thrones nello stile di Piton, che in silenzio cresce, apprende e poi agisce fino a ottenere in qualche modo quello che è giusto per lei e per i suoi cari.
Infine, abbiamo la Regina dei Draghi, la Khaleesi. Perchè? Inizialmente Daenerys è una ragazzina privata di tutto ciò che aveva: la famiglia, la sua casa, tutto quanto. Lei cresce con l'avanzare di Game of Thrones e oggi è una grande Regina. Ma ha sempre fatto scelte sensate? Ovviamente no. La domanda principale però è: ha sempre agito con purezza d'animo? Ha sempre agito secondo ciò che è giusto, secondo il suo buon cuore? No, non lo ha fatto. Daenerys è una giocatrice di prima categoria, non è più la dolce ragazzina di un tempo. Quella vena di sadismo da Mangiamorte un po' ce l'ha, diciamolo. Ma lei non sarebbe una Serpeverde solo perchè ultimamente sta sviluppando in maniera non esclusivamente benevola la sua personalità. Lei è una Serpeverde perchè studia, scruta e poi attacca come un drago, come un serpente, e colpisce alla gola senza guardare in faccia nessuno.
Daeny ottiene sempre quello che vuole e lo otterrà ancora, con il fuoco e con il sangue.
P.S. Mi stavo scordando di un importantissimo Serpeverde: ovviamente Joffrey Baratheon. Un Draco Malfoy dei Sette Regni che… No, ok, non si meriterebbe nemmeno di essere paragonato a Draco, figuriamoci di andare ad Hogwarts.