Sansa Stark è stata una rivelazione nelle dinamiche di Game of Thrones. Il suo percorso è stato lungo e tormentato, facendo sentire ognuno di noi davvero parecchio fortunato.
Era una ragazzina, e come tutti, anche lei credeva di poter programmare la sua esistenza, credeva in quel lieto fine a cui tutti bene o male agogniamo.
E poi succede la vita.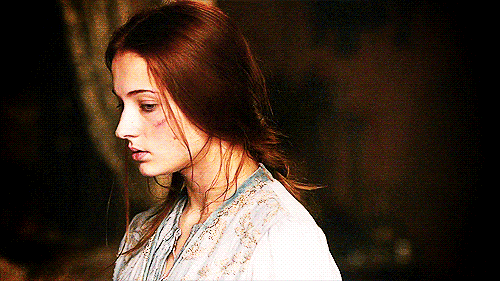 La sua vita è stato un continuo crescendo di disgrazie, torture, lacrime e maltrattamenti. Le è stato portato via tutto ciò che aveva di più caro, e fin dal principio è sempre stata lei a rimetterci più di tutti tra gli Stark. Tuttavia in un qualche modo ha imparato a sopravvivere, ma per farlo è stata costretta a trasformarsi, ad adeguarsi a un mondo di violenza e crudeltà, che ha definitivamente fagocitato le antiche favole e le nobili leggende (leggete questo per capire come il mondo di Game of Thrones sia cambiato).
Come noi, anche Sansa Stark si è nutrita per anni del sogno di un bel principe senza macchia e senza paura che la strappasse via al suo mondo mediocre per renderla la sua principessa. Ma non c'è più spazio per le principesse in Game of Thrones, né per principi o eroi senza macchia e senza paura.
Joffrey era il sogno di una ragazzina, ma questo sogno diventato realtà non ha più niente a che fare con quella paraculata di Cenerentola. Il sogno si è trasformato in un incubo, in dolore, in morte.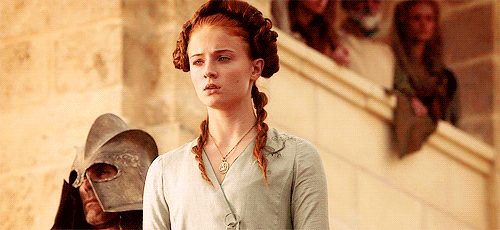 Tuttavia la ragazzina debole, a cui non avremmo dato una stagione di vita, trova il modo di sopravvivere. Ciò che non ti uccide ti rende più forte, diceva il proverbio, e così Sansa è cresciuta come il giunco, che a differenza della grande quercia si abbassa, si lascia piegare dal vento, ma in esso trova la sua forza.
Tuttavia Sansa Stark ne ha passate talmente tante che risulta inevitabile chiedersi quanto il passato possa ricadere sul suo immediato futuro.
Nella quinta stagione abbiamo assistito al primo vero flashback di Game of Thrones che vedeva come protagonista una giovane Cersei Lannister. Cersei andava a interrogare Maggie LaRana sul proprio futuro, e in questo scorcio di passato abbiamo avuto modo di constatare che Cersei è sempre stata particolarmente odiosa, non ci sono dubbi, ma, se ben vi ricordate, anche Sansa Stark non era proprio tutta 'sta simpatia in principio. Era il prototipo dell'oca giuliva la cui unica ambizione nella vita era essere bella e dare al suo caro maritino tanti piccoli pargoli, possibilmente maschi.
Sansa Stark voleva sposarsi e diventare regina. Cersei voleva sposarsi e diventare regina. Probabilmente Sansa non è mai stata tanto infida quanto Cersei, non c'è dubbio, ma anche lei non si era rivelata particolarmente gentile con il suo fratello bastardo, e spesse volte si è rivelata essere una ragazzina immatura e viziata.


Entrambe sono state temprate dal tempo. Cersei voleva sposare Rhaegar, dovendo per forza di cose escludere Jaime dall'equazione. Voleva sentirsi amata da suo marito e vivere per sempre felice e contenta nel suo castello. Ed ecco di nuovo che la vita torna a sconvolgere i piani.
Il principe dai capelli d'argento aveva sposato un'altra donna, e ne aveva amata un'altra ancora (leggere questo per saperne di più), infine venne ucciso e Cersei si vide costretta a sposare un uomo grezzo e brutale, tanto potente con la mazza quanto incapace nella vita quotidiana. Anche Robert però non l'amava e non l'avrebbe mai amata, avvolto com'era nella nube di quel fantasma che lo avrebbe tormentato per anni. E in fin dei conti anche Lyanna conosceva l'indole di Robert, e ben sapeva che, nonostante tutto l'amore che quell'uomo diceva di provare per lei, in fin dei conti non sarebbe stato un buon marito. E se non lo poteva essere per Lyanna non lo poteva essere certo per Cersei o per alcun'altra.
Così Cersei ha imparato a sopravvivere, a difendersi da un mondo in cui non possono esistere le sfumature di grigio. Al gioco dei troni o vinci o muori, e Cersei non è certo donna che si arrende facilmente.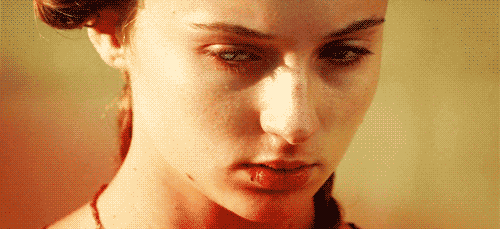 Così come è stata temprata Cersei, allo stesso modo è andata per Sansa. La ragazzina indifesa ha dovuto imparare a sopravvivere tra i mostri, a conviverci e a usarli a proprio vantaggio.
Ha guardato la spada che cadeva sul collo di suo padre. Ha subito le angherie di Joffrey ed è sopravvissuta ai giochi della regina. É stata tradita da una famiglia, ha sbagliato nello scegliersi gli amici. Ha subito la crudeltà di Ramsay Bolton.
Ramsay l'ha segnata, le è entrata dentro e l'ha infettata con le tenebre della propria anima. Tralasciando il fatto che io sia fermamente convinta che la ragazza porti in grembo la progenie del suo aguzzino, anche se così non fosse Ramsay nelle sue ultime parole ha decretato la sua ultima condanna. In un qualche modo lei sarà costretta a portarsi dentro una parte di lui per sempre, fino alla fine dei suoi giorni. Nel suo legame con Jon vediamo una luce rassicurante, intensa, ma dentro di lei l'oscurità sta germinando ed ora più che mai le possibilità sembrano infinite.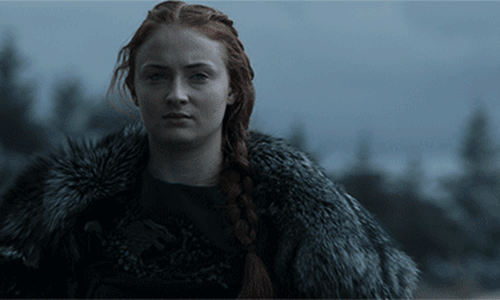 Sansa ha guardato nell'abisso, e così l'abisso ha guardato dentro di lei, e ora il vero gioco sta cominciando.
A Grande Inverno la presenza di Ditocorto è molto più pericolosa di quanto possiamo immaginare, tuttavia Sansa sa meglio dei suoi genitori di che cosa sia capace quell'uomo e conoscendolo sa anche che cosa aspettarsi. Nessuno usa Ditocorto, nessuno lo inganna, tuttavia una meravigliosa catarsi di questo personaggio consisterebbe proprio nel suo cadere in fallo davanti ai glaciali occhi della figlia della sua Cat.
In tutti questi anni abbiamo capito che in Game of Thrones vige una sorta di legge karmica, e non importa quanto tempo debba passare, ma alla fine ogni personaggio si ritroverà a pagare i propri debiti, e così potrebbe essere anche per quel piccolo demonio di Baelish, ma queste sono sono elucubrazioni speranzose di una fan che non si arrende.
Come Cersei, anche Sansa Stark si ritroverà a dover fare una scelta, anche lei avrà la possibilità di lasciarsi avvolgere dall'abisso o di rimanere nella luce, per quanto tema che in entrambi i casi le conseguenze saranno disastrose.

Game of Thrones è la realtà che invade la favola e la distrugge. Non ci sono più eroi. Nella vita vincono i mostri.