"Presto dovremo affrontare la scelta fra ciò che è giusto e ciò che è facile."
Nella vita bisogna spesso affrontare scelte difficili, scelte che ci definiscono e caratterizzano, scelte cha hanno conseguenze sulle nostre vite e su quelle di altre persone. A volte, per alcuni compiere dei passi sembra molto più naturale e spesso dipende dal contesto a cui appartengono. In questo articolo andremo a comparare due personaggi che, cresciuti fra persone con ideali completamente diversi dai loro, hanno avuto il coraggio di agire in maniera differente: Tyrion Lannister e Severus Piton.
Innanzitutto parliamo dell'aspetto che sia in Harry Potter che in Game of Thrones segna una linea profonda e quasi invalicabile fra i personaggi. Tyrion fa parte della famiglia più potente dei Sette Regni, i Lannister.
I Lannister fanno sentire il loro ruggito, i Lannister pagano sempre i loro debiti e nessuno può permettersi di farli abbassare al loro volere.
Sono una famiglia che si è guadagnata il rispetto e il timore delle altre, a volte scendendo a compromessi non sempre "positivi". Essere un Lannister vuol dire sostanzialmente essere una persona senza remore, imponente e superba. La connotazione negativa di tale descrizione deriva principalmente dalle azioni dei gemelli Cersei, Jaime e sicuramente dal carattere di Joffrey: uno ha ucciso il Re alle sue spalle, l'altra ha ucciso mezza città agendo come il re folle, e il figlio si è sempre definito da solo. Prima di loro, sebbene la famiglia fosse molto potente, i suoi componenti si sapevano per lo meno meritare e conquistare quello che ottenevano. Sta di fatto che appartenere a questa famiglia è come se fosse sempre stata la prerogativa per aprire tutte le porte, per spianare tutte le strade: non potremmo dire lo stesso dei Serpeverde?
I Serpeverde sono etichettati come i cattivi del mondo dei maghi. Lo stesso Voldemort era un Serpeverde, praticamente tutti i Mangiamorte sono Serpeverde ed è quindi naturale fare un collegamento del genere. É inoltre risaputo che Salazar Serpeverde fosse il più intransigente fra i fondatori di Hogwarts. Cosa si evince quindi?
I Serpeverde si sentono migliori degli altri, la maggior parte è a favore della razza pura dei maghi, sono abilissimi, astuti, e se non sono astuti sono comunque decisi a prendere quello che credono gli spetti anche con la forza e l'arroganza, direi proprio come i Lannister.
Nelle due storie c'è una guerra da affrontare: da una parte la conquista e difesa del Trono, dall'altra la guerra del mondo magico.
Parlando della saga di Harry Potter, va da sé che i Serpeverde si schierino da una parte, quella di Voldemort, e le altre casate, fatte poche eccezioni, si schierino da quella di Harry, direi dalla parte del bene. Parlando invece di Game of Thrones, quindi di un contesto in cui la casata è letteralmente la propria famiglia, prendere una parte è ancora più immediato e anche forzato. Ma deve necessariamente essere così?
All'inizio dell'articolo ho introdotto due personaggi che hanno compiuto una scelta che ha messo a rischio la propria vita, una scelta per la quale uno di loro l'ha pagata la propria vita, una scelta che è stata comunque fatta riuscendo ad andare oltre alla famiglia, al gruppo di appartenenza, oltre alla preferenza del giusto confronto al facile.
Piton e Tyrion fanno parte di due mondi in cui la propria famiglia è quella che si impone sempre, è quella che pensa che tutto le sia dovuto. Entrambi tuttavia si rendono conto di cosa fossero capaci i loro pari e semplicemente hanno deciso di non stare al gioco.
Tyrion, il "diverso" della casa Lannister, ma il più simile a livello di carattere al padre,  è soggiogato dal peso di far parte del suo retaggio, di doversi meritare tale titolo a differenza degli altri e anche di dover supportare una famiglia che combatte per i valori sbagliati. Piton, d'altro canto, si rende conto della potenza malevola di Voldemort e dei suoi seguaci, di cui faceva parte, quando ha perso l'amore della sua vita. I due sono quindi in una situazione simile: entrambi diversi, entrambi intelligenti confronto ai loro compagni (Tyrion sicuramente, rispetto a certi suoi parenti), punti di riferimento, uomini sfruttati che devono assistere a cose che vanno oltre la loro tolleranza e sopportazione.
Tyrion, ormai stanco del mondo a cui appartiene, stanco delle persone che ha intorno, stanco specialmente del padre Tywin (qui un approfondimento sul personaggio e il suo ruolo nella Serie), lo uccide e scappa per poi unirsi alla causa di Daenerys e lo fa per due motivi: inizialmente per distruggere la sua famiglia, poi per supportare una Regina che ritiene davvero giusta.
Piton decide di agire in maniera più subdola, più sottile e probabilmente più dolorosa. Cosa fa? Fa la doppia talpa: finge di far ancora parte dei Mangiamorte, e fa da talpa a Silente ma allo stesso tempo Voldemort pensa che lui sia la sua di talpa all'interno di Hogwarts.
Piton è costretto a fare cose che non avrebbe nemmeno mai sognato, come, ad esempio, uccidere forse la persona che gli è stata più accanto in quegli anni, Silente.
In un conversazione Piton gli dice una cosa come: "Non si rende conto che lei chiede troppo, che lei pretende troppo?" É vero Silente pretendeva tutto da tutti spesso senza dare niente indietro: a Piton ha chiesto addirittura di ucciderlo e tutto per veder soccombere il Signore Oscuro. Severus sta a tutte le sue richieste, crede nella sua missione, in un piano più grande di tutti, e lo fa per amore, sceglie il giusto per amore. Ma a quale prezzo? Al prezzo di vivere una vita a metà, una vita dalle parole costantemente pesate, una vita di falsità, di bugie, di recitazione, una vita che ha saputo sacrificare pur di seguire la sua idea.
Piton era un Serpeverde che ha scelto di essere buono nonostante la sua casa, nonostante la sua indole, nonostante tutto quello che la società a cui apparteneva gli imponesse. E così ha fatto Tyrion.
I due, inoltre, sono anelli di congiunzione in quanto entrambi conoscono esattamente le due parti della scacchiera che vedono scontrarsi. Da una parte questa consapevolezza è usata da Piton in maniera nascosta e machiavellica, dall'altra, Tyrion decide esplicitamente di condividere i suoi pensieri riguardo ai ragionamenti della sua famiglia. Tuttavia, in questo momento della Serie, la discendenza di Tyrion sta risultando utile a tutti e lui sta diventando il collante, il mediatore di due realtà che si devono in qualche modo fondere. É l'unico che lo può fare perché conosce i punti di forza e i punti di debolezza di entrambi i campi di battaglia e soprattutto sa come usarli.
In queste storie ci sono dei personaggi che non potrebbero MAI trovarsi davanti a una scelta del genere, come ci sono anche alcuni che si trovano coinvolti in momenti di confusione e che non hanno il coraggio di agire per il bene.
Prendiamo Draco Malfoy. Figlio di uno dei Mangiamorte più vicini a Colui-che-non-deve-essere-nominato, il suo destino era praticamente quello di seguire le orme del padre, della madre e della zia e diventare il figlio maschio che Voldemort non ha mai avuto.
I suoi dubbi emergono realmente quando gli viene dato il compito di uccidere Silente, cosa che non sarebbe mai stato capace di fare neanche nei suoi sogni più profondi. Lui conosce la parte del bene ma si trova incastrato fra ciò che sa che deve fare e ciò che infondo vorrebbe provare a fare, ovvero passare dalla parte dei buoni, dalla parte di chi in qualche modo gli è stato anche accanto, essendo consapevole egli stesso di ciò che conveniva e di ciò che era più semplice fare, ma quanto più semplice alla fine? Per quanto ci abbia fatti sperare fino in fondo che ci potesse essere un cambiamento di fazione, Draco, come la sua famiglia, fa la cosa peggiore: abbandona l'una e l'altra posizione.
Stare ai comandi di Voldemort credo sarebbe tuttavia molto più complesso che vivere nel regno dei Lannister. Non mi riferisco solo alle capacità di persuasione legate al mondo magico ma anche al modo raffinato, sottile ed efficacissimo in cui Tom Riddle ha fatto la sua ascesa al potere e in cui è riuscito a incutere timore e ricevere rispetto. Psicologicamente trovo sia una prova molto più difficile da affrontare.
Comparando la situazione con quella di Game of Thrones, va considerato che non solo Tyrion se ne è andato dalla propria famiglia, ma se ne sono andati anche Lancel, preferendo la chiesa al lignaggio e ora anche Jaime, pur non sapendo che cosa decidere di fare adesso.
In conclusione. Oggi abbiamo parlato di due personaggi importanti, due personaggi che si somigliano e si differenziano, che si toccano e si staccano ma che hanno compiuto un passo, una scelta, come l'abbiamo chiamata più volte in queste righe, che li ha resi migliori, che li ha resi più forti e segnati per sempre.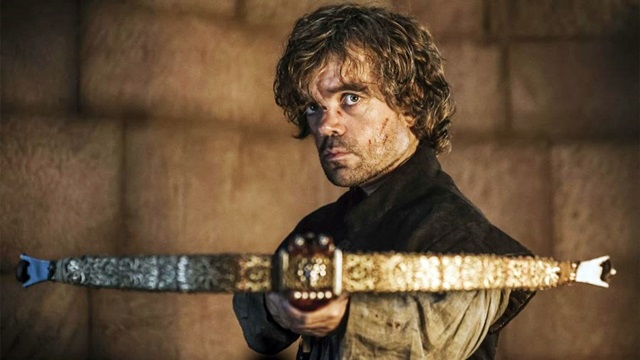 É facile essere un buono se si è un Grifondoro, è facile essere compianti e aiutati quando si è uno Stark, è facile essere visti di buon occhio se la tua casata è conosciuta per il coraggio e la bontà ed è facile avere una buona reputazione se la tua famiglia è stata spodestata. Difficile è appartenere a un mondo troppo diverso dal proprio, difficile è pensare fuori dalle righe e non poter essere ascoltati, difficile è perdere le cose a se più care per colpa di chi ci sta accanto, difficile è fare una scelta fra ciò che giusto e ciò che e facile ma Piton e Tyrion l'hanno fatta e ci hanno insegnato il valore di questa scelta e l'importanza di tutto quello che ne consegue.