Ricomincia Fear the Walking Dead con la puntata "Qual è la tua storia?", domanda ripetuta da diversi personaggi per tutto l'episodio, quasi un trait d'union che accomuna vite diverse che vivono la stessa situazione drammatica.
Caso quasi più unico che raro, l'intera puntata è del tutto incentrata su un personaggio che non fa parte del cast storico di Fear the Walking Dead: Morgan Jones.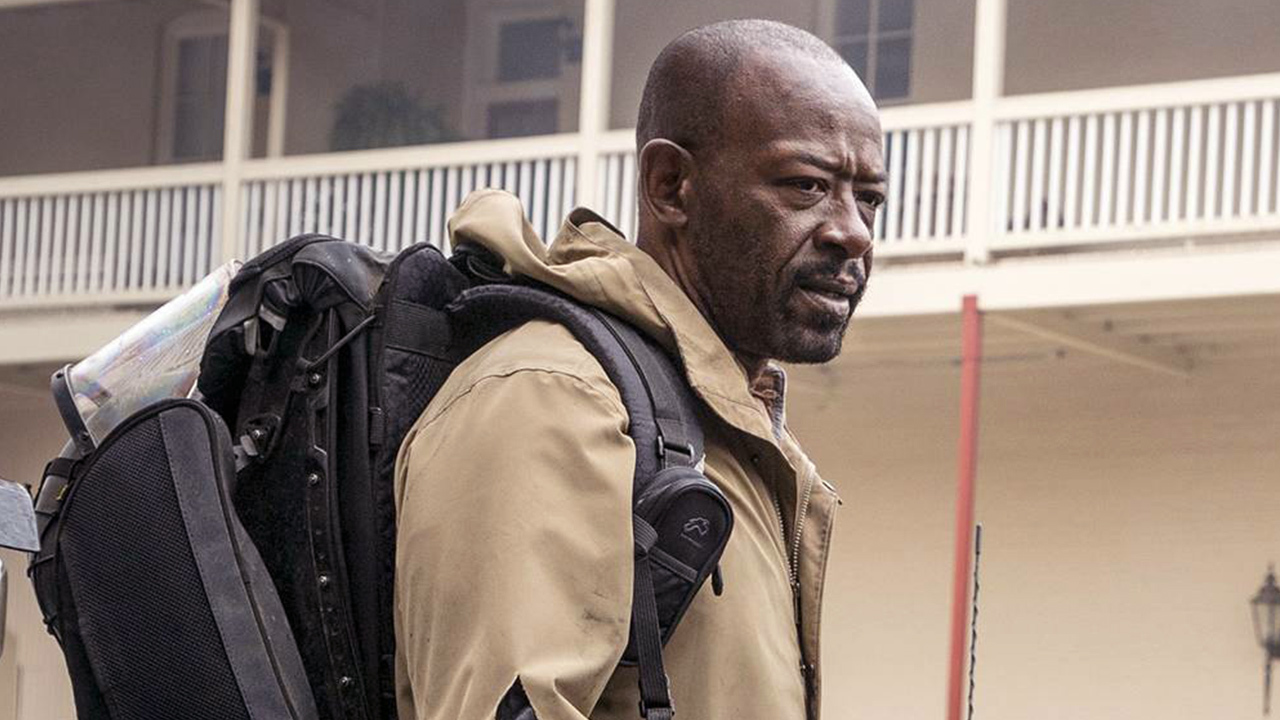 Non ci girano molto intorno gli sceneggiatori, dato che la sorpresa arriva dopo un lungo monologo del solitario John Dorie, due esseri umani che si incontrano dopo un cammino di silenzi e rimpianti. Solo che uno teme la solitudine, rimpiange il passato e una storia d'amore mai dimenticata o superata; Morgan invece la cerca, vuole stare solo.
Nel silenzio, Morgan si interroga, alla ricerca di ciò per cui ha allontanato tutti i propri affetti, gli amici di una vita.
Lo avevamo lasciato alla discarica, dopo aver indicato la strada a Jadis e lo ritroviamo lì, alle prese con la sopravvivenza quotidiana, con silenzi assordanti, interrotti dalla visita di tre fantasmi del suo passato.
Jesus, che incarna il sentimento appassionato, la lealtà, la logica nuda e cruda dei buoni sentimenti, il desiderio di non smettere mai di lottare per un futuro migliore.
Carol, che, invece, fa leva sui sentimenti più crudi, su quel legame che l'ha unita a Morgan, anche quando non voleva, anche quando era lei a voler stare da sola.
Rick, infine, che ricorda il passato, perché Morgan e Rick erano insieme fin dall'inizio e lui "può nascondersi, ma non può scappare". Morgan ha salvato la vita di Rick quando era ferito e ora, che è Morgan ad essere ferito nell'anima, è Rick che gli tende una mano, un'ancora di salvezza.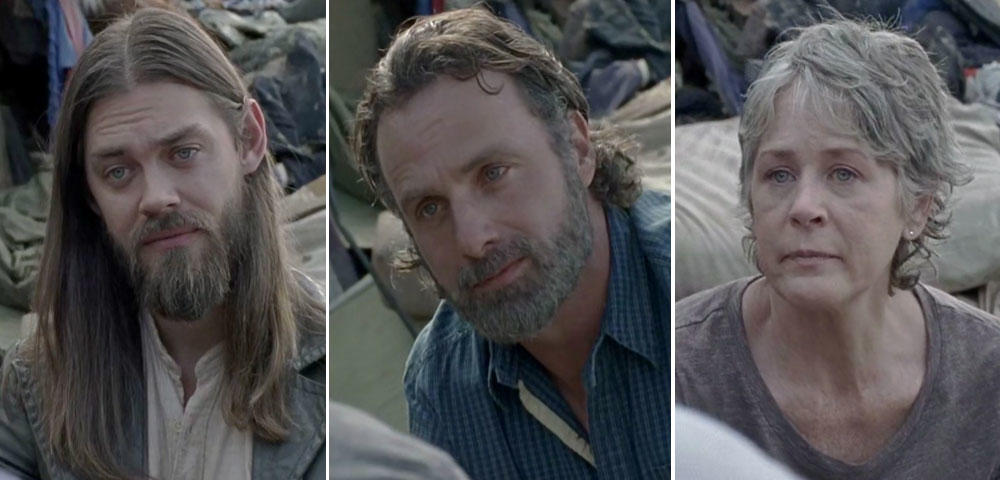 Morgan si rende perfettamente conto di aver perso se stesso, di non riuscire più a convivere in una società, o tra altri esseri umani, quindi l'intervento di questi tre pezzi grossi serve a poco, ma è Rick che riconosce che, malgrado le ferite, Morgan è collegato alla gente, si ritroverà di nuovo in mezzo agli altri.
Non esiste la solitudine in questo mondo così diverso dal passato.
Ed è forse per questo che Morgan decide di lasciare la discarica. Armato del suo bastone, cammina, corre, guida e cammina ancora, alla ricerca di qualcosa.
Ritorna ancora quella frase, "Tu sai che cos'è", che Morgan si è ripetuto spesso nelle puntate finali di The Walking Dead e ritorna, come una specie di mantra o uno spirito guida che lo muove all'azione, anche in Fear the Walking Dead.
In una ellissi, il flashback sul passato di Morgan si conclude e lo ritroviamo alle prese con il triste cowboy John, che sta cercando la sua donna e gli offre ospitalità.
Ma è il mondo crudele dei sopravvissuti e i due cadono preda del gruppo di Leland, salvo venir salvati da Althea, un'ex-giornalista che ama riprendere chi incontra con una videocamera, un po' come faceva Dianna nella comunità sicura di Alexandria ai tempi d'oro.
Morgan rimane un solitario, non vuole parlare, non vuole ricordare, ma, quando il piccolo gruppo viene nuovamente attaccato da Leland e i suoi, deve necessariamente fare squadra. Il suo, ormai, è un mondo dove non si può stare soli, per sopravvivere.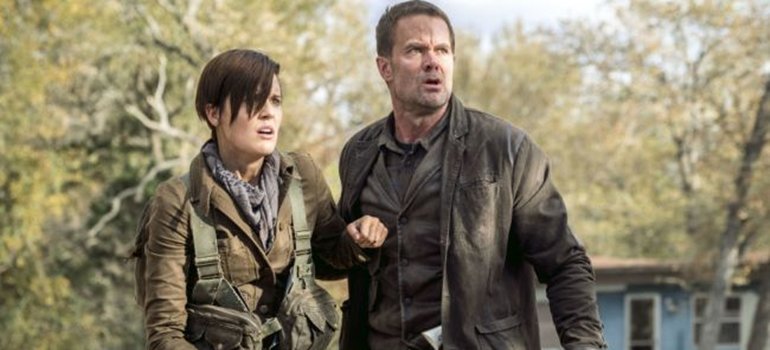 Anche in Fear the Walking Dead, Morgan porta tutte le sue contraddizioni, i suoi perché e le parole sussurrate tra sé e sé. È un personaggio controverso, difficile da capire, pieno di dubbi e insicurezze e che, di certo, porterà tutti i propri conflitti interiori in un gruppo, quello dei protagonisti, che, soprattutto per quanto riguarda Madison, si è distinto per scelte impulsive e drastiche.
Malgrado i presupposti, alla fine decide di riunirsi al gruppo di Althea e John, in un certo senso avvalorando le parole di Rick, in base alle quali non si può stare da soli e sopravvivere: per continuare ad andare avanti, occorre un gruppo a cui appoggiarsi e su cui fare affidamento.
Solo alla fine della puntata arrivano i reali protagonisti. Alicia, Lucy e Nick tendono un'imboscata ad Althea, Morgan e John e, finalmente, scopriamo che, almeno loro, sono sopravvissuti all'esplosione della diga e sono riusciti a riunirsi.
Ora è la loro storia che deve essere narrata; le domande sono ancora moltissime: come sono sopravvissuti? Come hanno fatto a riunirsi? Dov'è Madison? E Daniel?
Ci sarà spazio anche per loro e, da qui in avanti, molto probabilmente, sarà tutta un'altra storia.
Non dimenticatevi di passare anche dai nostri amici di:
The Walking Dead Italia e FIGHT the Dead. FEAR the living – The Walking Dead gdr