2) The End of the F***ing World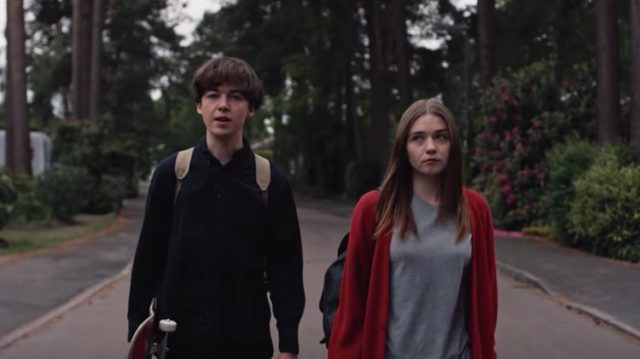 Come in Euphoria, The End of the F***ing World si concentra sul mondo degli adolescenti. I protagonisti dello show sono due ragazzi, James e Alyssa, che si sentono abbandonati a loro stessi, non riescono a trovare il loro posto nel mondo e sono circondati da adulti che non li comprendono. I due giovani compiono molti errori ed estremizzano i giudizi verso i loro genitori ma, in fin dei conti, è quello che tutti facciamo a quell'età. Questo spettacolo non rappresenta solo i problemi adolescenziali ma anche l'idea che gli eventi, quando si vive al limite, ci travolgono senza che ne abbiamo consapevolezza. È bene avere delle ancore. Quella che James e Alyssa cercano nell'altro, una salvezza che si rivelerà apparente. Un po' come quella che Rue cerca disperatamente in Jules.
Ciò che risulta è un ritratto dettagliato della crescita, dove ribellione e cambiamento si mixano con la furia distruttrice e gli atteggiamenti estremi.