L'Investor Day della Disney, conferenza che la compagnia di Topolino ha tenuto per presentare i propri prodotti di prossima uscita e i progetti in lavorazione o in fase di pre-produzione a papabili finanziatori, è stato un vero successo. Se anche quest'estate avevamo sentito la carenza di succose novità data dalla scarsa partecipazione da parte della Casa delle Idee al San Diego Comic-Con 2020, grazie agli annunci dello scorso 10 dicembre potremo speculare e teorizzare per i prossimi anni a venire.
Una valanga di dichiarazioni ha coinvolto soprattutto i rami Disney Animation e Disney Pixar, Marvel e Star Wars, suscitando la reazione estasiata dei fan.
Sul fronte Lucasfilm, sono stati annunciati davvero moltissimi prodotti: due nuovi film per il cinema, serie tv live action e serie animate che approderanno su Disney+, tutte in stretta continuity con il nuovo canone imposto da Disney dopo l'acquisizione dei diritti su Star Wars da George Lucas. Anche se le informazioni in nostro possesso sono relativamente poche, sono bastate a creare nei fan un grande hype, soprattutto per quelli che più erano rimasti scottati da Episodio IX.
Ma procediamo con ordine e proviamo ad analizzare le notizie raccolte per ricapitolare tutte le serie tv a tema Star Wars di prossima uscita su Disney+.
Ahsoka e Rangers of the New Republic
Il personaggio di Ahsoka Tano interpretato della talentuosa Rosario Dawson, già presente nella sua versione animata in Clone Wars e in Rebels, ha fatto la sua prima comparsa in live action nell'episodio 2×05 di The Mandalorian (qui trovate la nostra recensione della puntata in questione), conquistando ancora una volta i fan del franchise, che hanno subito pregato per uno spin-off incentrato sul suo personaggio: le richieste sono state ben presto accontentate.
La serie tv su Ahsoka sarà ambientata post Episodio VI, in contemporanea alle avventure di Baby Yoda e Din Djarin, e probabilmente vedrà la Togruta mettersi alla caccia dell'ammiraglio Thrawn, come appunto anticipato nell'episodio a lei dedicato.
Sempre in questa fascia temporale sarà ambientata anche Rangers of the New Republic, serie che seguirà le gesta e le avventure di un gruppo di piloti della Nuova Repubblica, già conosciuti nell'episodio 2×02 di The Mandalorian. La serie pare interessante: avremo modo di scoprire finalmente qualcosa di più sull'ordinamento politico e sulle vicende di vasta scala intercorrenti tra la trilogia originale e quella sequel, colpevole di aver omesso importanti informazioni sul periodo in questione.
Entrambi gli show vedranno la produzione di Jon Favreau e di Dave Filoni e per tutte e due sono previsti intrecci con la serie madre.
La Disney sembra infatti intenzionata a creare molti eventi crossover, che dimostrino che le serie tv di Star Wars possano in effetti influenzarsi reciprocamente: tutto è collegato.
Le serie animate: Bad Batch e Visions
Abbiamo imparato a conoscere questa banda di cloni difettosi nella prima parte della settima stagione di Clone Wars. La serie, ambientata tra Episodio III ed Episodio IV si concentrerà sul team di cloni modificati geneticamente per essere soldati fuori dal comune: finita la guerra i membri della Bad Batch, ormai senza un preciso scopo, diventeranno dei mercenari d'élite. Le possibilità sono pressoché infinite e il primo trailer della serie animata non ha di certo deluso le aspettative, mostrandoci volti noti e non insieme a grandiosi scenari inediti.
Molto interessante è il progetto Star Wars: Visions, una serie d'animazione antologica che si avvarrà della tecnica tipica degli anime. Per la realizzazione del progetto verranno infatti chiamati in causa i principali maestri, padroni di questa tecnica.
The Acolyte
Uno dei più interessanti prodotti annunciati: si tratta di The Acolyte, L'Accolito, nuova serie di Star Wars descritta come un mistery thriller dai toni dark focalizzata sul tema dell'ascesa del Lato Oscuro alla fine dell'epoca della cosiddetta Alta Repubblica, ossia il periodo di massimo splendore della Repubblica, a cui saranno presto dedicati una serie di fumetti e romanzi, circa cento anni prima della trilogia prequel.
Che la serie possa concentrarsi sull'ascesa di Darth Plagueis, maestro di Darth Sidious, alias Palpatine? Non vediamo l'ora di scoprirlo.
Lando
Passiamo ora a una serie tv di cui conosciamo solo lo showrunner (Justin Simien, creatore di Dear White People) e il nome: Lando. Lo show seguirà le vicende dell'affascinante e ambigua canaglia Lando Calrissian, conosciuto nella trilogia originale, e rivisto in Episodio IX e in Solo: A Star Wars Story. Non sappiamo ancora in che periodo essa sarà ambientata, ma è molto probabile che si tratti di un prequel in cui potremo rivedere le avventure della giovane versione del personaggio interpretata dal fantastico Donald Glover. Ma sono solo ipotesi.
Obi-Wan Kenobi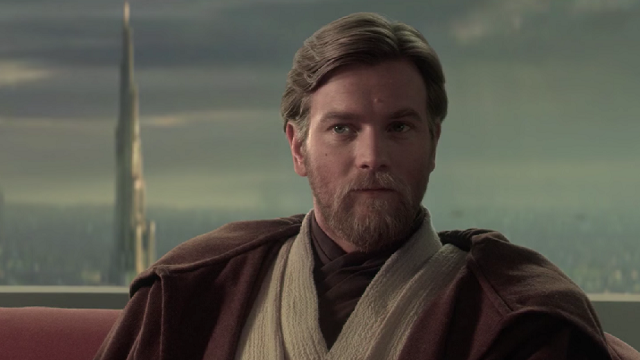 La miniserie su Obi-Wan Kenobi, già annunciata lo scorso anno, è sempre più vicina alla realtà e si preannuncia epica: sei episodi da un'ora in cui Ewan McGregor riprenderà le vesti del maestro Jedi e a lui si unirà anche Hayden Christensen che ritornerà nel ruolo come Darth Vader. Ambientato 10 anni dopo La Vendetta Dei Sith, si focalizzerà su Obi-Wan Kenobi, auto-esiliatosi su Tatooine per tenere sotto controllo e proteggere il piccolo Luke Skywalker dall'Impero e dal padre. Non sappiamo ancora se la miniserie sarà incentrata completamente sul pianeta sabbioso o anche altrove. La presenza di Darth Vader però ci fa ipotizzare che il nostro Obi-Wan potrebbe lasciare momentaneamente il suo ruolo per compiere una missione in giro per la galassia.
Andor
Già visto in Rogue One: A Star Wars Story, il capitano Cassian Andor, interpretato da Diego Luna, verrà approfondito in una serie tv a lui dedicata di dodici episodi. La serie si concentrerà sulla formazione e lo sviluppo del suo personaggio, che lo porterà a divenire l'inflessibile spia della Ribellione, disposta anche a sporcarsi le mani per la causa, che abbiamo avuto modo di conoscere nel film spin-off di Star Wars. Oltre a Diego Luna ritroveremo nel cast anche Alan Tudyk che presterà nuovamente la voce al caustico droide K-2S0, e Genevieve O'Reilly nel ruolo di Mon Mothma, a capo dell'Alleanza Ribelle.
La serie, le cui riprese sono iniziate nel 2020, approderà su Disney+ nel 2022.