Nonostante debba rivaleggiare con tantissimi altri personaggi epici di Breaking Bad e Better Call Saul, Mike Ehrmantraut rimane un tipo speciale.
Bene Jesse Pinkman. Benissimo Walter White . Ottime votazioni anche per Saul Goodman, Hank Schrader e Gus Fring..ma vogliamo parlare di Mike?! (In effetti l'abbiamo già fatto qui)
Ehrmantraut è una di quelle figure apparentemente semplici e caratterizzate che poi rivelano molteplici sfaccettature e chiavi di lettura in grado di issarle nell'Iperuranio della recitazione; le grandi Serie ne hanno a bizzeffe e non è un caso che il faccione di Jonathan Banks si trovi sia in "Better Call Saul" sia nella nave ammiraglia, "Breaking Bad", riuscendo a svettare per carisma, coraggio e virilità in ambo i prodotti.
È unico, inimitabile, speciale. Perché? Noi di Hall of Series proveremo a spiegarvelo sviscerando il più possibile le caratteristiche dello sgherro apparentemente burbero e insensibile, che in verità nasconde un cuore grande così e un senso dell'onore impareggiabile: diteci che ne pensate!
Ah, quasi dimenticavo. Potreste incappare in qualche SPOILER. Se la cosa vi dà noia, scappate immediatamente da queste righe, andate a iniettarvi le 7 stagioni finora partorite dalla mente di Vince Gilligan e poi tornate qua. Non ve ne pentirete.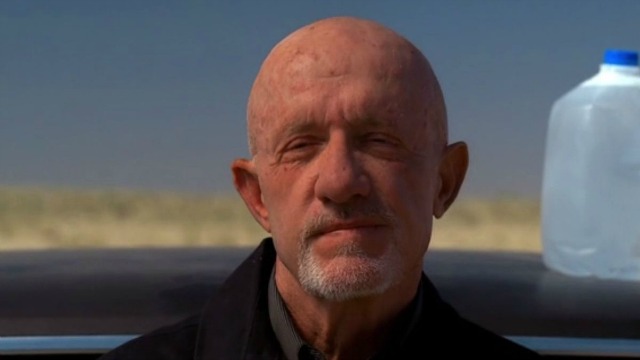 Ex poliziotto, esperto d'armi e pratico dell'ambiente criminale: l'epitome dello scagnozzo!
Dopo la morte del figlio Matty, l'allora impeccabile poliziotto di Philadelphia (che in realtà era marcio da un pezzo) decise di abbandonare la causa della giustizia per perseguirne una più cinica, la vendetta. Il suo primogenito aveva fatto proprio come lui, scegliendo il distintivo e la pistola, ma era finito invischiato in una brutta faccenda ed era stato freddato da due suoi colleghi. Non solo, gli assassini mascherarono anche l'omicidio in modo tale che le manette rimanessero vergini e le sbarre disabitate.
A Mike quella faccenda puzzava e allora analizzò il caso innumerevoli volte per provare a far luce sull'accaduto, fino ad arrivare all'inevitabile conclusione che i colpevoli non potevano che essere quei maledetti e una sera, non potendo più brandire l'arma della legalità, li crivellò di colpi in un vicolo grazie a uno dei suoi innumerevoli trucchetti.
Storia chiusa. Ora però serve una nuova vita. Che fare?
L'unico talento che Ehrmantraut abbia mai avuto è quello di saper sguazzare alla grande nel torbido, rimanendo calmo nelle situazioni più tese e divenendo fulmineo durante i cali di tensione, mantenendo sempre in erezione quei nervi d'acciaio che gli hanno permesso di uscire vivo da situazioni al limite dell'umana praticabilità. Dove può andare uno così?
La scelta ricade sul New Mexico, un posto tranquillo e pacifico (non ridete: l'aspetto superficiale è proprio quello!), ideale per poter ricominciare con un umile lavoro da casellante. Peccato però che sulla sua strada si pari quel mascalzone di Saul Goodman/Jimmy McGill, che intuendo le "pragmatiche capacità" di quel vecchietto si fa affiancare da lui per gestire situazioni delicate che richiedano la presenza di un uomo risoluto. Questo percorso (in una maniera che non ci è ancora stata svelata del tutto) lo porterà a diventare un sicario di Gus Fring, boss del narcotraffico dall'inimmaginabile potere; tra le sue mansioni rientreranno lo spezzare ossa, le minacce, la sepoltura clandestina di cadaveri e chissà quali altre nefandezze morali.
Ma come Mike? Una vita in divisa e poi finisci in mezzo alla feccia della società? Esattamente. Egli, una volta restituito l'onore alle spoglie del figlio, deve combattere in nome di un'altra fondamentale bandiera: quella di sua nipote Kaylee.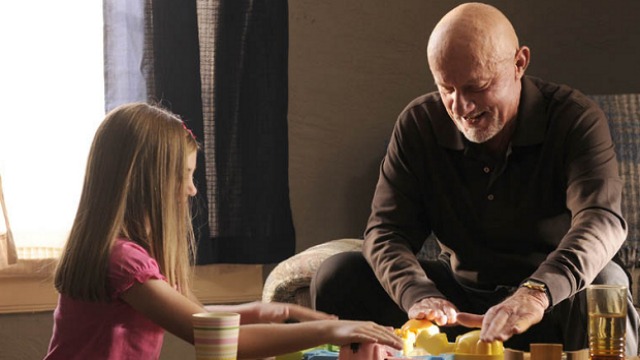 Dolce, premuroso, disposto a fare ogni cosa per permettere alla piccola biondina di esplodere in uno dei suoi accecanti sorrisi: il nonno perfetto!
Mike fa cose orribili per poter permettere a quella bimba di poterne, forse, fare di straordinarie una volta diventata grande: un sacrificio che, oltre delle energie, lo spoglia quasi totalmente dei guadagni, che consegna alla nuora ancora (allegoricamente) zuppi di sangue. Certo lui lo fa per il futuro, ma anche per il presente perché di tanto in tanto riesce a ritagliarsi qualche pomeriggio da passare insieme alla sua Kaylee al parco, in cucina oppure davanti alla Tv abbracciati.
Sono grandi amici quei due, ogni sguardo che si regalano è intriso di affetto e purezza, quella purezza che di colpo scompare insieme alla luce sul suo volto quando Mike esce di casa per andare al lavoro.
Voi accettereste di sprofondare così in basso 7 giorni alla settimana per poter avere qualche momento di serenità con la ragione principale della vostra esistenza? Annichilireste quasi totalmente quel brandello d'anima che vi resta per il bene di qualcun altro? Vi parereste davanti a chi amate per far loro da scudo e intercettare un proiettile che non sapete quando né da chi arriverà, ma che prima o poi finirà con l'uccidervi?
Ehrmantraut sì e se non calcolate questo prima di giudicarlo siete degli ipocriti.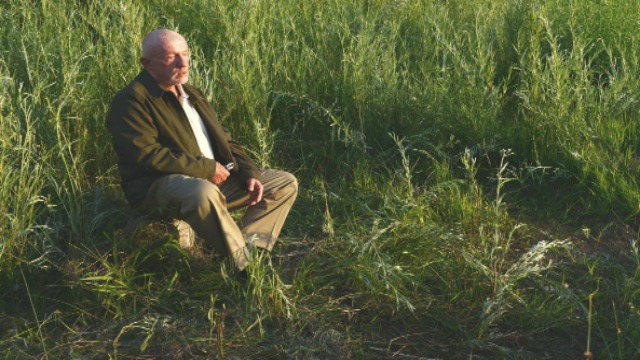 La storia di Mike è finita, nonostante le vicende di "Better Call Saul" ce ne stiano mostrando i primi capitoli.
Walt l'ha ucciso sostanzialmente per sbaglio (non il primo, come vi abbiamo raccontato qua) in un momento di follia e stress estremo, pentendosi amaramente un centesimo di secondo dopo aver premuto quel grilletto e mandando al creatore un vecchio il cui ultimo desiderio è stato quello di morire in pace, sulla riva di un fiume con le rane e le cicale ad accompagnarlo con una melodia primordiale e leggerissima…invece no, perché White insiste e arriva al suo capezzale in cerca di chissà quale forma di perdono, ma la risposta è a dir poco assordante se pur scandita con un filo di voce:
"Shut the fuck up, and let me die in peace"
Un ultimo pensiero a Kaylee e Matty, l'aria e l'anima lo abbandonano e lo sgherro cade a terra, con un tonfo che ancora riecheggia nel cuore dei telespettatori.
Una carogna e un angelo. Un giusto e un criminale. Uno capace di fare di tutto pur di godersi quel poco a cui aspirava. Un buono e un cattivo. Mike Ehrmantraut è stato tutte queste cose e tante altre ancora ed è per questo insospettabile dinamismo che rappresenta qualcosa di unico e inimitabile nel panorama seriale. È per questo che ci manca da morire.