Ci sono dei prodotti cinematografici o televisivi che catturano l'attenzione generale ancor prima di essere distribuiti. Sin dall'annuncio uno o più dettagli sembrano calamitare l'attenzione, invitare alla visione, far presagire che questo evento sarà uno spartiacque, linea di confine tra ciò che era e ciò che potrebbe essere dopo. Ricordo di aver provato qualcosa del genere all'annuncio di Boardwalk Empire, nell'ormai lontano 2010, serie ideata da Terence Winter, soprattutto perché lessi due nomi, quelli di Martin Scorsese come produttore esecutivo e di Steve Buscemi nel ruolo del protagonista principale.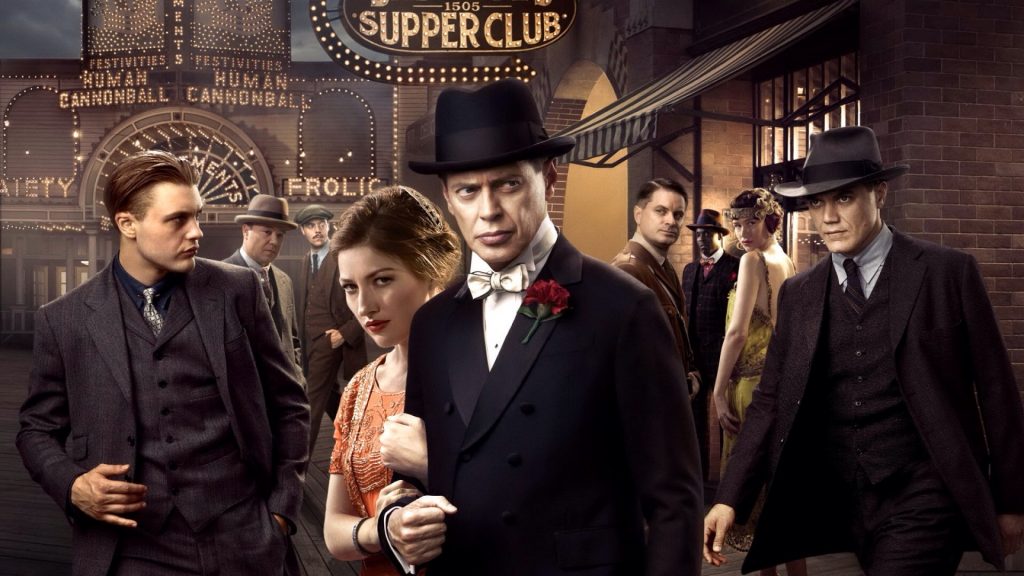 Ora, all'epoca ero probabilmente troppo giovane per conoscere il cinema, ma avevo visto alcuni capolavori di Scorsese come Taxi Driver o l'allora più recente The Departed. Buscemi era già il fantastico Mr. Pink de Le iene, per cui leggere quei nomi suscitò in me un immediato interesse. Avevo sempre considerato le serie tv prodotti meno impegnati o impegnativi rispetto al cinema, ma ora due pezzi da novanta del grande schermo stavano lavorando a un prodotto seriale.
Nel 2011 fu finalmente distribuita in Italia la prima stagione, il pilot è diretto dal maestro Scorsese e fu presentato presentato fuori concorso al Festival Internazionale del Film di Roma. Lo show è un adattamento del romanzo Boardwalk Empire: The Birth, High Times and Corruption of Atlantic City e ci introduce nell'America del 1920, dove domina il commercio clandestino di alcolici, dove il proibizionismo imperversa e dove a farla da padrone è Enoch "Nucky" Thompson, tesoriere della città e gangster locale. Criminale di pregevole fattura, Il Nucky di Buscemi è un uomo di classe e prestigio, sempre vestito di tutto punto, cortese, affascinante, che sa nascondere benissimo la propria natura criminale, un gangster tipicamente cinematografico, letterario per certi versi.
La serie indaga, attraverso le vicende di questo protagonista, temi classici dei gangster movie quali la corruzione, la brama di potere e la violenza. Si tratta di una storia complessa, dai molteplici livelli di lettura e interpretazione, estremamente curata dal punto di vista della messa in scena, recitazione e dei contenuti.
Sarà utile a tal proposito dividere l'analisi in questi tre aspetti che, a mio avviso, concorrono a qualificare Boardwalk Empire come una serie mastodontica:
1) Messa in scena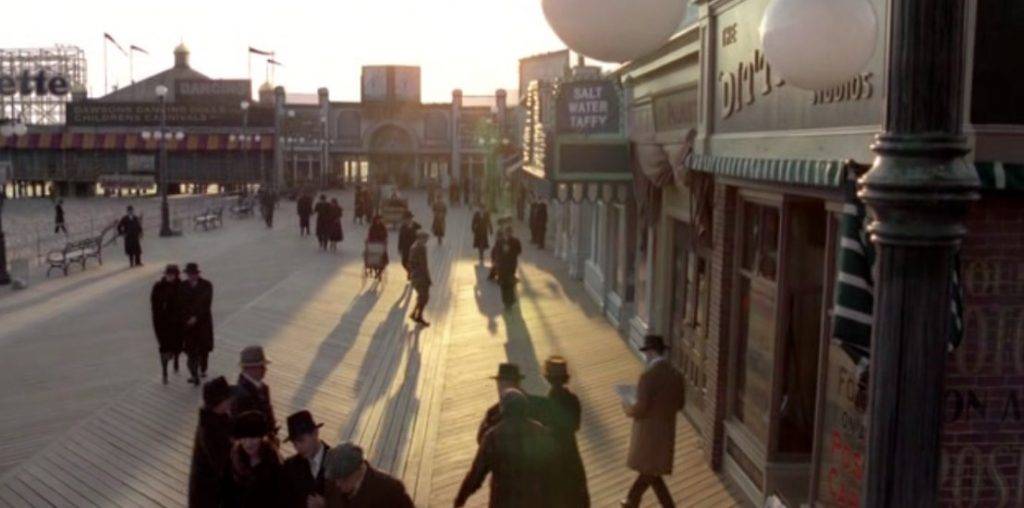 Uno dei punti caratteristici del lavoro di Winter è la fedele ricostruzione storica del periodo.
Ci troviamo, infatti, alla fine della prima guerra mondiale, nell'epoca del proibizionismo, del jazz, dei cappelli appariscenti e degli abiti dai colori sgargianti. Le contraddizioni sociali abbondano, pochi ricchi e molti poveri, le donne emarginate che reclamano un posto nella storia e uomini senza scrupoli che dominano la scena. Tutti questi elementi sono rappresentati con cura maniacale, tanto che basta una passeggiata sul Boardwalk per sentire l'aria che tira, per assaporare ognuno dei tanti dettagli che affollano lo schermo.
Cito a tal proposito la virtuosistica regia di Scorsese del primo episodio, con piani lunghissimi che hanno appunto lo scopo di ammaliare lo spettatore con la sontuosa ricostruzione storica della città, mantenendo allo stesso tempo una messa a fuoco perfetta di ogni elemento presente nell'inquadratura, che si alternano alle riprese in interni, anch'essi ricostruiti con perfezione assoluta. La fotografia dai colori caldi, dal sapore vintage, rapisce lo sguardo e ci immerge completamente nelle atmosfere del periodo, grazie al grande lavoro di Robert Stromberg, già collaboratore di Scorsese per The Aviator e Shutter Island.
Un ulteriore elemento di immersione è rappresentato dalle musiche, in puro stile anni '20, che scandiscono il ritmo della narrazione e ci riportano indietro nel tempo. In conclusione, la regia sinuosa e formalmente attenta agli spazi del racconto, unita alle scenografie curate nei minimi dettagli e al rispetto quasi religioso per gli aspetti del periodo, come le vecchie insegne pubblicitarie che si stagliano in lontananza, rendono Boardwalk Empire una serie dalle grandiose aspirazioni.
2) Recitazione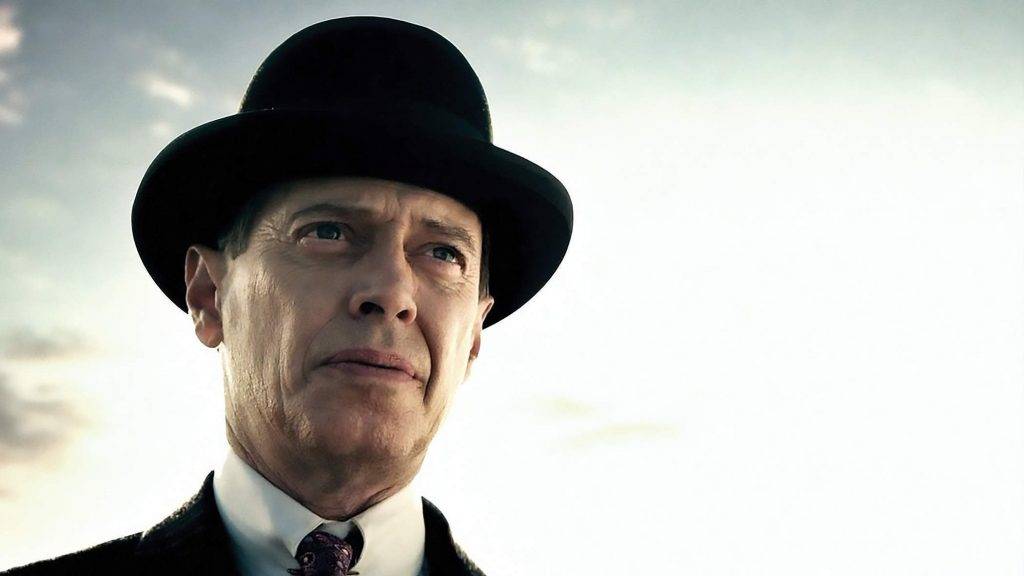 Il cast annovera elementi di grande spessore, a partire dal già citato Steve Buscemi, nel ruolo di Nucky, che riesce a portare sullo schermo un protagonista sfaccettato, profondo e interessante.
Gli fanno compagnia attori di notevole talento come Michael Pitt, nel ruolo di Jimmy, suo protetto e rivale allo stesso tempo, finalmente in un ruolo che gli rende giustizia; Michael Shannon, nei panni dell'agente federale che riesce a portare sullo schermo l'immagine di un uomo ligio al dovere, inflessibile e duro; infine, menzioni onorevoli per Vincent Piazza e Stephen Graham, nel ruolo rispettivamente di Lucky Luciano e Al Capone. Questa schiera di personaggi risulta essere una trasposizione credibile dei criminali dell'epoca, in quanto presentano delle caratterizzazioni uniche, come l'italiano "americano" di Al Capone oppure la fredda abilità di Nucky.
Merito del cast è sicuramente quello di riuscire a portare sullo schermo delle vicende appassionanti, emozionanti e ricche di colpi di scena.
3) Contenuti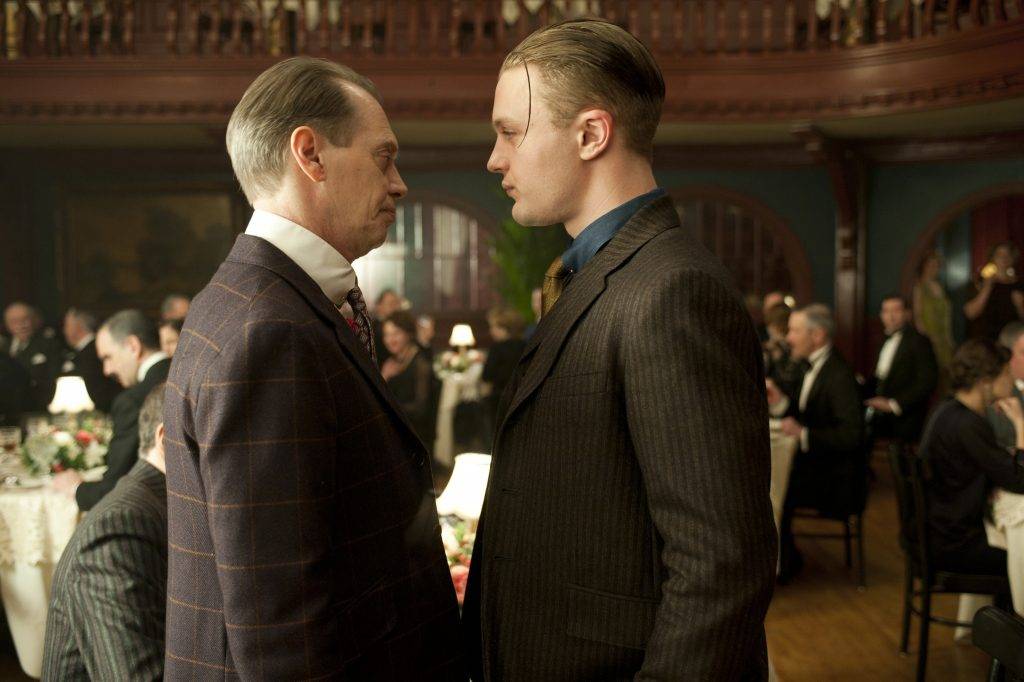 Questa è una serie dalla fisionomia cinematografica: guardandola si ha la netta impressione che uno dei filoni principali del cinema americano, quello del gangster movie, sia stato preso e modernizzato adattandolo ai canoni della tv.
Temi quali la brama di potere, la corruzione, le contraddizioni sociali di un'America nata nella violenza, rendono questa serie enormemente complessa e moderna. Attraverso l'analisi dei personaggi vengono portate in scena le vicende di un paese segnato dall'ingiustizia, dalla povertà, dalla prevaricazione, ma anche dalla possibilità di raggiungere il tanto agognato sogno americano, aderendo naturalmente alle regole del gioco. La politica, intesa come l'arte del compromesso, del perseguire il vantaggio personale, è il fulcro di ogni vicenda e le persone finiscono per non essere mai quello che sembrano. Si riprendono i temi classici del cinema di Howard Hawks, dello stesso Scorsese e di altri grandi artisti americani, in un miscuglio di codici narrativi e stilistici unico nel suo genere. Il personaggio di Nucky in particolare è figlio di una lunga tradizione e in qualche modo condensa ed evolve una cinematografia lunga cinquant'anni.
L'importanza di Boardwalk Empire, tuttavia, va al di là dei contenuti particolari che offre, questo perché ha cambiato per sempre il modo di concepire le serie tv.
Nomi così pesanti, una messa in scena di questa caratura e una ricostruzione tanto fedele, non si erano mai visti in un prodotto destinato alla televisione (per questo è uno degli show meglio recensiti dalla critica). Il gangster stesso, come genere e come caratteristiche, dovrà d'ora in avanti fare i conti con questo lavoro che ha saputo attestarsi come uno spartiacque, uno di quei prodotti che dona nuova dignità e statura al genere.
Sono certamente presenti degli elementi di difetto e delle cadute di tono, come avvenuto nella quarta stagione, ma per tutti i motivi citati in precedenza: ogni serie che da questo momento vedrà la luce, dovrà inevitabilmente confrontarsi con questa.