Young Sheldon ha deciso di chiudere la terza stagione alla grande con uno degli episodi più belli di quest'anno con cui sono riusciti anche a commuoverci (leggi qui quali sono i 5 momenti più tristi della serie). In realtà la nuova stagione della comedy avrebbe dovuto avere 22 episodi, ma a causa della terribile situazione che stiamo vivendo la rete ha deciso di cancellare l'ultima puntata che non era stata ancora girata.
Eppure l'episodio intitolato "A Secret Letter and a Lowly Disc of Processed Meat" sembra un perfetto finale di stagione!
Gli autori hanno prima di tutto messo fine (con grande gioia di molti di noi) alla relazione tra Connie e Dale. Nella puntata della settimana scorsa avevamo visto come l'uomo si fosse infuriato quando la sua compagna non aveva accettato di sposarlo. Per di più quando era tornato in negozio aveva licenziato Georgie in quanto era ancora arrabbiato con sua nonna. Ci chiedevamo tutti come la donna avrebbe reagito, quando avrebbe scoperto in che modo il suo ex aveva trattato suo nipote. E lei non ci ha affatto deluso!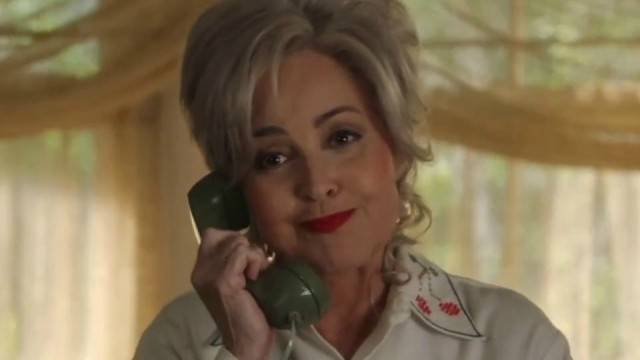 Quando Georgie le ha raccontato tutto, ha immediatamente chiamato Dale per insultarlo e per convincerlo a riassumere suo nipote. Ma dato che lui non voleva ascoltarla e si ostinava a non risponderle al telefono, ha deciso di punirlo alla vecchia maniera. In una scena esilarante e in un certo senso dolce, la donna e suo nipote sono andati a lanciare delle uova contro le pareti del suo negozio. Avremmo voluto sapere cosa sarebbe accaduto dopo tra lei e il suo ex (e soprattutto se Dale avesse intenzione di cacciare anche Missy dalla squadra di baseball) ma dovremo aspettare la prossima stagione. Intanto è stato bello che la serie ci abbia mostrato per l'ennesima volta il fantastico rapporto che questa straordinaria nonna ha instaurato con i suoi nipoti.
Ma questa puntata è stata cruciale soprattutto per il personaggio di Sheldon e il futuro della serie che sembra volersi discostare sempre di più da The Big Bang Theory. Gli scrittori hanno probabilmente superato il punto di non ritorno, mostrando una grande incongruenza con la serie madre. Stavolta hanno collegato in maniera davvero originale il futuro di Sheldon alla caduta di un piccolo pezzo di wurstel. Il ragazzino, infatti, per poterlo raccogliere è andato nella stanza dei suoi genitori a frugare nel comodino di sua madre alla ricerca di una torcia. Proprio lì ha trovato una lettera spedita dal rettore della prestigiosa università della Caltech.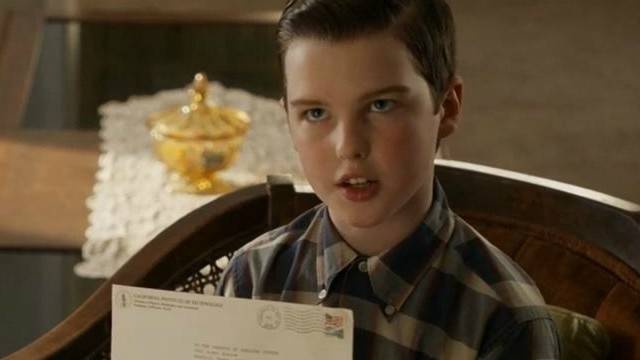 Il ragazzino moriva dalla voglia di leggerla, ma temeva di commettere un reato e così ha lasciato che fosse Missy ad aprirla e a leggerne il contenuto. Per poter sapere quello che c'era scritto però il nostro protagonista ha dovuto sopportare di posare per un imbarazzante scatto. Alla fine comunque sua sorella gli ha rivelato che la Caltech aveva offerto a Sheldon la possibilità di cominciare a frequentare la loro università. Quando Mary è tornata a casa, suo figlio l'ha affrontata e le ha chiesto perché glielo avesse tenuto nascosto. Dato che sua madre non gli aveva dato le risposte che cercava, Sheldon è andato a chiedere spiegazioni a suo padre che era però ignaro di tutto.
George si è davvero infuriato quando ha saputo che sua moglie aveva preso una decisione così importante sul futuro di suo figlio senza consultarlo. Mary si è ritrovata in poco tempo a essere odiata sia da suo marito che dal suo figlio minore. Mentre stava in giardino da sola a fumare e a piangere, è stata sorpresa dalla sua vicina Brenda che, dopo averla un po' presa in giro, l'ha invitata a casa sua per farla sfogare. Incredibilmente è stata lei a risollevare Mary e non solo ha ascoltato i suoi problemi, mentre bevevano del vino scadente e fumavano una sigaretta, ma le ha anche dato un ottimo consiglio.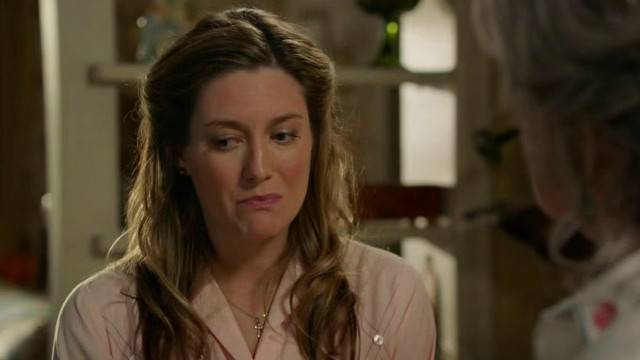 Le ha fatto notare che se suo figlio era così sveglio da essere richiesto da tante università nonostante la sua giovane età, era anche abbastanza intelligente e maturo da cavarsela da solo in un ambiente nuovo. Nel frattempo George e il piccolo Sheldon hanno realizzato una breve presentazione in cui i professori della scuola superiore spiegavano a Mary perché dovesse far frequentare l'università a suo figlio. La sincerità con cui alla fine tutti hanno parlato del potenziale del ragazzo mi ha proprio commosso.
In particolar modo John Sturgis ha dedicato delle parole veramente dolci al suo giovane studente ed è riuscito a convincere Mary a cedere.
Il professore non poteva saperlo (e purtroppo non sappiamo se lo abbia mai saputo) ma in quel momento stava aiutando il futuro vincitore del premio Nobel ad arrivare un po' più vicino al traguardo. Ma ora sorge un problema: il fatto che John Sturgis non sia mai stato citato nella serie madre è davvero assurdo dato che Sheldon deve a lui l'inizio della sua carriera universitaria. Inoltre con questa puntata gli autori hanno contraddetto quello che il protagonista di The Big Bang Theory aveva raccontato sulla sua infanzia. Lui aveva detto di essersi diplomato a 11 anni e di aver poi frequentato la Caltech, mentre in Young Sheldon sembra che passerà direttamente dalla scuola superiore alla East Texas Tech. Sarà chiarita questa incongruenza nella prossima stagione?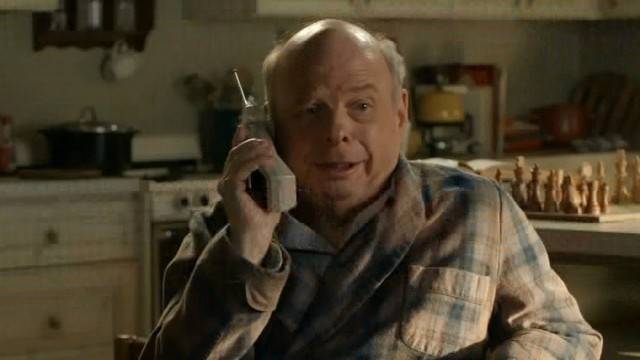 In questa puntata di Young Sheldon il personaggio di Mary ha avuto un ruolo centrale. Abbiamo prima di tutto scoperto tutte le fragilità che si nascondevano dietro la facciata di una perfetta mamma chioccia, quando l'abbiamo vista fumare e bere insieme alla sua vicina in una scena di grande solidarietà femminile. Ma abbiamo avuto anche l'ennesima prova di quanto la donna sia egoista e di quanti errori abbia commesso, mentre cresceva suo figlio. Sono sicura che a preoccuparla non fosse il fatto che Sheldon non riuscisse a cavarsela da solo, ma la possibilità di perdere l'unico figlio con cui era riuscita a creare un legame.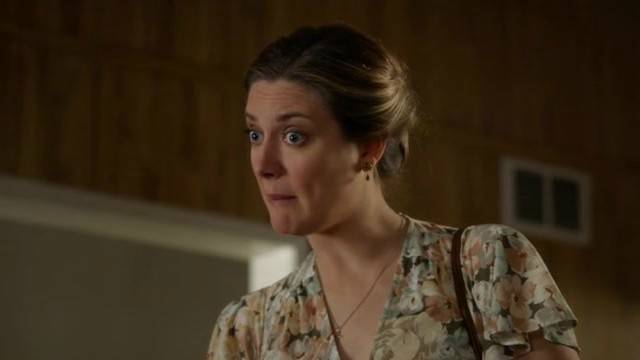 Il più grande errore lo ha commesso però quando ha deliberatamente escluso suo marito dalla scelta dell'università. Lei era convinta di essere l'unica a sapere cosa fosse meglio per il figlio e credeva di doversi prendere cura di Sheldon da sola. Tante volte nella serie madre Mary e Sheldon hanno criticato le capacità genitoriali di George e invece stiamo scoprendo sempre di più quanto fosse un ottimo padre e di come in tante occasioni si sia comportato persino meglio di sua moglie. Al momento credo che sia stato questo ad averli separati a lungo andare e non l'infedeltà di George.
Inoltre mettendo sempre suo figlio sotto una campana di vetro e trattandolo in maniera diversa non ha fatto altro che fargli credere ancora di più di esserlo. E ha fatto nascere una grande rabbia nei fratelli di Sheldon che vedevano in lui la causa dei litigi dei loro genitori. Le parole che Missy ha detto al suo gemello sono state indubbiamente dure, ma totalmente comprensibili. La bimba era troppo piccola per comprendere che la colpa non fosse di Sheldon e del suo genio, ma delle manie di controllo di sua madre e quindi ha puntato il dito contro di lui.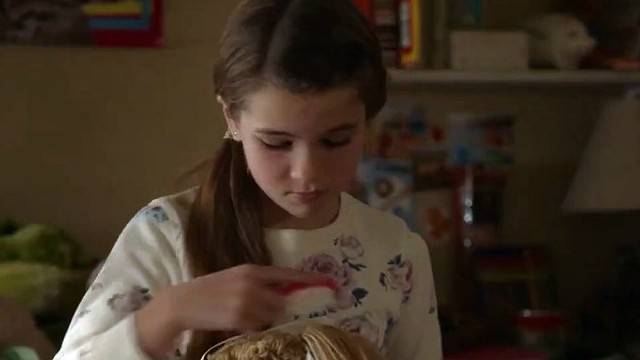 In questa stagione di Young Sheldon abbiamo visto l'evoluzione di tutti i personaggi della serie e ci siamo inevitabilmente affezionati a loro. Abbiamo scoperto la dote di Missy per il baseball, ci siamo divertiti con il triangolo amoroso che ha visto coinvolta Connie e abbiamo apprezzato sempre di più George. L'ultimo episodio è stato perfetto per una stagione che è andata oltre ogni nostra aspettativa e non vediamo l'ora di vedere dove ci porterà questo viaggio alla scoperta dei Cooper.