Alcuni personaggi restano incarnati in volti che ne hanno prestato le sembianze, senza riuscire più ad evaderne.
Questa è l'ironica conseguenza di un lavoro ben svolto, di un'interpretazione che picchia forte sulle barriere del tempo col tenace ed ambizioso intento di infrangerle, riuscendoci.
La stessa bravura che genera, in un certo senso, quella insperata detenzione: talvolta gli attori sono reclusi in un personaggio per lustri, altri per decenni, alcuni perfino condannati all'ergastolo.
C'è tuttavia un duplice aspetto, e questo non riguarda solo chi non è stato in grado di coltivare le radici nelle feconde memorie degli spettatori, trovando spazio in altri personaggi. Ciò vale anche per chi ha compiuto l'impresa ed è ugualmente riuscito a perpetuare la propria carriera con camaleontica costanza, con quella duttilità che gli ha permesso di vivere, attraverso i suoi personaggi, più di una vita ed essere ricordato per ognuna di queste.
Per l'uno o per l'altro caso, per uno o per centomila volti, parleremo di coloro che hanno vinto alla lotteria dei ricordi e segnato un'epoca, mutando l'anonimato di cittadini di una piccolo paesino in esemplari iconici dai tratti caricaturali e teneramente affascinanti: gli abitanti di Twin Peaks.
Dopo aver respirato l'aria condita dall'olezzo dei maestosi Douglas Firs e fatto colazione con le lenitive ed ammalianti torte di ciliegie calde e buone tazze di caffè "nero come il buio di una notte senza luna", dunque, siamo curiosi di riscontrare i volti dei protagonisti in situazioni differenti, e con un involontario cenno di spontaneo sorriso agli angoli delle nostre bocche ritrovarli pieni di nuova linfa e voglia di rientrare prepotentemente nei nostri affetti sotto differenti spoglie.
Questi sono i percorsi dei protagonisti de "I Segreti di Twin Peaks" dopo la serie.
 1) Kyle MacLachlan

Il volto e l'aria bonaria, le controverse tecniche di intuizione e deduzione tipiche delle pratiche meditative trascendentali che Lynch ha trasmesso al suo personaggio, l'accomodante tono della voce pronto ad essere acquisito dall'audio-registratore come testimonianza per Diane; nel caso di Kyle MacLachlan, l'iconica immagine dell'agente speciale Dale Cooper non è l'unico motivo per cui verrà ricordato.
Appena dopo la cancellazione di Twin Peaks, nel Giugno del 1991, lo ritroviamo subito all'opera nel settore cinematografico col film biografico "The Doors" distribuito nelle sale italiane nel Settembre dello stesso anno.
Negli anni a seguire, gli impegni nel cinema non sono cessati. Kyle è stato presente, infatti, come uno dei doppiatori nel film d'animazione "Inside Out" ed in altre tre opere di rilievo da attore: "I Dannati di Hollywood" (1992), "I Flinstones" (1994) e "The Librarian" (2004).
Ciò grazie a cui, tuttavia, è riuscito a rinnovare la sua figura fino ai tempi odierni resta ciò che l'ha visto nascere: la serialità televisiva.
Kyle MacLachlan è rimasto particolarmente attivo nelle mondo delle serie televisive arrivando, come già detto, a ritagliarsi un nuovo posto negli affetti di nuove fandom, quali quelli di "How I Met Your Mother".
Nel 2010, Kyle diventa infatti la ricorrente figura del goliardico "Capitano" della serie comedy più amata del nostro millennio, prendendovi parte per 7 episodi distribuiti nell'arco temporale che va dal 2010 al 2014.
Tanti altri sono i ruoli più o meno longevi e di spessore, tra cui: "Sex & the City" (Trey MacDougal, 23 episodi, 2000-2002), "Law & Order" (Brett Morton, 2 episodi, 2004-2011), "Desperate Housewives" (Orson Hodge, 96 episodi, 2006-2012), "Portlandia" (16 episodi, 2011-2015), "The Good Wife" (4 episodi, 2014), Agents of S.H.I.E.L.D. (Calvin Zabo, 13 episodi, 2014-2015).
2) Kenneth Welsh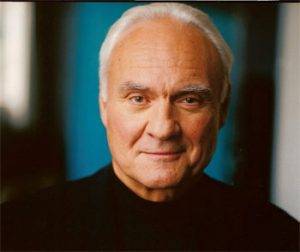 Windom Earle, affascinante, ingegnosa e diabolica nemesi di Dale Cooper, è l'unica figura televisiva di spicco interpretata da Kenneth Welsh.
Per quello che riguarda la televisione, infatti, Kenneth è stato presente in maniera occasionale soltanto in due opere: "X-Files" (1 episodio, 1995) e "Smallville" (1 episodio, 2005).
Ma come da nemesi di Dale Cooper nella serie, anche Kenneth si oppone al percorso di Kyle MacLachlan.
Kenneth Welsh, infatti, ha avuto una florida carriera cinematografica, che si protende fino ai giorni nostri, con film quali: "Vento di passioni" (1994), "Hiroshima" (1995), "Potere Assoluto" (1997), "The Day After Tomorrow" (2004), "The Aviator" (2004), "Karol – Un uomo diventato papa" (2005), "Quattro fratelli" (2005), "The Covenant" (2006), "I Fantastici 4 e Silver Surfer" (2007), "Seta" (2007), "Grey Gardens – Dive per sempre" (2009), "L'isola dei sopravvissuti" (2010), "L'arte del furto" (2013).
3) Jack Nance


L'attore che ha interpretato il buono e tenero Pete Martell nella serie, venuto a mancare nel 1996, verrà ricordato con incalcolabile affetto soprattutto dai cultori di David Lynch.
Jack Nance, infatti, fu uno degli attori ad aver maggiormente lavorato col Maestro, più in opere precedenti a Twin Peaks che in quelle successive.
Primo tra tutti, ricordiamo il ruolo protagonista di Henry Spencer nel primo capolavoro e film di culto di Lynch (nato inizialmente come idea per un cortometraggio) del 1977: "Eraserhead".
Sempre precedentemente al ruolo assunto in Twin Peaks, Jack Nance ha preso parte anche allo straordinario e grottesco delirio amoroso "Cuore Selvaggio" di Lynch, in un cast che vedeva presenti altre figure ricorrenti del cinema di David quali Laura Dern e Grace Zebriskie (madre di Laura Palmer in Twin Peaks), nonché Nicholas Cage come protagonista.
Tra i ruoli antecedenti a quello di Pete Martell in Twin Peaks, ricordiamo senz'altro la presenza nel gioiello onirico e pietra miliare del cinema d'autore "Strade Perdute" (1997), ed in "Little Witches" (1996).
In ambito televisivo, è stato presente in un solo episodio di "My so-called life" nel 1995.
4) Piper Laurie


Passando da Pete a sua moglie, Catherine Martell, ci ritroviamo a parlare di un'altra carriera concentrata ma ugualmente importante.
La sua figura si è alternata, in maniera piuttosto equilibrata, tra il mondo del cinema e quello della televisione.
Per quanto riguarda quest'ultimo, l'abbiamo rivista in due episodi di "E.R." (nel 1995 e nel 1996), e come comparsa in un solo episodio in più serie, tra cui "Will & Grace" nel 2000, "Law & Order" nel 2001, "Dead Like Me" nel 2004 e "Cold Case" nel 2005.
Nel mondo del cinema, è apparsa in: "I soldi degli altri" (1991), "Trauma" (1993), "3 giorni per la verità" (1995), "Dead Girl" (2006) ed "Hesher è stato qui" (2010).