22) Sheryl Lee


Adorata da tutti. Amata dalle amiche ed agognata dagli uomini, con un'intera cittadina ad infonderle affetto e rispetto. Vera e propria "figlia putativa" di un paesino di cui lei si rivela essere lo specchio: una candida maschera che racchiude un prorompente e trascinante lato compromesso svelato ad ogni macchia di mistero lentamente sbiaditasi.
Il ruolo di Laura Palmer sarà indubbiamente un tipo di notorietà ed idioma mai più replicabile per lei, ma la cosa realmente importante è che Sheryl Lee potrà riassumerne le sembianze e tornare così com'è stata conosciuta.
Sheryl, infatti, ha accettato senza alcuna esitazione il recast nella nuova stagione di Twin Peaks, dopo una carriera che l'ha vista moderatamente impegnata.
In ambito cinematografico, la ricordiamo per "Cuore selvaggio" (1990) di Lynch, per il quale anche lei è stata scritturata dopo le riprese dell'episodio pilota di Twin Peaks, per "Vampires" (1998), "Un gelido inverno" (2010), "Le paludi della morte" (2011) e, soprattutto, sappiamo l'impegno imminente nel ricco ed esimio cast del prossimo film di Woody Allen, nelle sale a partire da questo Novembre, "Café Society".
Nel mondo televisivo, ha preso parte a note serie tv quali: "One Three Hill" (9 episodi, 2005-2006), "Dr. House" (1 episodio, 2006), "CSI: NY" (1 episodio, 2006), "Dirty Sexy Money" (12 episodi, 2007-2008), "Lie To Me" (1 episodio, 2010), "Psych" (1 episodio, 2010) e "Perception" (1 episodio, 2012).
Per i veri cultori della serie, sarà inutile specificare che quasi tutti i membri del cast sono riapparsi nel capolavoro che ha fatto da sequel alla serie prematuramente interrotta, "Fire Walk With Me" del 1992.
Un omaggio finale va fatto a chi, dopo la serie, non ha svolto più alcun lavoro in ambito attoriale poiché non fosse il proprio mestiere.
A colui che, anche grazie al geniale intuito del Maestro, ci ha mostrato come uno
scenografo ed addetto alle luci di set possa inavvertitamente divenire uno dei personaggi più piacevolmente inquietanti della storia della televisione: Frank Silva, nel ruolo di Bob.
E come da tradizione è abituata a fare la fandom di Twin Peaks, vi salutiamo venerando il Venerdì a nostro modo: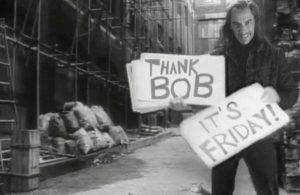 Thank Bob it's (Vintage) Friday!