Bastano poche note del "Laura Palmer" theme, composte come maestria ed eleganza da Angelo Badalamenti per riportarci al 1990. Non serve dire che stiamo parlando di una serie TV che ha fatto la storia della televisione americana e internazionale, un thriller psicologico chiamato Twin Peaks.
Questo show, premiato con ben tre Golden Globe e due Emmy Awards, si e interrotto bruscamente all'apice degli ascolti il 10 giugno 1992, dopo appena due stagioni.
Ambientato proprio a Twin Peaks, una cittadina montana situata nello stato di Washington, a una manciata di chilometri dal confine canadese, tratta delle vicende di questa tranquilla cittadina sconvolta da un inspiegabile ed efferato omicidio.
La giovane vittima è Laura Palmer, unica figlia dell'avvocato Leland, nonché una delle ragazze più popolari del paese.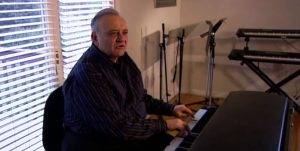 Le indagini procedono grazie all'impegno della polizia locale e a quello dell'agente speciale dell'FBI, Dale Cooper, ma forse scoprono più del dovuto.. mano a mano che investigano oltre agli indizi affiorano anche i segreti degli abitanti della città, un lato oscuro del quale nessuno avrebbe mai sospettato e che, certamente, non doveva venire alla luce.
Ma perché a distanza di ben 25 anni Angelo Badalamenti ha deciso di suonare nuovamente la sua più celebre composizione? La risposta è presto detta, il 6 ottobre 2914, infatti, venne annunciata una nuova serie revival ambientata ai giorni nostri e che verrà trasmessa da ShowTime.
Lo show è atteso per il 2017 e gli episodi saranno scritti dagli storici ideatori della serie, Frost e Lynch, quest'ultimo assumerà anche il ruolo di regista.
Per ingannare l'ormai lunghissima attesa i produttori hanno deciso di pubblicare in America a partire dal 18 ottobre 2016 un libro, The Secret History Of Twin Peaks, che approfondirà le vicende della serie originale e racconterà la vita dei protagonisti dopo il brusco finale del 1991.
Per quanto riguarda gli attori ce ne saranno di vecchi e di nuovi, come ha promesso Frost e, senza ombra di dubbio, Kyle MacLachlan tornerà a vestire i panni dell'agente dell'FBI Dale Cooper, rivelandosi entusiasta di tornare nello strano mondo di Twin Peaks.
Insomma, tenetevi forte, la terza stagione si farà e noi siamo pronti.