In Sons of Anarchy tutto è eterno, adrenalinico, tragico ed infinito, pertanto ne consegue che le citazioni eccelse non mancano affatto, in quell'opera che da moltissimi è giustamente ritenuta la più potente della storia seriale (con Br Bad, forma il binomio della perfezione).
Cast superbo, la tragedia dell'Amleto base del dramma televisivo, molte curiosità infinitamente irrisolte, immagini dal forte impatto e valore simbolico, parole poetiche e violente. Sangue e amore, fratellanza e sofferenza. Questo articolo si soffermerà sul valore dei dialoghi sempre giusti e mai banali, sempre poetici ma mai pleonastici, citazioni riecheggianti nell'eternità che solo quel limitato panorama seriale di primissima qualità può vantare. E Sons of Anarchy, senza discussione alcuna, ne fa parte con prepotenza.
[ Spoilers Alert ]
1) " You had the chance to be something good for this club. Something your old man always wanted… but you turned into everything he hated…you became the poison "  (Jury)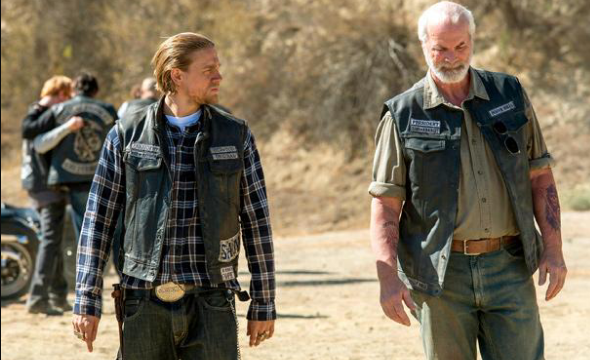 "Avevi l'occasione di rappresentare qualcosa di buono per questo club…Qualcosa che tuo padre ha sempre voluto, ma ti sei trasformato in ogni cosa che lui (John Teller) odiava.. sei divenuto il veleno"
Parole forti e tristemente veritiere, quelle espresse dall'ex leader degli Indian Hills accorpati nei SoA quando l'autarchia da despota di Clay aveva un potere decisionale indiscutibile e senza limiti. L'amico reduce dal Vietnam del padre di Jax, viene ucciso da quest'ultimo. Un maledetto punto di non ritorno.
La verità scomoda, tocca le corde del cuore di Jax ed un nuovo raptus omicida, rende ormai il biondo e tormentato Jackson, un killer sempre più spietato.
Jax è metaforicamente il veleno, Jax consumato dalla menzogna, dalla vendetta, dalla violenza, inizia a somigliare sempre più al patrigno Clay, piuttosto che al vero padre J.T. Jax sa che quelle parole sono vere ed impazzisce letteralmente, la vendetta è un diritto e desiderio ma ha un prezzo altissimo. Ti consuma, ti stravolge, ti fa essere ciò che non vorresti. La logorante vendetta che può farti somigliare al tuo stesso nemico.
Il peso esistenziale diventa insostenibile, la violenza gratuita è sintomo di chi ormai non riesce più ad autogestirsi. La vergogna per la propria coscienza che non ha assecondato il testamento di ideali, aspettative e volontà di papà John, è la scintilla che fa premere il grilletto a Jax.
Vergogna e violenza, spesso sorelle del dramma Sons of Anarchy.