Attenzione: questo articolo contiene spoiler su The Witcher 1×05!
Nel quinto episodio di The Witcher si inizia finalmente a intuire la direzione che la serie intende percorrere. Fino alla scorsa puntata, infatti, lo scopo era quello di presentarci i personaggi principali nel contesto magico, cupo e a volte persino crudele del Continente, e di farci orientare in mezzo alle diverse linee temporali. Ora il lungo prologo della storia pare finito, e i singoli pezzi iniziano a incastrarsi mostrandoci il quadro d'insieme.
Desideri incontenibili si ispira al racconto L'ultimo desiderio di Sapkowski, contenuto nella raccolta Il Guardiano degli Innocenti, e narra del primo travagliato incontro tra Yennefer e Geralt, con la conseguente convergenza di due delle tre storyline principali. L'episodio, a cura della scrittrice Sneha Koorse e della regista Charlotte Brändström, trova il suo maggior punto di forza proprio nella capacità di amalgamare le vicende dello strigo e dell'incantatrice senza sconvolgere il ritmo complessivo, comunque più rapido rispetto alle puntate precedenti. Nonostante ciò, la storia soffre di alcuni notevoli problemi di produzione, i quali rischiano di mettere in ombra i numerosi aspetti positivi.
Intanto, la linea narrativa di Ciri procede lentamente, tra creature ingannevoli e lezioni sul destino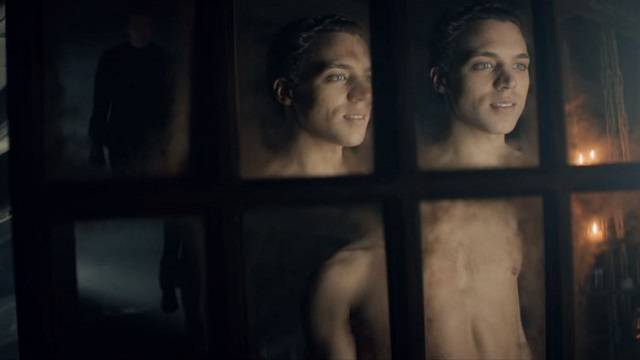 Desideri Incontenibili si concentra sullo sviluppo dei personaggi di Geralt e Yennefer, lasciando un po' in disparte la Leoncina di Cintra. Anche se quest'ultima appare solamente in due brevi scene, Nilfgaard continua la sua caccia e assolda cacciatori, al fine di impossessarsi del misterioso potere della ragazza. Possiamo dunque aggiungere una nuova figura all'elenco di creature magiche del Continente: il Doppler, un essere sadico e manipolatore in grado di acquisire le sembianze e i ricordi altrui. Nonostante la sua indiscussa malvagità, si tratta di una figura davvero affascinante, che pare convivere con le molte personalità delle sue vittime e che, in certi momenti, dimostra persino una notevole vena ironica.
È proprio a causa sua che, nel bene e nel male, il viaggio di Ciri riprende, dopo una situazione di stallo che iniziava ad assopire. Tuttavia, all'interno della Foresta di Brokilon le è stata svelata una grande verità: il destino, su cui si fonda ogni legge e credenza del Continente, non è qualcosa che si deve subire, ma una spada con due lame, una strada che, di tanto in tanto, presenta dei bivi. E quando ci imbattiamo in un bivio diveniamo artefici del nostro destino. La principessa non sarà l'unica a dover fare delle scelte difficili.
Incantesimi e desideri sono all'ordine del giorno in questa puntata di The Witcher. Peccato per la bassa qualità di alcune battute.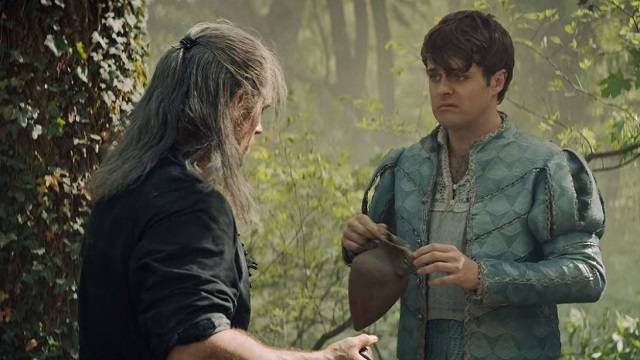 Le atmosfere dark e magiche della serie, in questa puntata, sono più che mai intaccate da un senso dell'umorismo povero e addirittura anacronistico, ma anche da una sorta di frettolosità in fase di scrittura che si va a ripercuotere non solo sui dialoghi, ma anche sullo sviluppo di alcune scene. Quando Geralt spiega a Jaskier di essere alla ricerca di un jinn come rimedio per l'insonnia, la situazione pare talmente assurda ed esagerata da risultare incoerente con il personaggio dello strigo, generalmente razionale e pacato. Per non parlare del risveglio del Lupo Bianco nella prigione di Novigrad, quando chiede dove si trovino a Chireadan, suo compagno di cella, e quest'ultimo replica ironicamente di essere alla Spa. Non è il solo momento in cui The Witcher cerca di rendere "moderno" un universo narrativo così distante dalla realtà, con il solo risultato di spezzare l'incantesimo.
D'altro canto, la caratterizzazione generale dei protagonisti è sempre più approfondita e accurata. In Desideri Incontenibili scopriamo un lato nuovo e protettivo di Geralt, che ci sorprende e lo rende più "umano" ai nostri occhi: il suo attaccamento a Jaskier, la preoccupazione apparentemente infondata per colei che lo ha stregato, lo spirito di sacrificio e il senso di colpa, sono tutti elementi che lo inducono a gesti inconsulti e impulsivi. Anche Yennefer dimostra una personalità ben più sfaccettata del previsto: l'abbiamo vista deforme e annichilita, assetata di potere e di vendetta, sprezzante e terribilmente egoista. Ora la conosciamo nelle debolezze, nei capricci (o sogni?) di chi ha avuto ciò che desiderava ed esige sempre di più. Dice di volere tutto. Fertilità e bellezza sono le due lame del suo destino, e lei ha capito che scegliere vuol dire anche rinunciare. Forse Geralt riuscirà a farla riappacificare col fato.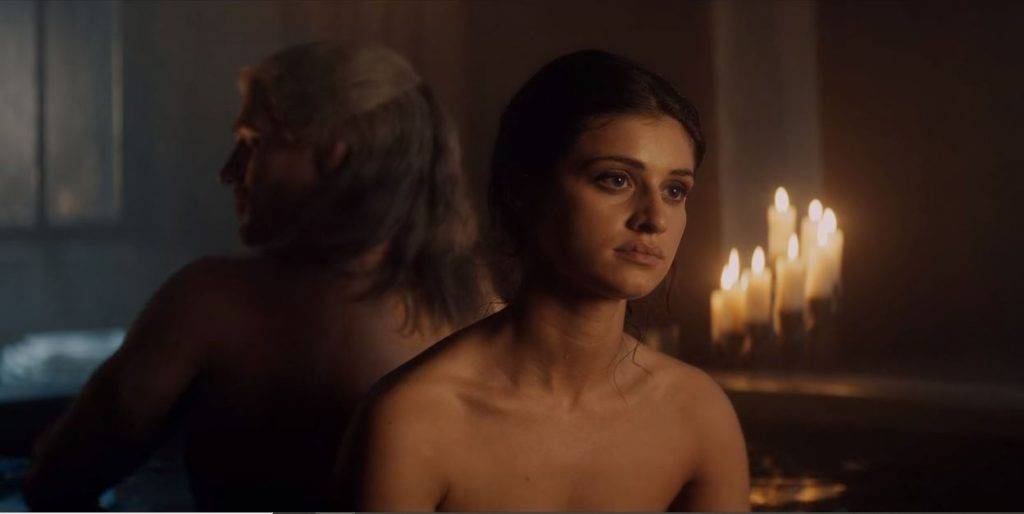 Purtroppo i momenti di tensione erotica tra i due non riescono a trovare giustizia nelle sequenze dedicate: il tono è piatto, l'orgia del loro primo incontro più ridicola che sensuale. Geralt è di natura piuttosto promiscuo, tuttavia non si riesce a distinguere nel suo atteggiamento alcuna differenza con i soliti incontri occasionali. L'emozione viene a mancare dove dovrebbe essere prepotente, e non si capisce se il rapporto tra lo strigo e Yennefer debba avere un proseguimento o essere un incidente di percorso. La coppia è promettente, ma gestita piuttosto male nella sua puntata di esordio.
Nonostante le sbavature nel processo di scrittura, la puntata regge il colpo e possiede degli elementi davvero degni di nota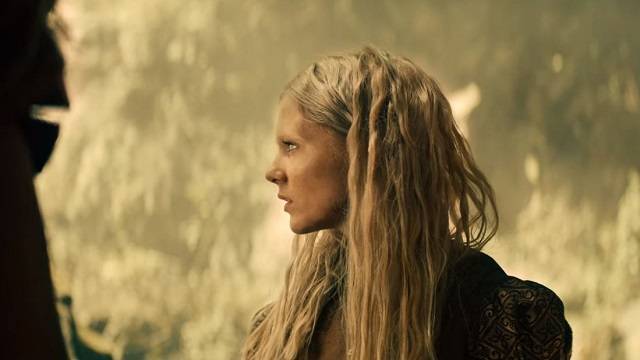 Desideri Incontenibili non ha soddisfatto pienamente tutte le aspettative e le promesse del pilot, ma ha comunque posto le basi per gli eventi che da qui in poi colpiranno il mondo di The Witcher. La serie sembra vivere una specie di "crisi d'identità", in cui all'oscurità si contrappone una bizzarra (e spesso eccessiva) ironia, e sarà necessario risolvere questi problemi per rendere i prossimi episodi davvero godibili. In ogni caso, questa puntata, nel complesso, incuriosisce ed esalta lo spettatore, regalando anche alcune perle come la canzone dei titoli di coda: The Last Rose of Cintra, interpretata da Declan de Barra, la quale racconta con tono epico l'avvenire della Principessa Ciri e, di conseguenza, di Geralt. L'Era dell'Ascia e della Spada si avvicina.