The Witcher 1×04 si apre con Cirilla che vaga per i sentieri della foresta in cui la vediamo entrare alla fine del terzo episodio (qui il recap). Non sappiamo ancora a chi appartenga la voce che l'ha esortata, quasi sotto ipnosi, ad addentrarsi nell'oscura selva.
Sappiamo però che è abitata e che delle custodi poche amichevoli si frappongono tra lei e il suo obiettivo di trovare Geralt di Rivia. L'episodio non perde tempo e ci catapulta subito nell'azione e nella frenesia. Ci vengono presentati nuovi personaggi e il destino di Ciri sembra farsi sempre più incerto.
Tuttavia lo stampo narrativo piuttosto confusionario che permeava i primi tre episodi, in The Witcher 1×04 comincia a dissiparsi, e si incammina verso una sua concreta e nitida forma. Attraverso colpi di scena continui, veniamo a conoscenza di importanti pilastri narrativi, i quali spiegheranno anche tante altre relazioni poco chiare osservate in precedenza.
La rivelazione più importante, che i lettori della saga e i giocatori del videogame già sapranno, riguarda le diverse linee temporali che si intersecano. Geralt, Yennefer e Cirilla non agiscono nel medesimo tempo: questa gestione della narrazione è uno dei punti deboli di The Witcher, che mette in campo moltissimi personaggi e trame ma si spende poco per spiegare questo aspetto, non proprio di secondo piano.
Si delinea meglio la trama della storyline di Geralt, in particolare gli eventi che condurranno il regno di Cintra a dover dipendere da lui e dalla piccola e potente Cirilla. La storia d'amore dei genitori della giovane principessa è il pretesto per introdurre un elemento importante nell'universo di The Witcher: la legge della sorpresa, a cui il pretendente Duny, Istrice di Erlenwald, si aggrappa per chiedere la mano di Pavetta.
Una tradizione inizialmente rifiutata dalla regina, per via di quella legge naturale che impone alle donne di essere sempre un passo indietro agli uomini, nonostante in questo universo la figura femminile sia molto più valorizzata e potente.
Proprio il potere femminile è al centro di questa puntata.
Mentre a Cintra, Pavetta e Duny coronano il loro sogno d'amore, grazie ai poteri misteriosi della principessa (che passerà alla loro erede), Yennefer affronta una sfida terribile con un misterioso sicario. Un sicario che ha un compito: rimediare allo scherzo del destino che ha ironicamente regalato al Re solo "inutili" eredi femmine. Il discorso che la maga fa al corpo esanime della bambina che non è riuscita a salvare racchiude tutto lo sconforto di una donna che ha sacrificato ogni cosa per essere abbastanza, in un mondo che penalizza sempre di più chi è nato del sesso sbagliato.
La morte è preferibile al destino di nascere femmina, anche in un mondo fantastico.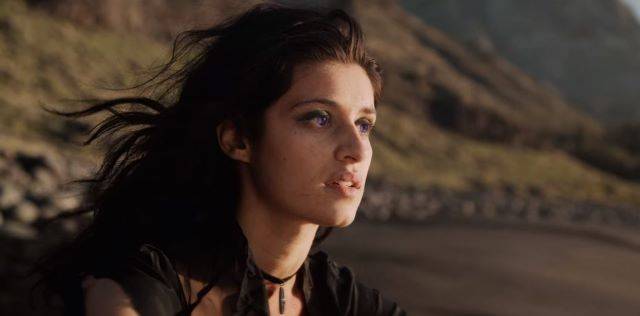 Ma il destino può essere piegato, a patto che si decida di crearselo da sole. Cosa che Cirilla, circondata da creature ignote che tentano di donarle una seconda vita, cerca disperatamente di fare. The Witcher 1×04 conclude una delle sue puntate più ricche di avvenimenti, azione e colpi di scena proprio a un passo da quella che avvertiamo essere una rivelazione importante: Cirilla si trova di fronte a un misterioso albero, forse la voce che l'ha condotta nella foresta.
The Witcher compensa i suoi problemi di spiegazione degli intrecci di trama (a volte nulle, a volte troppo in modalità "spiegone") con un dosaggio dell'azione impeccabile e una gestione dei personaggi che soddisfa. Il cast principale conferma la sua stoffa, rivelandosi un'ottima scelta. Le missioni che Geralt affronta vengono amalgamate bene nella trama principale e la storia procede scorrevole. Il bestiario che la serie ci mostra, lungi dall'essere un mero pretesto di avanzamento dell'azione, ci suggerisce un mondo da incubo in cui i mostri hanno la funzione di rispecchiare le paure dell'uomo.
In questa puntata il messaggio di empowerment femminile si fonde con l'ossessione e la fobia del diverso che sembra ottenebrare la mente di tutti i personaggi secondari. Il diverso, anche se benevolo, è sempre una minaccia da annientare. In questo la saga si conferma un prodotto estremamente comunicativo e attuale.
Menzione speciale al personaggio che ci ha conquistato fin dalla sua prima apparizione: l'irresistibile menestrello, ottima spalla comica e geniale pretesto narrativo per donare al personaggio di Geralt una vena più umana.