Per chi, come me, ha seguito l'ultima stagione di The Walking Dead con entusiasmo, è facile notare un parallelismo tra l'andamento della serie e il personaggio di Carol Peletier.
Se The Walking Dead, ahimè, versava in una seria crisi culminata con l'ottava stagione piena di scelte scellerate, una stagione che definire problematica è un bell'eufemismo, anche il personaggio di Carol stava percorrendo una parabola discendente.
Il personaggio di Ezekiel mi è molto simpatico, ma non si può dire che abbia giovato a Carol. Quest'ultima è sempre stata una guerriera, una combattente, una che non ha mai mollato la presa, nemmeno nei momenti più difficili. Da sola o in gruppo, ha dimostrato di riuscire a risolvere la situazione, per quanto disperata.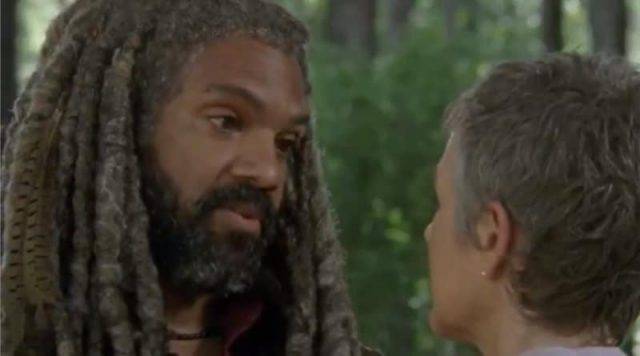 Invece, accanto al re, non si può negare che si sia "adagiata" su uno stile di vita che non può essere suo. Con Ezekiel, Carol si è raccontata una bella favola. Ha avuto l'illusione di poter creare una versione migliore della famiglia che ha perso da tempo: un marito amorevole, non violento che non la ama, ma addirittura la venera e un figlio, Henry.
Si è lasciata crescere i capelli, perché finalmente nessuno tenterà più di usarli per afferrarla e malmenarla.
È una donna diversa, ma quella donna non è Carol.
Per quanto possa essere triste, nessuno dei personaggi di The Walking Dead è destinato alla felicità: sono dei sopravvissuti e lottano per restare vivi, ma la felicità è un'altra cosa.
Carol si è illusa di poter ritornare a vivere una vita normale, ma l'arrivo dei Sussurratori cambia tutto.
E non solo per la fine tragica di Henry, il piccolo principe che non diventerà mai re.
Ma soprattutto perché Carol apre finalmente gli occhi: il suo destino non è accanto a Ezekiel, non è dentro a un castello, in un fragilissimo regno di carta. Lei deve uscire a combattere.
In tutto questo, però, rimane se stessa, paradossalmente ritrovandosi.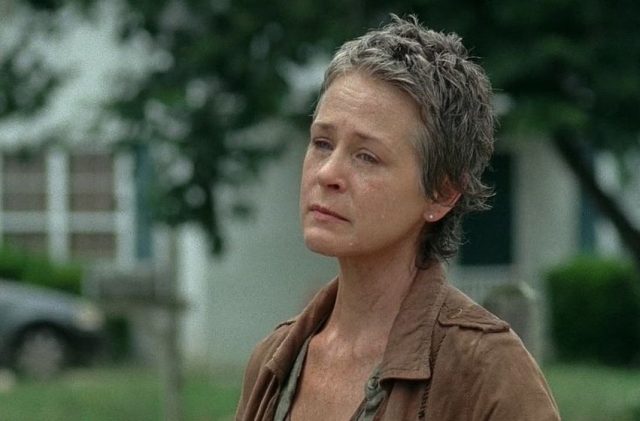 La perdita di Henry è solo l'ultima di una serie di lutti immani che ha dovuto affrontare. Tutto è iniziato con Sophia, che si perde nel bosco e finisce rinchiusa in un fienile, insieme ad altri zombie. Ci sono poi state Lizzie e Micah, una troppo fragile, l'altra innocente e rassegnata, forse uno choc ancora più forte della morte della stessa figlia. Perché Sophia è morta tragicamente, ma è Carol che spara a Lizzie. C'è stato Sam, che cercava di essere amato, ma era inadatto al mondo post-apocalittico.
La morte drammatica e sconvolgente di Henry sembra segnare la fine per Carol, perché, diciamolo: a quante tragedie si può sopravvivere senza perdere il senno?
Invece no, perché Carol, come The Walking Dead, ha ancora tanti assi nella manica.
Inizialmente il suo rapporto con Lydia è conflittuale, perché, anche se in modo inconsapevole, la ritiene la causa dell'assassinio di Henry. È una madre accecata dal dolore che non riesce a capire che anche Lydia è una vittima di Alpha. È una ragazzina allo sbando, che ha conosciuto solo violenza e sottomissione da parte dell'unica persona che avrebbe dovuto proteggerla: la madre.La sua richiesta di morte è un mettersi a nudo davanti alla persona che, probabilmente, la odia di più al mondo. Chiede a Carol di ucciderla perché si sente responsabile ed è in quel preciso momento che Carol ritrova se stessa. Lydia non sarà il prossimo bambino che cade, non la perderà, anzi, di certo diventerà il pilastro di un nuovo concetto di famiglia che, in modo inevitabile, include anche l'amico di sempre, Daryl (un personaggio a tutto tondo, complesso e affascinante, di cui abbiamo analizzato l'evoluzione in questo articolo).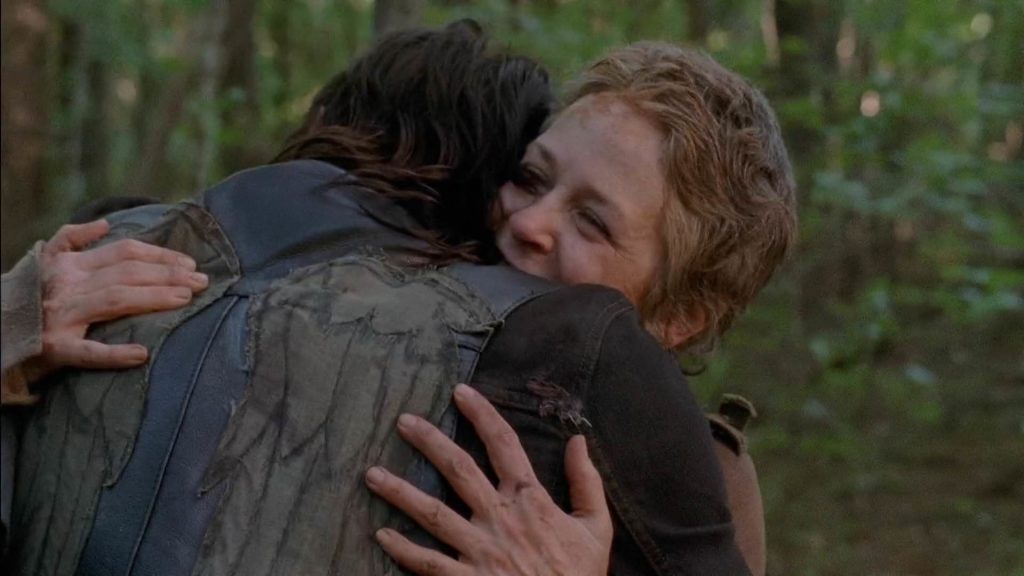 Non sarà la famiglia che aveva formato con Ezekiel, ma qualcosa di più profondo, perché insieme saranno pronti a combattere.
È in Lydia che vede un motivo per ripartire, la sua non è una favola, ma la vita vera, quella a cui è destinata: lasciando Ezekiel e tornando ad Alexandria, Carol riprende il suo cammino evolutivo. Tornerà a lottare in prima fila, diventerà più forte e il rapporto con Lydia le darà la forza di continuare a combattere.