Gli eroi della serie tv The Umbrella Academy non hanno la stoffa per essere tali. Hanno dei poteri fantastici, sanno essere carismatici, divertenti e coraggiosi… ma non riescono proprio a esserlo. Per diventare un eroe non è sufficiente sacrificarsi per il prossimo, né salvare il mondo dall'apocalisse. Klaus, Numero Cinque, Vanya, Diego, Ben e Luther questo lo sanno: perché ancor prima di salvare il mondo devono salvare loro stessi.
Ognuno di loro ha commesso errori e i difetti sono innumerevoli. Sono rappresentati come dei personaggi fragili e pian piano si esplora ciò che nel corso degli anni hanno dovuto affrontare. The Umbrella Academy non racconta semplicemente il conto alla rovescia per l'apocalisse ma la lenta evoluzione dei fratelli Hargreeves, che maturano, che perdonano.
Ciò che rimane di questi personaggi è il dolore che li perseguita dall'infanzia, causato dalla onnipresenza del padre-padrone Sir Reginald Hargreeves. Di lui hanno ereditato il cognome e per anni hanno vissuto come una famiglia piuttosto atipica. I ragazzi di The Umbrella Academy sono stati cavie ed esperimenti, strumenti nelle mani di un sadico filantropo dai piani misteriosi. E se dovessimo descriverli con una canzone quest'ultima sarebbe proprio I Think We're Alone Now di Tiffany. Uno dei cult degli anni '80, è stato utilizzato come la colonna sonora del primo episodio in cui finalmente i sei Hargreeves ritornano a casa. Una casa che li ha visti diventare grandi, li ha visti maturare e cambiare.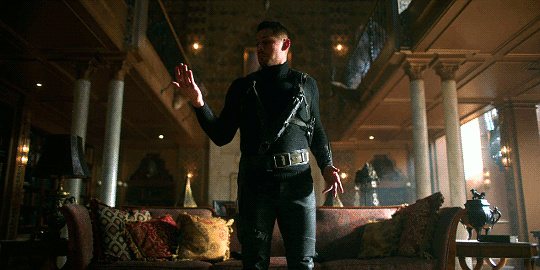 Una casa che ha assorbito il dolore della perdita e del sacrificio, dell'indifferenza subita e di sorrisi scemati.
Children behave,
That's what they say when we're together
And watch how you play,
They don't understand and so we're
Running just as fast as we can
Nel testo della canzone in questione è impossibile non ritrovare l'infanzia perduta di questi eroi dannati. Destinati a qualcosa più grande di loro, più importante della loro fanciullezza, sono educati e cresciuti come guerrieri. Il gioco e l'intrattenimento, ai quali erano concessi solo trenta minuti a settimana, diventano un'utopia per quei ragazzi che volevano soltanto vivere una quotidianità normale. E in seguito alle avventure vissute e alle disgrazie sopraggiunte muta il rapporto tra di loro. La perdita di Numero Cinque e la successiva morte di Ben rompono il legame tra i fratelli Hargreeves, abituati a fuggire via, a scappare, così come Tiffany cantava nella sua canzone.
Nel corso di dieci episodi scopriamo la loro caratterizzazione e il loro passato. Ogni dubbio circa i loro comportamenti e le loro decisioni trova una risposta e capiamo finalmente ogni tipo di abuso che hanno sofferto. La violenza psicologica che, differentemente, ognuno di essi ha dovuto affrontare è crudele. E malgrado i propositi di Reginald continuino a essere oscuri, il suo comportamento sembra non trovare alcuna giustificazione.
I sette fratelli sono stati cresciuti nell'apatia dell'affetto e non hanno mai compreso cosa significasse essere una "famiglia unita", se non grazie alla reciproca compagnia. Insieme hanno lottato contro i cattivi e contro quel male comune che ritrovavano una volta in casa. Reginald ha cresciuto degli pseudoeroi, dei combinaguai, eppure non riusciamo a criticarli. Piuttosto, li compatiamo e li apprezziamo: ne amiamo il coraggio e l'intraprendenza. Perché per diventare forti e incassare i colpi che la vita riserva ci vuole del tempo, e per loro ne è già trascorso parecchio.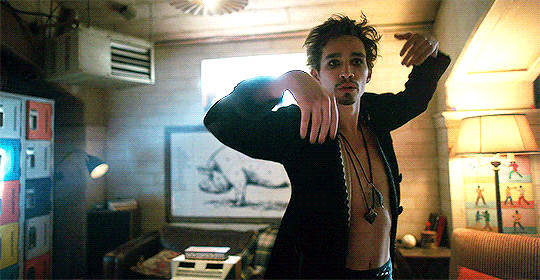 Osserviamo dei disadattati alla ricerca di uno scopo. Un obiettivo, capace di concedere loro una chance per riscattarsi e ritornare padroni del proprio destino.
Per questa ragione quando, sulle note di I Think You're Alone Now, li vediamo ballare non li biasimiamo nemmeno un po'. Gli anni trascorsi lontano dalla propria casa, dall'unico porto sicuro conosciuto in tenera età, non sembrano poi così lontani. I ricordi di un'infanzia sregolata, difficile, ritornano alla memoria semplicemente udendo delle note musicali. Ed è allora che accade: i protagonisti di The Umbrella Academy ritornano bambini e per un attimo ritrovano quella spensieratezza perduta, estinta con la forza.
Ballano, senza alcuno spettatore, tra le mura silenziose e l'assenza di giudizi. Non c'è nessuno: sono finalmente soli. I sei fratelli e il loro passato da dimenticare, loro e quella sensazione di indipendenza che pian piano si diffonde nella dimora Hargreeves. Credono di essere soli, soli tra quelle pareti e nel mondo, incapaci di ritornare ad avere lo stesso legame di un tempo. Non c'è più la giustificazione di esser ragazzini, non c'è più nessun padre a rendere le cose difficili per loro: hanno solo l'un l'altro.
I think we're alone now,
There doesn't seem to be anyone around
Le parole della canzone diventano sempre più chiare, descrivendo esattamente ciò che provano i personaggi durante quella scena. Mentre danzano in preda a un'euforia collettiva che li trasporta nel periodo della loro adolescenza, in essi si fa contemporaneamente strada un'importante consapevolezza. Nonostante tutti i fratelli avessero infatti abbandonato la dimora di famiglia da tempo, la scomparsa di Reginald pare vendicare finalmente tutti gli abusi subiti nel tempo dai sette fratelli. È la morte del padre a riunirli, facendo comprendere loro di essere finalmente liberi.
Liberi di vivere la propria vita secondo i propri standard, senza il giudizio lontano del tutore che sembra ancora perseguitarli, a distanza di anni.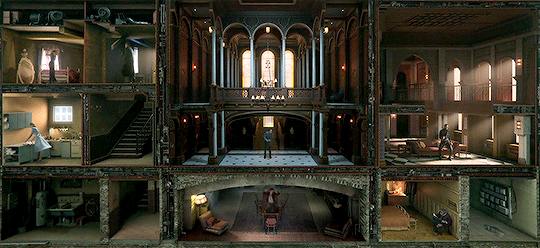 Mentre danzano il messaggio che vogliono mandare è: può essere giustificabile non soffrire per la perdita di un padre tiranno come Sir Hargreeves. Ciò è coerente con la personalità di ogni eroe. Finalmente hanno l'occasione di ritornare quei ragazzini che non hanno vissuto la propria infanzia come si deve. Basta una canzone per sentirsi nuovamente piccoli e al sicuro, certi che nessuno potrà più trattarli con la stessa crudeltà del tutore. E mentre ballano contemporaneamente il loro legame diventa più forte. Ignari di star facendo la medesima cosa, ignari di essere a proprio agio per la prima volta dopo tanto tempo in quella casa.
In The Umbrella Academy incontriamo una famiglia distrutta, dei fratelli che non si sopportano tra loro. Ma basta andare avanti con la loro storia e conoscere ogni singolo Hargreeves per scoprire che, in realtà, ognuno di loro tiene all'altro. E forse ci è sufficiente questo per comprendere cosa li abbia uniti per tutti quegli anni, prima che le tragedie incombessero su di loro: l'affetto nei confronti dell'altro.