Aspettavamo una serie tv del genere da tempo. Una di quelle ricche di avventura e quella buona dose di ilarità, caratterizzata da personaggi carismatici e amabili sin dal primo momento. The Umbrella Academy è stata da poco definita la migliore serie digitale negli Stati Uniti malgrado sia apprezzata a livello intercontinentale. Lo show, ispirato ai fumetti di Gerard Way e Gabriel Bá, racconta la straordinaria impresa dei sette fratelli Hargreeves nel tentativo di salvare il mondo dall'Apocalisse.
In The Umbrella Academy ogni personaggio ha il suo fascino, ma ce n'è uno in particolare che ha già attirato l'attenzione del pubblico. Sarà stato l'immenso talento dell'attore o quel ruolo complesso, capace di affascinare chiunque. In ogni caso, in molti sono d'accordo sul definire Klaus Hargreeves ( o Numero Quattro) uno dei migliori personaggi di questa serie tv. Il suo percorso è uno dei più struggenti, considerando la sua storyline e l'evoluzione subita durante lo show. Abbiamo quindi raccolto in questo articolo alcuni dei motivi che rendono Klaus così amato e apprezzato dagli spettatori.
1) È folle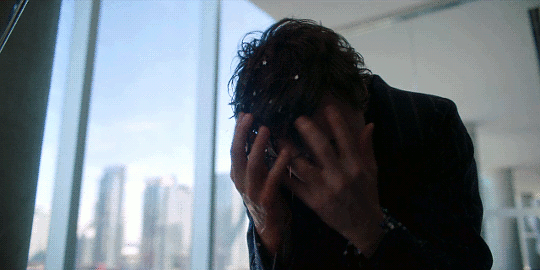 Sì, è abbastanza palese che Klaus Hargreeves abbia qualche piccola rotellina fuori posto. Ma le sue ragioni per esserlo sono più che giustificabili e a noi piace proprio per questo. La sua imprevedibilità ci ha fatto sorridere e ci ha sorpresi nei momenti meno opportuni, come nella 1×02. Accompagnando il fratello Numero Cinque, infatti, Klaus riesce a convincere il tecnico della Meritech a cercare il proprietario di quell'occhio finto legato all'Apocalisse.
Klaus non solo riesce a intimorire l'uomo, ma anche a elaborare un piano geniale nel giro di pochissimo tempo, mostrando sin dal secondo episodio quanto sia indispensabile ai fratelli. L'assunzione di droghe non maschera quello che è un naturale carattere estroverso ed esuberante, come possiamo ben intuire da un flashback che ritrae il piccolo Numero Quattro divertito da un falò in camera sua.