Il quarto episodio del reboot di The Twilight Zone, forse il più atteso, si intitola "A Traveler", ed è quello più complicato finora, con un finale che lascia diversi dubbi. Il viaggiatore a cui fa riferimento il titolo è interpretato da Steven Yeun, conosciuto soprattutto per il ruolo di Glenn in The Walking Dead. Il nome di quest'uomo sconosciuto è proprio A Traveler, e arriva nel paese di Iglaak in Alaska, apparendo improvvisamente all'interno di una cella nella piccola prigione nella stazione di polizia. Ci accorgiamo subito di essere a nord del mondo grazie alla bellissima aurora boreale che illumina il cielo nella notte della vigilia di Natale.
Nel corso dell'episodio, A Traveler mente diverse volte sulla sua identità, dando un nome diverso ogni volta. Questo confonde il sergente Yuka e il capitano Pendleton, gli unici due rimasti nella stazione di polizia dopo aver mandato via tutti dai festeggiamenti natalizi rovinati proprio dallo straniero. Yuka, l'unica a non aver creduto all'uomo sin dall'inizio, cerca di scoprire la verità e capire cosa vuole. Pendleton, invece, inizialmente non si pone molte domande su come A Traveler sia arrivato lì. Gli basta sapere che è lì per lui, per essere il prescelto che verrà perdonato dal capitano nel giorno della vigilia di Natale, come da tradizione.
Questo è ciò a cui Pendleton crede inizialmente, ma si rivelerà essere una bugia – una delle tante – del viaggiatore.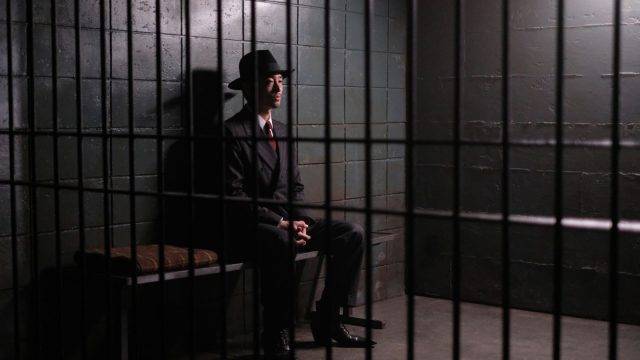 La situazione cambia quando lo straniero rivela di essere un agente segreto arrivato lì per indagare su un sospettato, ovvero proprio il capitano Pendleton. Ma questa è solo un'altra bugia. Successivamente lo accusa anche di aver venduto informazioni segrete ai russi, pronti a invadere il territorio. Come era facilmente intuibile, A Traveler è in realtà un alieno, mandato per sconvolgere la quiete del paese. Per indebolire, confondere e distruggere la compattezza della popolazione, mettendo gli uni contro gli altri.
Il tema di questo episodio è ripreso da Monsters Are Due on Maple Street. Per far litigare un intero vicinato è bastato togliere la corrente, creare scompiglio spegnendo e riaccendendo luci di tanto in tanto in una casa sempre diversa, in modo da creare sospetti su possibili alieni tra di loro. Mentre i veri alieni li osservavano da lontano manipolando la loro elettricità e aspettando che si uccidessero tra loro, in modo da invadere facilmente quel quartiere.
Anche in A Traveler lo scopo del viaggiatore è proprio quello di mettere gli esseri umani gli uni contro gli altri, per facilitare l'invasione del suo popolo.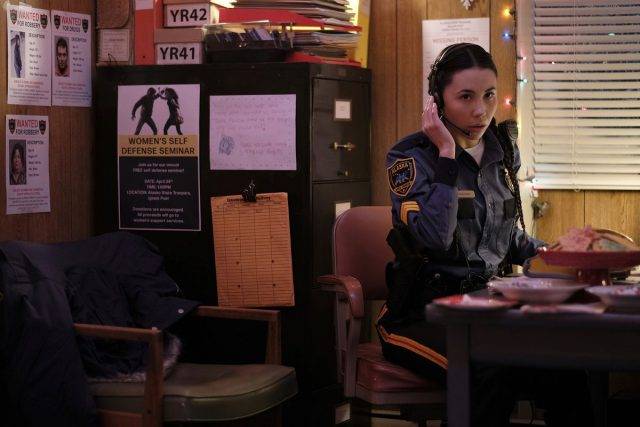 Non manca il gioco di luci, che si spengono e riaccendono, controllate da lui stesso o dagli altri alieni in lontananza. Vediamo che ha il potere di aprire le porte delle celle, quindi probabilmente è lui stesso a controllare anche le luci. Tutto quel che dice si rivela essere una bugia. Anche questo è un tentativo di confondere gli esseri umani, che crederanno solo alle bugie a cui vogliono credere. E proprio per questo continuo mentire, non possiamo essere sicuri del finale.
Yuka decide di credere che il suo capitano sia corrotto, ma non abbiamo la certezza che sia vero. Come non abbiamo la certezza che la promessa dello straniero fatta a Yuka – di diventare il nuovo capitano, lavorando però per loro – si sia poi realizzata. L'episodio si conclude dandoci la certezza che il paese di Iglaak è stato invaso dagli alieni. Ma non sappiamo quali siano le sorti di Yuka, di Pendleton e di Jack, fratello di Yuka che sembra fraternizzare con l'alieno. Possiamo immaginare che, una volta invasa la città, gli alieni abbiano tenuto in vita Jack e chiunque abbia accettato le loro condizioni. Ma potrebbe anche essere che abbiano ucciso tutti indistintamente. L'importante era distrarli e indebolirli, e ci sono riusciti.
Il quarto episodio di The Twilight Zone ci lascia con un po' di amaro in bocca e qualche dubbio, ma con una evidente grande verità: per quanto possiamo crederci intelligenti, l'essere umano non lo sarà mai abbastanza da non accettare una bugia comoda per una verità difficile.