Il sesto episodio del reboot di The Twilight Zone si intitola "Six Degrees of Freedom" e ci trasporta nello spazio, in alto fino alle stelle, per poi cadere giù. Una squadra di cinque persone con a capo Alexa Brandt viene mandata su Marte per colonizzare il nuovo pianeta, in prossimità di una catastrofe che porterà alla distruzione della Terra. Pronta a partire, la squadra si accorge che qualcosa non va attraverso le comunicazioni.
La Terra è in pericolo e sta per essere distrutta.
Decidono di partire ugualmente, anche se la decisione non è unanime. Il tecnico di volo Rei Tanaka non è d'accordo, motivo per cui avrà un atteggiamento ostile durante tutto il viaggio. Dopo la partenza, sono completamente soli, senza possibilità di comunicare con la Terra, nonostante ci provino per avere notizie sulle conseguenze dell'attacco.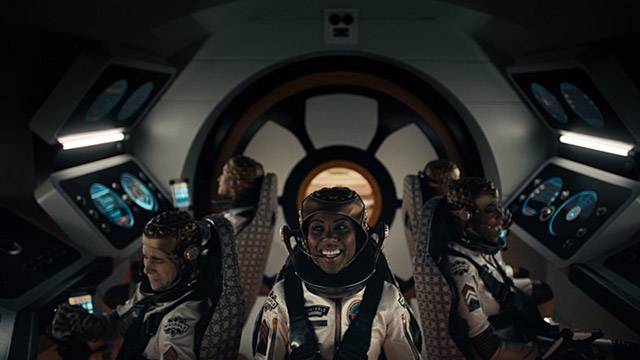 La situazione a bordo non è facile, e le cose si complicano quando lo specialista della missione Jerry Pierson, dopo accurate e approfondite ricerche, mette in discussione la veridicità di quel viaggio. L'uomo insinua che è solo un test per verificare le reazioni e gli atteggiamenti in situazioni di stress in quel contesto. Pierson perde la testa e, quando vede di non essere preso sul serio, decide di dimostrare la sua idea aprendo lo sportello della navicella e uscendo fuori.
Mentre tutti gli altri lo credono morto, vediamo alla fine che effettivamente Pierson aveva ragione, o almeno in parte. Scopriamo che in effetti i cinque erano spiati e controllati, ma non da esseri umani. Sono gli alieni ad aver sottoposto la squadra al test, per vedere i loro comportamenti e per decidere se sono degni di poter arrivare su Marte. Superano l'esame, ma sappiamo che tanti altri prima di loro non ce l'hanno fatta. Vediamo anche che Pierson è vivo, salvato proprio dagli alieni, che sono colpiti dalle sue capacità.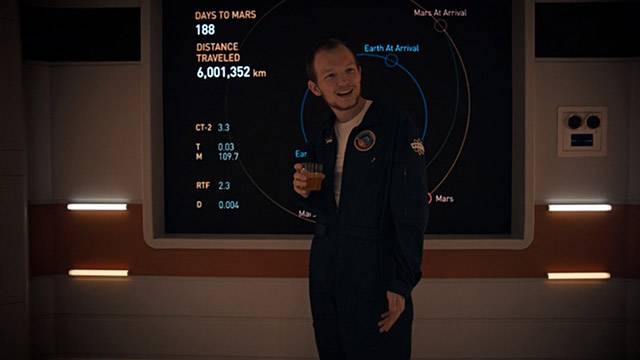 Anche il reboot di The Twlight Zone non ci fa mancare un episodio sui viaggi spaziali.
Un episodio con del potenziale, anche qui non sfruttato al massimo. L'inizio è frettoloso e confuso, succede tutto velocemente e in maniera poco chiara. Poi si appiattisce mentre i cinque sono nella navicella. Scene poco coinvolgenti e un po' banali. L'unico colpo di scena in grado di smuoverci è la rivelazione di Pierson, che apre le porte a una serie di nuove possibilità su come potrebbe concludersi l'episodio. Il quale si chiude nel modo più banale tra i possibili finali inaspettati. Una conclusione che non lascia a bocca aperta, ma non è nemmeno deludente.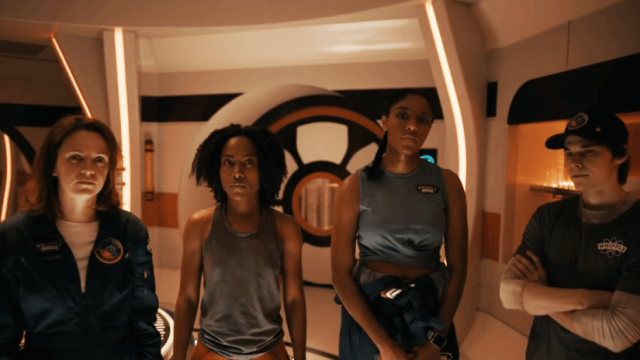 Sarà che i tempi sono cambiati, sarà che dopo l'originale The Twilight Zone hanno creato tanti prodotti ispirandosi alla serie e riuscendo abbastanza bene nel tentativo, uno fra tutti Black Mirror (anche se si è snaturato), ma questo reboot non riesce proprio a colpire, a dare l'idea di guardare qualcosa di nuovo, in grado di coinvolgere e far riflettere lo spettatore.
Il moderno rifacimento di The Twilight Zone è piacevole, si lascia guardare ma non riesce proprio ad andare oltre. Non riesce ad attraversare i confini della logica, per trasportarci in una dimensione nuova, che non saremmo in grado di immaginare. Forse le pretese sono troppo alte, ma è il nome della serie che ci costringe ad averne.