Il penultimo episodio della prima (ma non ultima) stagione del reboot di The Twilight Zone si intitola "The Blue Scorpion". Protagonista dell'episodio è Jeff Storck, un professore di antropologia che, proprio mentre è al telefono con sua moglie che vuole lasciarlo, scopre il cadavere di suo padre, morto suicida. Jeff, ancora sotto shock, scopre che il padre ha lasciato un bigliettino, con scritto: "Amo lui più di te". Jeff è figlio unico, a chi si riferisce dunque? E soprattutto, nella frase Jeff è "lui" o "te"?
Sono domande a cui non sa rispondere, ma la risposta arriverà presto fra le sue mani.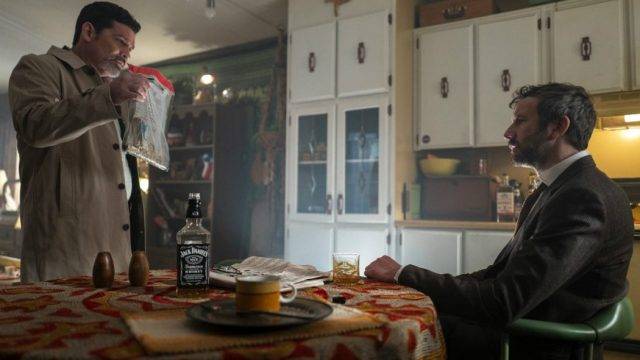 Jeff infatti riceve dalla polizia la pistola utilizzata dal padre, ed è una di quelle davvero particolari. Ha un disegno sul manico, ovvero uno scorpione blu. Jeff, che non è amante delle armi, decide di sbarazzarsene, e scopre che quella pistola vale molto di più di quanto immaginasse. Questo perché si tratta di una pistola con una leggenda, che dice che non sei tu a trovare lei, ma lei a trovare te. E che lei ti amerà più di chiunque altro al mondo.
Jeff vuole comunque togliersela dai piedi il prima possibile, però prima deve sbarazzarsi del proiettile con il suo nome scritto sopra. Non è così facile come crede e, più di tutto, Jeff inizia a conoscere una serie di nuove persone, tutti con il suo stesso nome. Tra questi ci sono anche l'avvocato dell'ex moglie e il suo nuovo compagno. Quel proiettile è destinato a lui o invece lo dovrà usare contro uno di loro?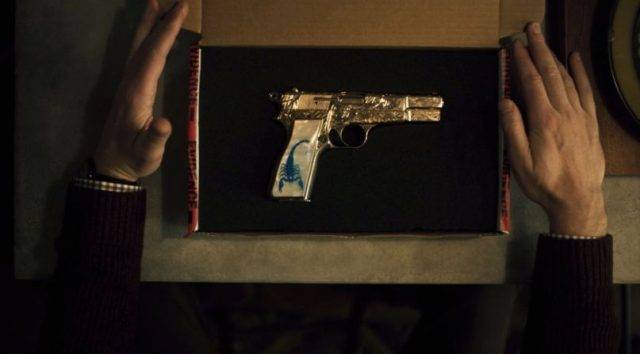 Il suo tentativo di far esplodere il proiettile non funziona, in quanto nel momento di sparare, la pistola si inceppa. Quel proiettile ha uno scopo ben preciso, e dovrà essere portato a termine. Nel frattempo Jeff litiga con l'ex moglie che, nella separazione dei beni per il divorzio, vuole parte degli averi dell'ex suocero, per poterli rivendere e guadagnare parecchi soldi.
Jeff viene portato sull'orlo di un esaurimento e, sentendosi completamente solo, l'unica cosa che gli rimane è la pistola con lo scorpione blu. Jeff si affeziona come fosse una persona, la porta sempre con sé, anche al lavoro, assicurandosi di lasciare sempre una luce accesa, poiché, secondo la leggenda, lo scorpione odia il buio. Dopo lo scontro con sua moglie per la divisione dei beni, Jeff va sotto casa sua e la vede con il nuovo compagno. Ha con sè la pistola e sembra intenzionato a usarla contro quell'altro Jeff. Qualcosa però non va secondo i piani.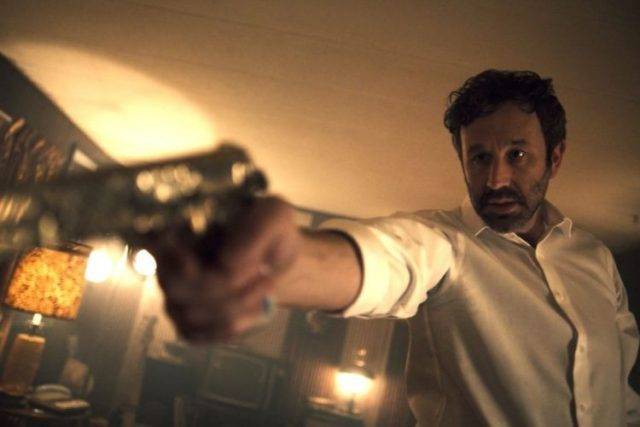 Mentre è in macchina, Jeff viene aggredito da un uomo. Cerca di difendersi, ma sa che il colpo in canna è quello con il proiettile con il suo nome, e sa che se spara contro l'uomo il colpo non partirà. Riesce a lanciare via la pistola per non essere lui la vittima, ma dalla pistola parte il colpo senza che nessuno prema il grilletto. Colpisce l'aggressore, che si scopre essere l'uomo che da settimane andava in giro ad aggredire e derubare le case in quel quartiere. Il nome dell'aggressore è Jeff. E il nostro protagonista diventa quindi un eroe.
Può un oggetto avere il controllo della nostra vita? Troppe volte ci si affeziona alle cose materiali, dando loro un'anima. Questo può condizionare le nostre scelte e le nostre vite in modi inaspettati. È giusto possedere oggetti pensando a loro come tali, ma talvolta dar loro un valore affettivo può aiutare o, come nel caso di Jeff, può anche salvare la vita. Ma questo succede solo in The Twilight Zone. O forse no?