Siamo solo all'inizio, ma Frank Castle ha già chiarito tutto. Il finale della 1×03 ce lo dice chiaro e tondo, per lui la giustizia non prevede processo. Uccidere i colpevoli, così come ha ucciso quelli che stavano per fare fuori Donnie, il ragazzo che gentilmente gli ha offerto un panino. Queste puntate introduttive di The Punisher infatti, servono a conoscere il personaggio più nel profondo, capire le sue motivazioni e la sua natura.
Nella sua vita infatti, Frank ha spesso usato la violenza, a volte anche senza chiedere spiegazioni, così come successo qualche anno prima, quando ha fatto fuori il poliziotto, quando ha ucciso Ahmad Zubair senza porsi domande, da bravo soldato quale è sempre stato.
È proprio quest'uomo che sarà la chiave di questi due episodi di The Punisher.
Da un latro troviamo l'agente Madani. Capiamo subito che questa donna sarà importante per il proseguo della stagione. Un agente con tanto carattere, che non si ferma all'apparenza, ma che, per il momento, viene frenata dal suo superiore Wolf. Dall'altro invece troviamo David Lieberman, un uomo talmente intelligente da seguire e pedinare Frank, senza che quest'ultimo se ne accorga.
Il punitore si rifugia addirittura da Karen Page per scoprire chi questo Lieberman fosse. Una volta scoperto però, Frank passa al contrattacco, e decide di avere un "vantaggio" su questo presunto uomo, che si considera molto simile all'ex marine. Ma il supereroe con il teschio sul petto non ci sta, non può considerare suo simile, chi la sua famiglia la possiede ancora. A suo modo allora, cerca di capire le intenzioni di questo Lieberman, arrivando alla conclusione che potrà servirgli per il suo scopo. Niente "fratelli di sangue", niente partner, semplicemente due persone che sono state private di tutto, che lavorano per uno scopo comune.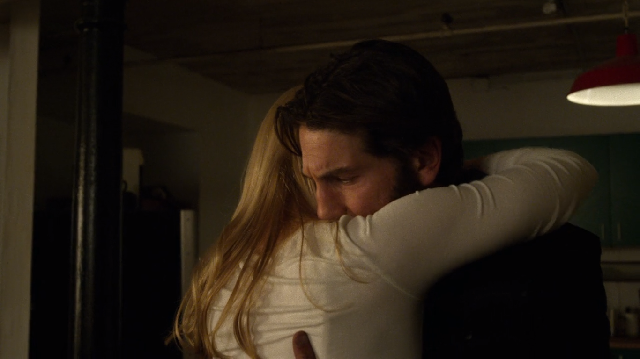 Le prime puntate della Serie Tv non danno molta tregua, non lasciano spazio e tempo per riflettere .Marvel's The Punisher ha iniziato con il botto, con tanta azione e tantissime morti, proprio come il punitore ci ha insegnato in Daredevil.
Se qualcuno merita di morire, non importa come, non importa capire le sue motivazioni, Frank lo uccide. É un po' ciò che succede con Wolf, il superiore di Madani. Castle viene a conoscenza di quello che l'uomo ha fatto, e di quanto corrotto sia, così si presenta a casa sua, si fa dare qualche informazione, e gli toglie la vita, senza mezzi termini, con una violenza devastante.
Nonostante tutta questa azione però, i primi episodi della Serie Tv ci mostrano anche come Frank sia tormentato dai fantasmi del passato. Non c'è una notte in cui non gli appare la sua famiglia in sogno, non c'è una notte senza incubi, non c'è una notte in cui Frank non spera ancora di svegliarsi accanto alla sua Maria, che lo bacia e gli dà il buongiorno. Purtroppo questo non può accadere, e tutte le volte Frank è costretto a tornare alla realtà, a una realtà che l'ha privato di tutto ciò che di più caro avesse. Lieberman però è chiaro e pungente. Secondo l'analista infatti la colpa è anche di Frank, che non si è fatto domande, che non si è preoccupato di uccidere Ahmad e occultarne la morte, da bravo marine.
Sogni e flashback, il terzo episodio di The Punisher ci mostra ciò che è successo, ci racconta quello che il Punitore ha fatto, uccidendo Zubair, ma salvando anche molte vite, in quella che lui aveva capito fosse un'imboscata vera e propria. Sangue, violenza e sparatorie, un episodio pieno di tutto questo, un episodio che si avvicina all'essere un capolavoro grazie alla sua dinamicità e profondità.
Perché se è vero che vediamo tanta azione, è anche vero che è qui che viene approfondito il rapporto tra Lieberman e il Punitore, ed è qui che iniziamo a conoscere meglio anche altri personaggi importanti, come Billy Russo e Curtis Hoyle, compagni di Frank nell'esercito. Billy in particolare sembra avere un ruolo importante in questa trama. Per esempio, si considera il migliore amico di Castle, o almeno ai tempi dell'esercito, ma allo stesso tempo conosce Madani. Un collegamento che magari in futuro potrà darci risposte.
Un inizio con il botto quindi per Marvel's The Punisher, che nonostante le puntate introduttive, riesce a non annoiarci grazie a quella che è la caratteristica principale del supereroe: tanta violenza. Il secondo e il terzo sono due episodi che fanno conoscere Frank Castle per quello che è, un uomo tormentato, che ha perso la sua famiglia e che vede come sua unica via d'uscita quella di fare il giustiziere, uccidere chi è colpevole, perché in fondo è questa la politica di The Punisher.
"A una condizione. Li uccidiamo, ok? Tutti quanti, niente processi, niente stronzate, li uccidiamo."
Leggi anche: Marvel's The Punisher: recensione 1×01