The Punisher, 1×01, 3:00
Non posso ricordare niente.

Non posso dire se questa è realtà o sogno.

Dentro nel mio profondo sento urlare.

Questo terribile silenzio mi blocca.
Queste parole danno il la a One, singolo dei Metallica estratto dall'album … And Justice for All, del 1988. Le sue note ci hanno accompagnato nell'arco dell'intera campagna pubblicitaria del nuovo show targato Marvel Netflix, The Punisher, esplodendo in maniera perentoria nel teaser trailer immediatamente precedente l'uscita della Serie Tv.
Una scelta non casuale. Le parole di James Hetfield — frontman del gruppo californiano — raccontano  di un uomo, un soldato, letteralmente dilaniato dalla guerra. Una mina lo ha privato delle braccia e delle gambe. La vista e l'udito non lo assistono più. Collegato a delle macchine, incapace di muoversi e persino di parlare. Non è vivo, ma neanche è morto. È un essere distrutto, abbandonato ai suoi incubi e a un grido di dolore che nessuno può sentire. La guerra gli ha portato via tutto. La guerra lo ha gettato in un condizione senza via d'uscita; l'inferno cantato in One.
Lo stesso è successo a Frank Castle. Un uomo che ha riempito questo vuoto con le proprie sofferenze. Una disperazione tramutatasi in rabbia e veicolata in una vendetta cieca. Vendetta. Alienante panacea a tutti i mali. Ossessione compulsiva. Culto. Missione. Vendetta, unica espressione della propria esistenza, il solo mezzo contemplabile per colpire coloro che gli hanno piantato una pallottola nel cranio ed espiare ogni sorta di colpa.
In un mondo dove "nessuno vuole essere se stesso", Frank Castle conquista la propria autenticità vestendo i panni del vigilante.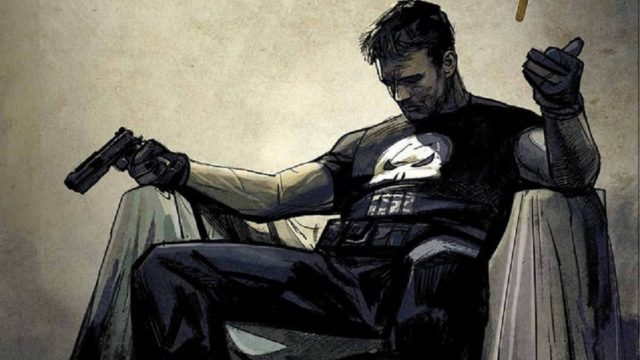 Steven Grant, scrittore del titolo dall'85 all'86, descrive così la figura di Punisher
Un uomo che sa di dover morire e che nel quadro generale le sue azioni non conteranno nulla, ma che persegue la sua strada, perché questo è ciò che ha scelto di fare.
Gerry Conway, co-creatore del personaggio Marvel, lo ha paragonato a un grande test di Rorschach.
Il protagonista del primo episodio, 3:00, è lontano nella forma, ma non nell'essenza, dal personaggio della Golden Age. Affine nei tratti al Frank Castle di Born a firma Garth Ennis, dove viene smascherata un'innata attitudine violenta, ancora prima della tragedia che colpì la sua famiglia. Fumettisticamente parlando, questo Punitore piace, convince, affascina.
Un pezzo, due pezzi, un penny e un decino. — Frank Castle/Punisher
La grande bellezza di The Punisher è la bontà della trasposizione seriale del protagonista, già apprezzato nella seconda stagione di Daredevil e ora nella prima puntata del suo show standalone. Quel mantenerne l'anima originale, dare corpo ed espressione a ciò che rende Frank Castle un personaggio unico nell'intero panorama Marvel. Se gli altri eroi de La Casa delle Idee entrano in simbiosi con il mondo che li circonda, Punisher è guerra e ovunque lui arrivi la porta con sé, senza compromessi.
Grande merito va a un monumentale Jon Bernthal. Il suo è un antieroe dalla resa cinematografica. Raw, crudo, tormentato, modernamente epico.
Dimentichiamo la caricatura da bel tenebroso di Thomas Jane nella pellicola del '04 o il Ray Stevenson di Punisher: War Zone. Questo è un plebiscito popolare, Bernthal è Punisher.
Un capolavoro sporco, nell'accezione più positiva del termine. Sguardo spento, torbido; voce soffocata altalenata a silenzi assordanti; una fisicità fuori scala anche nel mero immobilismo. Ma soprattutto una presenza ingombrante, un corpo estraneo alla società quanto distruttivo. Un protagonista che monopolizza la scena, cattura la telecamera, se ne impossessa. Il solo esserci di Bernthal è destabilizzante, indipendentemente che si tratti di un clima pacifico o meno. Eccitante osservare il suo animo belluino esplodere in una violenza incondizionata, la cui scintilla sembra non potersi spegnere, se non al contrario alimentarsi senza tregua.
Vogliamo forse dire che The Punisher vanta il migliore main character tra tutti i titoli Marvel Netflix?  Di sicuro siamo dinanzi a un personaggio dallo spessore debordante, ma anche a un uomo le cui azioni, per morale ed etica, si pongono in posizione diametralmente opposta ai Defenders. O bianco o nero. O vivi o muori. Un proiettile alla volta.
Lo stesso showrunner della Serie Tv — Steve Lightfoot di Hannibal  — ha chiarito che la distanza fra Frank Castle e The Defenders è una decisione della stessa Marvel. Il mondo di The Punisher è storia a sé, con le sue regole, le sue dinamiche, le sue fioche luci intermittenti e quella profonda e tersa oscurità. Difficile allora azzardare paragoni o ipotizzare l'esito di un incontro tra i vari vigilantes, anche se Daredevil ci ha abbondantemente mostrato quanto sia complicato avere a che fare con il Punitore.
Tenebre che m'imprigionano.

Tutto ciò che vedo è orrore assoluto.

Non posso vivere, non posso morire.

Intrappolato in me stesso.

Il mio corpo è la mia stretta cella.
Il ritornello di One riecheggia ancora nelle nostre orecchie, a ricordo del dramma e della distruzione di quella piaga terribile che prende il nome di guerra.
La guerra. Una buca in cui Frank Castle è sprofondato e che è stata culla per il suo alter ego.
3:00, seppure in chiave ancora introduttiva, lascia intuire come questo The Punisher è una Serie Tv di stampo bellico. Non importa dove, se in Afghanistan, per le strade, o nella propria psiche. Sin dal primo episodio è chiaro che sarà la guerra il motore di questa titolo, con tutto ciò che ne consegue.
Un argomento affrontato in piena chiave americana, dove temi quali armi, disturbo post-traumatico da stress, il difficile reinserimento in società dei militari quanto il ricorso ai gruppi di sostegno sono di dominio quotidiano.
In The Punisher tutto questo è una componente essenziale. La guerra viene indicata da Frank Castle quale habitat naturale, l'unica vera vita. Una profonda fossa, così la descrive l'amico Curtis Hoyle, da cui alcuni soldati non riescono a uscire da soli. E questa fossa Frank Castle l'ha riempita di risposte, le sue personalissime sentenze, trasudanti di rabbia e vendetta.
Le cicatrici e i fantasmi del passato lo fanno sentire ancora come un soldato sul campo di battaglia, tra notti insonni e poca voglia di farsi nuovi amici. Una guerra così drammatica che lo porta a riflettere su ciò che è stato fatto in missione e che scopriremo nei prossimi episodi.
Un 3:00 dal taglio registico impeccabile, vivo, senza fronzoli, con una sua tensione spezzata a colpi di martellate.
Frank Castle ha eliminato i suoi bersagli e ora cerca di andare avanti, non senza qualche difficoltà. Il suo passato pare inseguirlo incessantemente e intorno a lui la violenza non sembra placarsi. Nonostante abbia compiuto la sua vendetta, nonostante l'intenzione di ripartire da zero, le vecchie abitudini non vogliono abbandonarlo, bussano alla porta. Nel frattempo nuovi personaggi si accingono all'orizzonte, il cui ruolo pare già delineato verso un futuro che non lascia scampo alla speranza.
Per quanto sia una puntata dal sapore introduttivo, già si colgono segnali che porteremo con noi per l'intera stagione. Oltre alla posizione ultra-dominante del protagonista, con un accento sulla sua condizione umana e mentale, in attesa di Karen Page, ogni singolo elemento e personaggio è subordinato a Frank Castle; o ne è (nel caso di Dinah Madani, sarà) fisiologicamente dipendente, oppure finisce con l'essere distrutto. La storia è costruita su misura del Punitore. È il suo show. Un proseguo di quanto visto in Daredevil, ma dal retrogusto di origini.
Anche se ha bruciato le proprie effigi, Punisher vive ancora. Implacabile, spietato, pronto a versare sangue. Perché questa è la sua vera natura.
Tangibile, crudele, maturo, tragico e violento. Il primo episodio di The Punisher pone le basi per uno show che secondo alcuni si dimostrerà il miglior titolo Marvel Netflix.
Sarà un percorso drammatico, dove il sangue scorrerà a fiumi e corpi si ammasseranno l'uno sull'altro, mentre il passato di guerra giocherà una parte più che fondamentale. Dove porterà questo viaggio lo scopriremo da qui in avanti, ma se conosciamo bene questo Frank Castle, possiamo stare certi che tutto finirà con il titolo dell'album da cui One è tratta: sarà Justice for All, giustizia per tutti.