L'assenza è una presenza costante.
Ci attanaglia, ci sfida finché non ci risucchia tutta l'energia che abbiamo in corpo. L'assenza di qualcuno spesso è molto più presente della presenza stessa. Questa infatti viene troppo spesso misurata e ponderata attraverso la sua nemesi, attraverso la mancanza, il vuoto lasciato da qualcuno o da qualcosa. L'assenza spesso viene trattata anche nel piccolo schermo, ma da fatto reale tende quasi a trasformarsi in fantasia, visto che ormai nessuno sembra riuscire a stare da solo, o peggio, a voler provare ogni tanto il brivido della solitudine. Tutto questo accade anche in The New Pope.
In questo articolo proveremo a parlare proprio di una forma di assenza che si fa quanto più potente presenza possibile. In The New Pope quel genio di Sorrentino è tornato a stupire, a regalare nuovi scorci di Roma, nuove fotografie neorealistiche di un mondo che possiamo solo immaginare: quello celato dietro le mura vaticane. L'assenza molto presente è quella di Lenny Belardo, colui che fu Papa ma che alla fine di The Young Pope (qui il recap della prima stagione) cade in un profondo sonno comatoso. Nonostante sia fermo, incosciente, su un letto e attaccato a un respiratore, nelle prime sei puntate della serie tv quella di Pio XIII è una presenza ingombrante e costante.
In The New Pope i presenti rendono cari gli assenti
Vogliamo immaginare possa essere questa ritratta in foto, la faccia dello stato maggiore Vaticano qualora Lenny Belardo si presentasse davanti a loro. Diciamo la verità: non è un segreto che il giovane Papa sia destinato a tornare in mezzo al cinico Cardinale Voiello e alla spregiudicata Sofia Dubois. Siamo però alla vigilia della settima e ottava puntata, e ancora il Papa bello come Gesù Cristo non ha ancora ripreso conoscenza. Diciamo che alla fine della sesta puntata i respiri si sono fermati e le luci si sono spente, come fossero un teatro prima che l'opera cominci. Un preludio al suo ritorno? Ma ora ci interessa più analizzare quello che è stato The New Pope durante l'assenza di Lenny.
La verità è che non c'è stata una vera e propria latitanza, perché Pio XIII ci ha accompagnato in tutte le prime sei puntate attraverso una presenza mai così costante. Perché? A ben pensarci, i presenti rendono più caro chi non c'è e in questo Sorrentino è stato geniale. Nonostante l'arrivo di non uno, ma ben due nuovi discendenti di Pietro, il Vaticano sembrava non essere più lo stesso senza Lenny Belardo. Come è riuscito il genio italiano a ottenere tutto questo? Attraverso alcuni escamotage che possono sembrare piccolezze, ma che in realtà sono macigni narrativi brillantissimi.
Gli attacchi terroristici e la violenza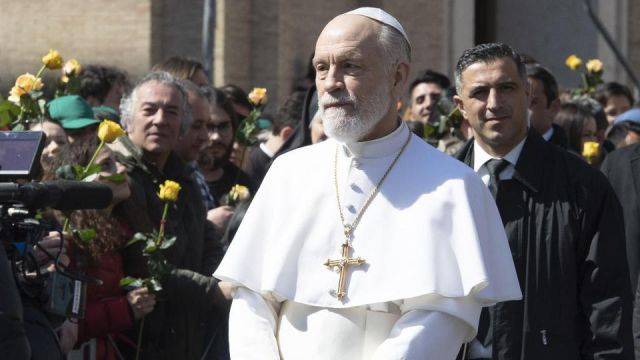 In primis viene creato un nemico: il terrorismo. Un fondamentalismo che mai come in questo momento sembra poter arrivare a colpire il Vaticano e tutta la Sacra Romana Chiesa. Atti violenti, stragi e omicidi. Più passa il tempo e più il nemico è vicino. Più è vicino e più diventa truculento, riesce a sentire l'odore della preda ferita che perde sangue. Prima l'Africa, poi Lourdes, a chi toccherà la prossima volta in questa drammatica escalation?
La peculiarità e il genio di Sorrentino risiedono poi nell'accostare lo stesso capo spirituale del terrorismo arabo ai comportamenti tenuti da Pio XIII. Il terrorista è secco, perentorio, non pronuncia parole di troppo e – fattore fondamentale – non mostra mai la sua faccia. Sembra la nemesi e al tempo stesso il gemello di Lenny Belardo, e per combatterlo sembra necessario il ritorno di Lenny stesso, vista la crisi che attraversa il suo successore. E proprio questo è il secondo escamotage studiato da Sorrentino.
Papa Giovanni Paolo III: l'eterno secondo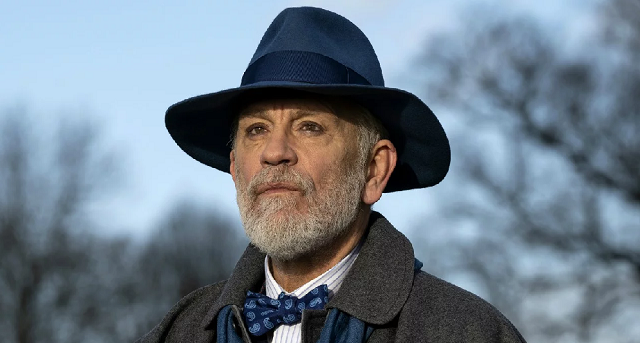 La natura di John Brannox si rivela sin dalla prima scena in cui vediamo i suoi genitori attaccati a un respiratore (altra sottile congiunzione con Belardo). Le foto di famiglia riportano tutte una figura oscurata: quella del futuro Papa. Brannox, sin dall'infanzia, è l'eterno secondo. Il giovane John è sempre vissuto dietro la pesante ombra di suo fratello gemello Adam. Un dualismo che lo torturerà per tutta la vita. Adam era il più bravo, il più bello, quello che amava scrivere e su cui i genitori puntavano tutto. Era lui a essere destinato a un futuro glorioso, un futuro da Pontefice. Ma il destino spesso è beffardo e l'eterno secondo John rimane il solo, dopo la morte violenta di suo fratello. A morire, oltre il gemello, è anche il rapporto con i genitori che lo incolpano per la tragedia.
Siamo nel presente, Brannox è un cardinale e vive in un castello. Praticamente è un eremita gotico lontano da tutto, una vita in fuga per scappare dalle responsabilità come fanno gli eterni secondi di tutto il mondo. L'uomo però può fuggire dalle persone, ma non dalla sua natura. Ecco che dopo il malore e il coma di Pio XIII, dopo la morte sospetta di Francesco II, arriva lui (qui abbiamo provato ad analizzare le prime due puntate di The New Pope). La sua figura sarà solamente una silhouette appannata rispetto a Belardo. E qui si mette in atto il capolavoro di Sorrentino: John Malkovich è un mostro di bravura nel far capire a tutti gli spettatori quanto sia necessario il ritorno di Pio XIII. La presenza assente, svagata e superficiale di un Papa tossicodipendente, esteta e decadente, funge da cassa di risonanza e amplificazione all'assenza presentissima di Lenny Belardo.
Il respiro di Pio XIII
Ultimo, ma forse più importante, è quel respiro che esce dalla bocca di Lenny. Il fiato rumoroso è l'Orologio del Giudizio costruito dal Dottor Manhattan, il Casio di Ritorno al Futuro, un pendolo che scandisce ogni secondo prima dell'ora X, quella del ritorno di Papa Pio XIII. E questi rintocchi, questi sospiri profondi e cadenzati diventano sempre più brevi, per far spazio a un unico singolo rantolo.
Poi il silenzio. E dopo ancora il ritorno dei sospiri. Sempre uno in meno prima di un nuovo rantolio. Questa è la più costante e pesante presenza nella serie tv, perché rappresenta l'ineluttabile. Allegorizza il tempo che passa e l'angoscia che ci assale e ci fa impazzire. Un respiro regolare, un countdown cadenzato che ci accompagna verso un solo e unico risultato: il respiro si ferma, un ultimo singolo rantolo esce dal corpo di Lenny Belardo, la croce al neon si spegne e il buio cala nella stanza veneziana.