Ogni serie tv porta in dote a noi, divoratori di episodi, uno stuolo di personaggi che la abitano. Alcuni sono normali comparse in un mondo di finzione e macchine da presa, altri protagonisti indiscussi, altri ancora superbi secondi violini. La verità però è che ci sono personaggi che rimangono nei nostri cuori, sia essi siano principali, sia secondari. Una delle serie tv del momento è quel capolavoro folle, didascalico e immaginifico di Paolo Sorrentino: The New Pope (qui la nostra recensione del terzo e del quarto episodio). La produzione di Sky sta ripetendo l'enorme successo della prima stagione, The Young Pope. Se in quella passata il protagonista era Jude Law nei panni di Pio XIII, qui a indossare le candide vesti del discendente di Pietro (per ora) è John Malkovich.
La costante che lega le due stagioni però è una sola: la presenza di un demiurgo che muove i fili delle migliaia di marionette presenti in Vaticano, quella del Cardinale Voiello. Il personaggio, interpretato da un Silvio Orlando in stato di grazia, è incredibile. Il Segretario di Stato è la rappresentazione del genio italico all'ennesima potenza, è in perfetta contrapposizione a un altro consacrato famosissimo della finzione made in Italy. Il Don Abbondio di manzoniana memoria è un vaso di coccio che cammina in mezzo a tanti vasi di acciaio, Voiello invece è l'unico vaso di acciaio che si muove tra le stanze vaticane, abitate da tanti vasi di terracotta.
The Young Pope e The New Pope, il Papa dietro i Papi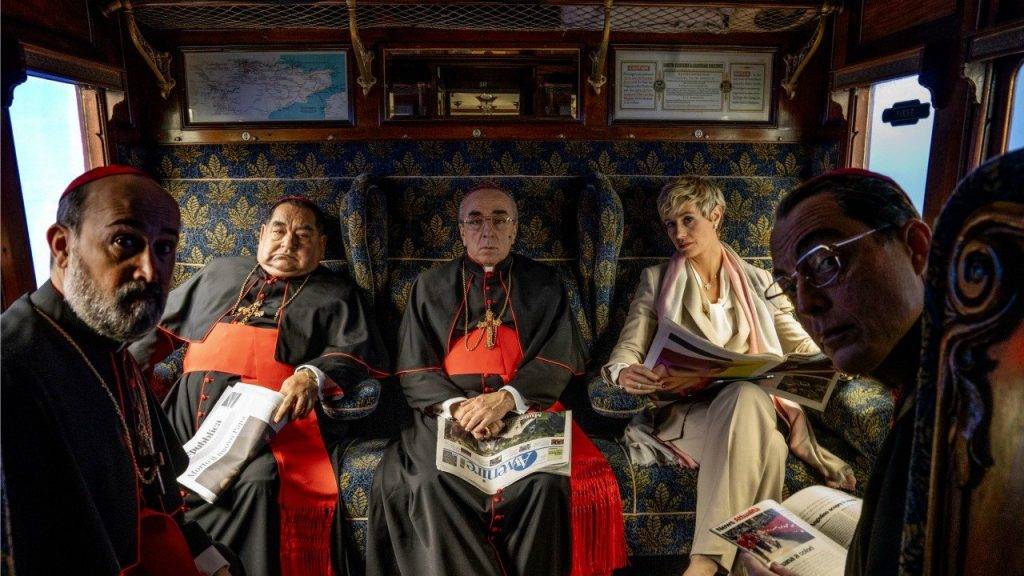 Tra la santità di Pio XIII e la terza via di Giovanni Paolo III si muove una figura a metà strada tra il sacro e il profano, un uomo diviso tra due divinità, Dio e Maradona, tra due trinità, quella religiosa e quella formata da Insigne, Higuain e Hamsik. Una brutta persona, anzi, una persona orrenda, come sottolinea lui stesso in un dialogo della prima stagione della produzione del genio Sorrentino. Quello di Silvio Orlando è un personaggio che ci entra nel cuore, un uomo cinico e risoluto nelle camere abitate da consacrati, un semplice amico con un ragazzo tetraplegico.
Voiello non è un santo e non vuole nemmeno esserlo, non è un fautore della terza via. Voiello è duro quando deve essere deciso, affabile quando la situazione lo richiede, sicuramente è un personaggio senza remore e senza sensi di colpa. Il cardinale però è un uomo sincero, e della sua sincerità fa un'arma. Il suo migliore amico, Girolamo, è il suo vicino. E il ragazzo infermo è il mondo che Voiello ama: il mondo che soffre, che veicola amore e dolcezza. E in Girolamo, nel suo silenzio, nei suoi sorrisi, nelle sue risate gutturali, Voiello trova quello che non riesce a trovare in nessun altro: Dio. E anche gli uomini cattivi, nel momento in cui trovano Dio, diventano buoni. Quando il Cardinale parla di lui o con lui, la narrazione diventa commovente e struggente.
Ma non c'è solo questo.
Dietro a Voiello c'è una bontà di fondo che deve essere nascosta per necessità, la necessità che ha un uomo di potere. Il Cardinale non prende decisioni giuste e buone, prende quelle necessarie per far sopravvivere la Chiesa, intesa come Vaticano, e per far sopravvivere pure il Vaticano, inteso come Chiesa. Questa è la sottile peculiarità di Voiello, non distinguere il potere secolare da quello religioso, perché la verità è che esiste una sola forma di potere: quella dalla conoscenza. Una delle frasi che descrivono al meglio il personaggio è proprio su questo argomento: "Il potere cosa è? È conoscenza. Perché i peccati del passato, ogni uomo finisce per ripeterli nel futuro. È come Dio, l'uomo: non cambia mai".
Silvio Orlando e Paolo Sorrentino, la mano e la mente.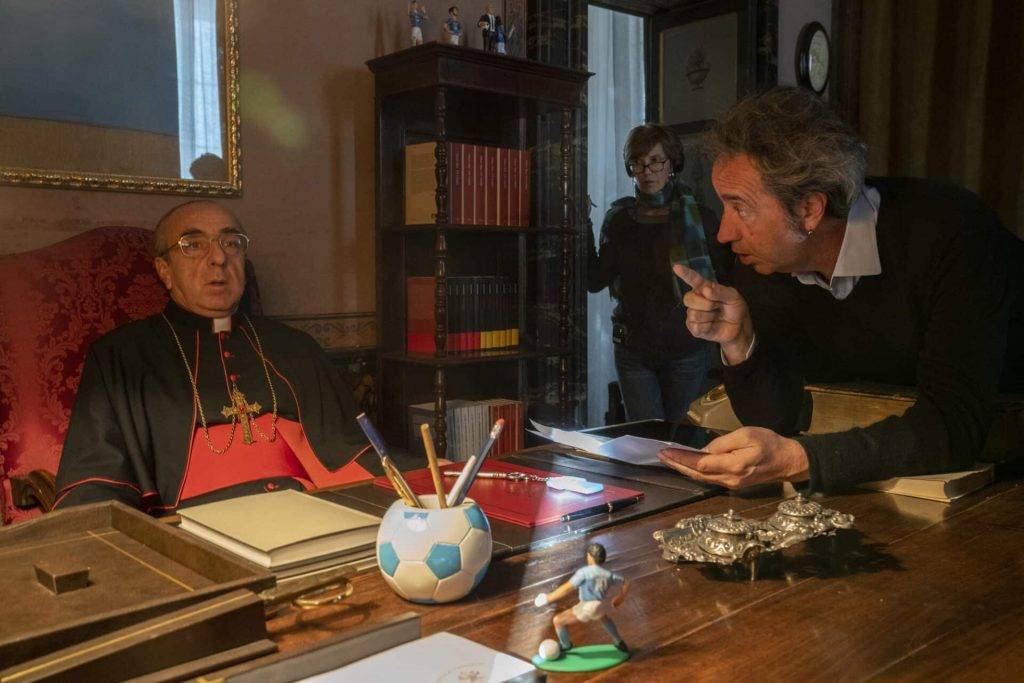 Sì, perché dietro al successo del personaggio ci sono i due italiani. Il regista ha scritto la figura del Cardinale in maniera perfetta e ha cucito vesti perfette che calzassero a pennello all'attore. Ma non basta un bel vestito a fare di un uomo un'icona, serve anche qualcuno che riesca a indossarlo in maniera elegante. E Silvio Orlando in questo è magistrale. Il suo inglese, sporcato pesantemente dall'accento è semplice, chiaro, musicale, espressivo. Il suo italiano è deciso e sicuro, mai tremante. Il suo napoletano è la lingua della verità, la sua propensione naturale. E anche questo significa recitare: non cercare la complessità, ma la naturalità.
I due italiani hanno plasmato una figura perfetta nella sua imperfezione. Voiello, fin dal suo aspetto esteriore, minore, dimesso, prosaico, che tende al caricaturale e al grottesco, è quello che potremmo definire un debole. Dietro a questa maschera si cela però un vero uomo di mondo in possesso del classico scetticismo meridionale e di quell'acume che contraddistingue la genialità campana. L'esempio più lampante di tutto ciò è quel grande e obbrobrioso neo messo lì a decorare la guancia sinistra, un'escrescenza scura che Voiello definisce brillantemente "un cervello supplementare", in modo da scoraggiare qualsiasi tentativo di attacco alla sua persona.
Il potere che si fa uomo, l'uomo di potere che diventa umano in The New Pope.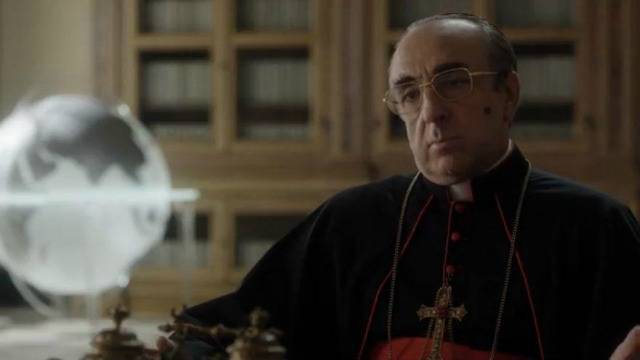 Questo è forse il segreto del Cardinale Voiello e più in generale delle due produzioni di Sorrentino: innalzare ciò che è umano e abbassare ciò che è divino. In The Young Pope e in The New Pope tutto quello che vediamo è alla nostra portata, è tangibile e terreno, spiritualità e carnalità sono sullo stesso piano. Ed è proprio per questo che amiamo Angelo Voiello, perché nel suo machiavellico cinismo risiede una profonda e dolce bontà. Un po' Andreotti e un po' Gesù Cristo, un po' pescivendolo e un po' pescatore di anime, Voiello è il vero protagonista di The Young e New Pope. Un uomo in bilico tra la santità e la malvagità, un uomo come noi. E proprio per questo riusciamo a immergerci nella sua storia, perché è anche la nostra. E quando pubblico e interpreti diventano una cosa sola, la serie tv non rimane nello schermo, ma si irradia e diventa capolavoro.