Fare giustizia al ritratto delle donne e alla loro visione del mondo in un quadro tradizionalmente maschiocentrico come quello della Chiesa non è impresa semplice. Ma neppure così impossibile da non poter essere tentata e, perché no, portata a termine in maniera dignitosa. Proprio come ha fatto Paolo Sorrentino, il quale in The New Pope ha costruito uno scenario femminile che di rimanere nei ranghi imposti dall'alto proprio non ne vuole sapere e che le regole, piuttosto che subirle, sa imporle con convinzione.
C'è aria di femminismo in Vaticano.
Lo si nota chiaramente dalle prime note della sigla della serie, accompagnate dalla voce sabbiata di Sophie Hawley-Weld (controparte femminile del duo Sophie Tukker) e dai ritmi inebrianti della sua Good Time Girl. Un gruppo di giovani suore si spoglia dei veli e delle vesti e si abbandona a una danza sinuosa e sensuale. Un movimento che sembra quasi voglia dare voce a un grido di libertà ed emancipazione che non ha più la forza di rimanere chiuso a chiave, capelli al vento, passi lenti e trascinati alla luce di un crocifisso che tinteggia di un rosso acceso la carnagione bianchissima delle ragazze. Nessun dialogo, nessun contesto, eppure quei pochi minuti anticipano meglio di qualsiasi altra battuta uno degli scenari più ricorrenti dei nove episodi. E non soltanto nelle sottotrame o nelle scene di contorno.
Quelle novizie, così insolitamente disinibite, così umane, così poco sacre, non sono altro che il simbolo di uno dei fulcri della seconda stagione, il campanello d'allarme di una rivolta che parte con premesse rivoluzionarie ma che, col tempo, finisce col perdere la veemenza, raggirata da promesse ingannevoli. E tutto quello che pareva volesse annunciare un nuovo corso ritorna ad appiattirsi sull'onda del mansplaining, della supremazia maschile e dei suoi stratagemmi per salvaguardare il pugno di ferro. È nel quarto episodio che le suore, stanche di essere date per scontate, decidono di insorgere, proclamando uno sciopero e occupando la Cappella Sistina. Quello che agli occhi dei porporati non è altro che il capriccio di donne che non hanno ancora imparato a stare al loro posto, e che si azzardano a chiedere il riconoscimento del loro lavoro, il rispetto della loro persona, un ruolo più attivo nella macchina che aiutano a muovere e la protezione contro chi abusa del loro corpo nascondendosi dietro a una posizione di privilegio e a una veste che ne copre la sporcizia, è molto, molto di più. Almeno nelle premesse.
Capeggiate da suor Lisette, disperata per non aver ricevuto comprensione davanti alla richiesta di andare con la madre ammalata a Lourdes, e da una madre badessa che gli stereotipi li accartoccia come un foglio di carta usato (non incute il timore reverenziale che incuteva Virna Lisi ne Le ali della vita per dire, fuma il sigaro e legittima la parolaccia), le giacobine in tonaca sentono davvero di poter dare un nuovo corso alle cose, parole nuove a discorsi fin troppo soffocati in gola e il riconoscimento di diritti che per secoli sono stati considerati l'optional e non la regola. Una situazione che rispecchia l'attualità del nostro tempo, quella di associazioni impegnate a promuovere la parità di genere anche tra le mura di una cattedrale o di un convento, e che abbraccia l'onda del #MeToo e il coraggio di chi non è disposta a barattare la propria dignità con l'obbligo alla sottomissione e ai giochi del patriarcato. Chi preferisce parlare, rivivendo un dolore destinato a non estinguersi, piuttosto che infliggersi un silenzio assordante e omertoso.
Bene, l'intento c'era tutto, il problema è che i guizzi lasciano il tempo che trovano e, nella serie, quel tempo non lo trovano neppure per sbaglio: sì perché le suore iniziano eroine e finiscono vittime di guerra, partono combattenti e finiscono nuovamente ad essere l'oggetto inconsapevole di un ricatto psicologico senza scrupoli.
Un piano accuratamente architettato dal cardinal Voiello (il vero deus ex machina della serie, di cui abbiamo parlato qui qualche tempo fa) che, concedendo soldi, riconoscimento e tutela, non va incontro alla minoranza ma la vincola ancora di più alla sua aura. Soffocando così qualsiasi tipo di impulso a urlare ancora più forte e a rompere le righe. Sotterrando la possibilità di avere un concorrente temibile, una voce fuori dal coro pronta a scoperchiare il vaso di Pandora e a mettere in bella mostra gli scheletri nell'armadio di chi, quegli scheletri, non dovrebbe neppure immaginare di averli.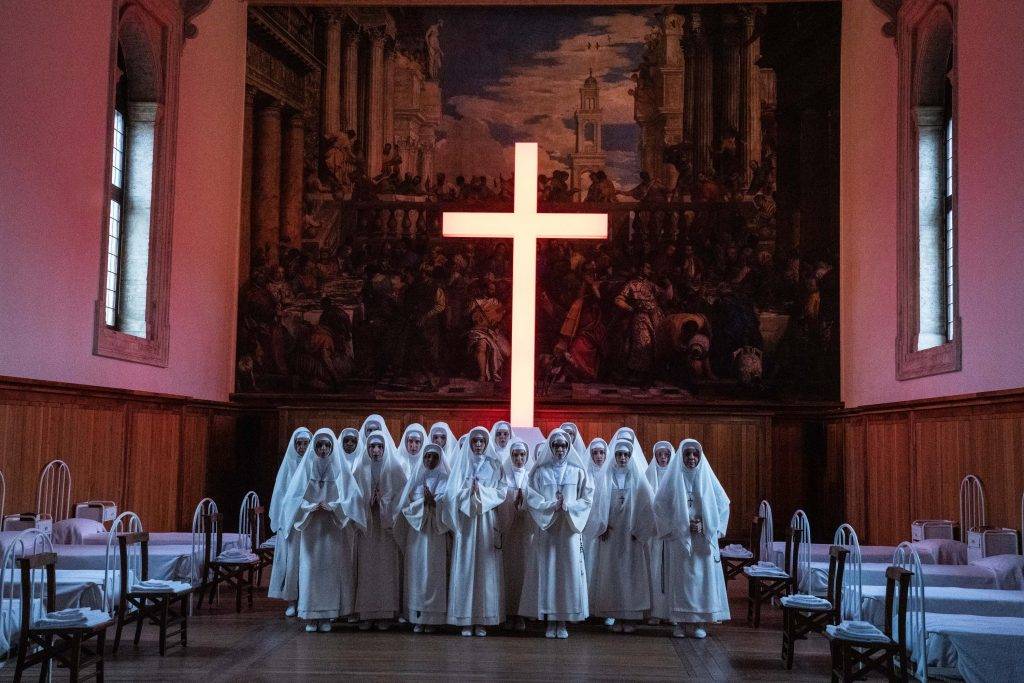 Ma non finisce qui.
Accanto alla sommossa delle sorelle e a una lotta che avrebbe potuto molto più di quanto ha fatto, il regista riporta negli intrecci due figure che già avevano lasciato un segno nella trama di The Young Pope, due personaggi che danno l'impressione di essere stati scritti per contrasto, quasi a voler essere l'una la nemesi dell'altra. Da un lato c'è la spregiudicata Sofia Dubois, l'ufficio stampa del Papa, la vera longa manus delle stanze vaticane, la mente e gli occhi che operano al buio e che vedono molto più al di là di quanto sia lecito. Nulla sembra spezzarla né metterla in crisi, nulla sembra confonderla, è lei che regge i giochi e che manipola gli altri facendo credere loro di non essere altro che uno dei tanti tasselli di un puzzle infinito.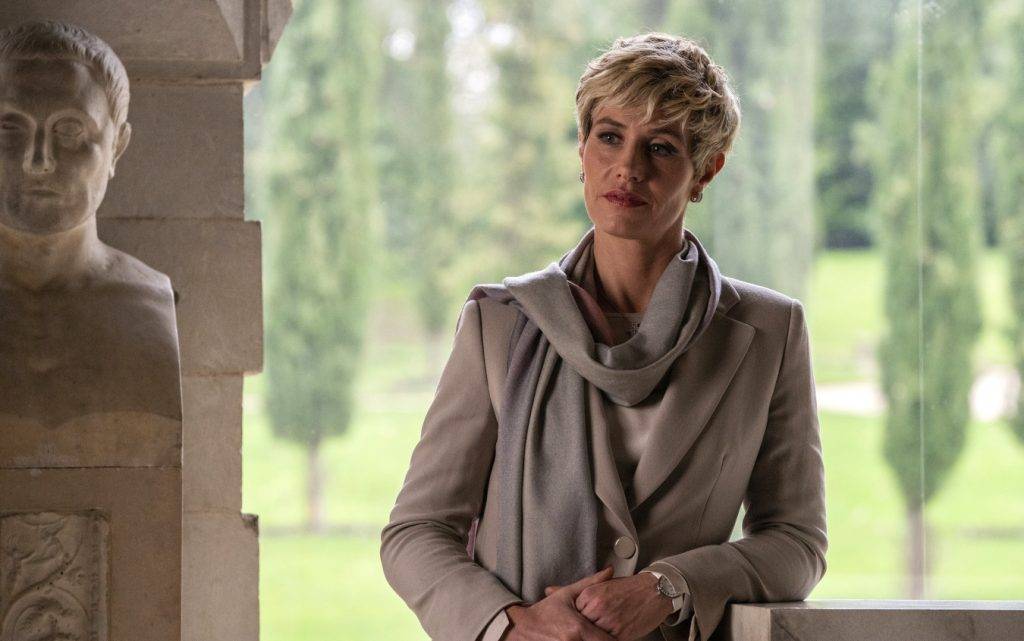 Dall'altro Ester Aubry, così in balìa delle sue incertezze e dei suoi passi falsi, spezzata dagli abbandoni e da una vita che le ha messo i bastoni fra le ruote, e alla continua ricerca di appigli che, inevitabilmente, finiscono col trasformarsi in burroni. Costantemente sul punto di rompersi in mille pezzi come il più delicato dei calici di cristallo, si rifugia nella preghiera e nella carità che, spesso, utilizza soltanto come capri espiatori per giustificare l'ennesimo fallimento. Lei non è mai capitano e neppure marinaio della sua nave, lei è la bottiglia che vaga per acque agitate, senza mai sapere se riuscirà ad arrivare sana e salva su una spiaggia o approdare in un porto dove sentirsi finalmente al sicuro. Anche solo per un po'.
Parlare di forza femminista, nel caso di The New Pope, va relativizzato.
Sì, i protagonisti femminili non sono più soffocati nei soliti ruoli e si sono scrollati di dosso etichette e pregiudizi, parlano, si battono per i propri diritti, soffrono, vivono, interagiscono con la realtà, ma l'impressione che lo spettatore si porta a casa è che tutto questo rimanga molto attaccato al concetto e non riesca mai a prendere davvero consistenza. La rivendicazione resta ingabbiata nel desiderio e anche quando sembra fare qualche passo in avanti, continua a muoversi senza mai saltare l'ostacolo. Le donne tinteggiate da Sorrentino sono creature misteriose, si vestono di spregiudicatezza e si lasciano intravedere come sprezzanti d'ogni pericolo ma, al minimo errore, si piegano come canne al vento e più tentano di nascondere le loro debolezze, più ne diventano prigioniere.
E no, questo non è il destino riservato solo alle anime scombussolate come quella di Ester.
È una croce che tocca anche alle Dubois, che indossano la maschera della determinazione e il vestito dell'infallibilità e, nel silenzi della loro solitudine, si trovano a fare i conti col peso degli errori e la scoperta di non essere poi così lontane dalla versione di sé più vulnerabile. Che sì, esiste e non può essere nascosta per sempre.
Che siano suore, portavoci del capo della Chiesa o madri disperate in cerca di una soluzione per ritornare a respirare a pieni polmoni, le quote rosa di The New Pope non sono poi così diverse da quelle che, ogni giorno, come loro, macinano tanti soprusi e ben pochi privilegi, e continuano a fare i conti con uomini che, forse per paura, forse per egoismo, non possono fare a meno di deprezzarle. Le loro sono battaglie fatte di intenzioni e speranza, resilienza e resistenza. Spesso non aprono alcuna prospettiva ma danno l'idea di un desiderio di reagire che c'è e prova a rompere il muro dell'indifferenza. Perché i grandi cambiamenti hanno bisogno di tentativi e i tentativi di persone coraggiose che sappiano macinare anche le virate meno favorevoli.